Let's chat laundry rooms today.
After we did the big renovation/addition to our house, we knew that we wouldn't be able to finish all the spaces right away for budget reasons. We were cool with the "wait and see how we live in the space" approach and didn't want to rush into any decisions.
Well, Dan and I sat down the other night to plan out what we are going to tackle this winter, and we have made our laundry room officially on the list. I am GIDDY.
Our current laundry area is in the basement, and we share that space with our tenant (there is some common space before you enter into the separate basement apartment). When we did the addition on the house though, we created a large closet right at the top of the second floor stairs, specifically meant for laundry. There were two main reasons for doing this – first, it means that we wouldn't have to share laundry, and second is that the idea of being able to throw in a load of laundry so easily and quickly from our bedrooms seems dreamy to me. Especially in this season of life with young kids (aka. our house is a 24/7 laundromat).
The new laundry closet is tiled, plumbed, and ready for finishing …. but currently holds ALL THE PAINT. Oh god. I know. It looks like a (very messy, disorganized) hardware store in there. I'm completely embarrassed to even be showing you this pic.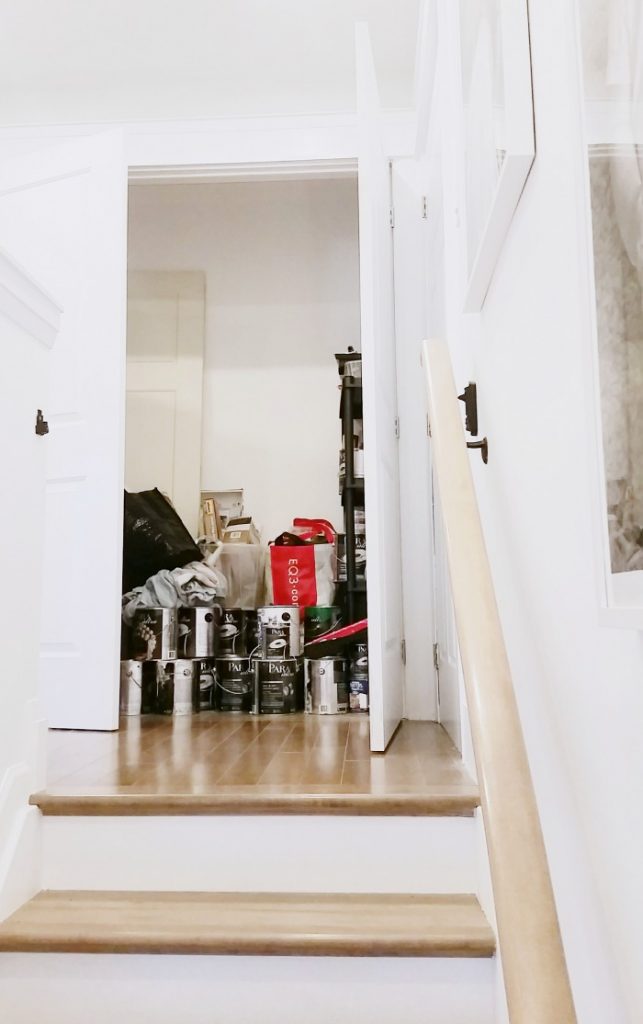 I am in planning mode now and picking out all the details so that we can get going.
You can get a sense of the design scheme I'm going for in this "work in progress" moodboard.
The biggest ticket item for this space are the laundry machines. It feels like a huge decision!
Initially I had been 100% sure I wanted front load machines, but I have noticed some lovely looking top loaders out there and am now conflicted.
I was in touch with P.C. Richard & Son recently – a family run business in the U.S. who specialize in appliances. Their background business story is a lovely one: They were an immigrant family from Holland who started their company in 1909 in Brooklyn, NY and have watched it grow leaps and bounds since. They offer hugely competitive pricing on appliances and have great warranties.
Anyway, I chatted with them about the pros and cons between the two types of machines to see if they could help me decide.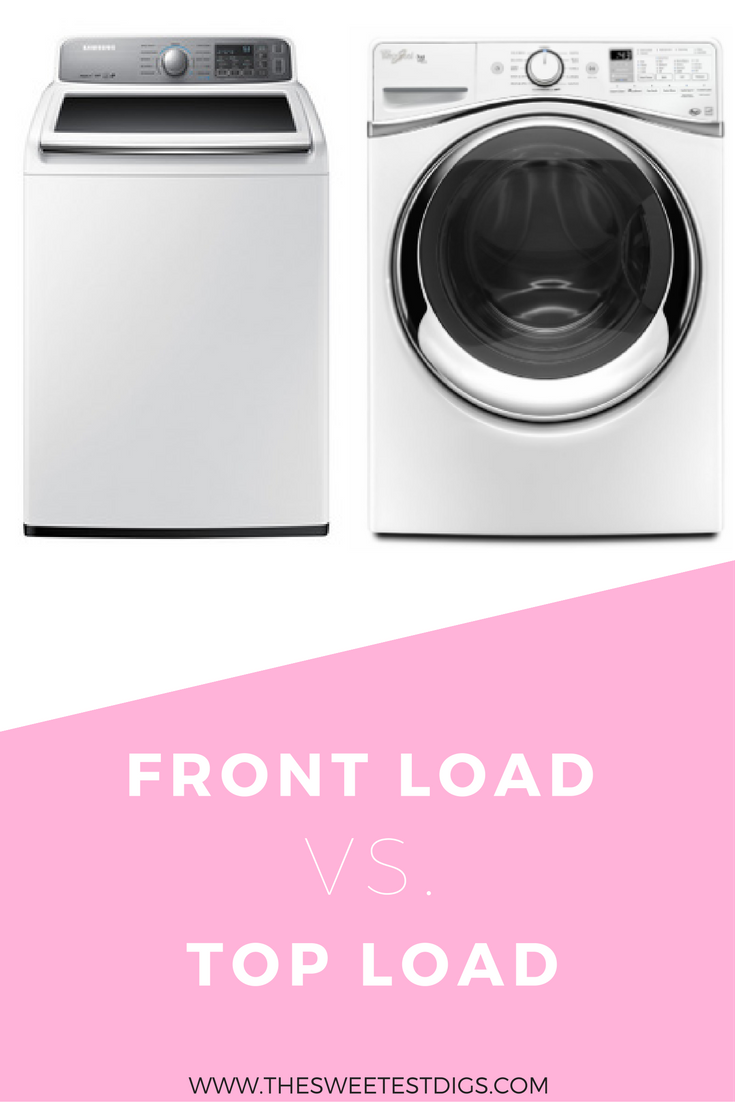 Here's the scoop…
Efficiency:
It used to be that front loaders were far more efficient in energy and water than top loaders, but the new top loaders on the market are now just about matching those efficiencies.
If you go with the classic top loaders though, they are definitely not as efficient.
(Winner: Front Loader)
Countertop Option:
You can't put a countertop across a top loader because you would block access, so that's limiting. I had imagined a countertop across the machines in our laundry closet. It's nice to have that space to fold or put supplies.
(Winner: Front Loader, but only if you want a countertop)
Stacking:
Another downside to top loaders is that you can't stack them. I will be doing side-by-side machines in my space, so that isn't so much of an issue.
(Winner: Front Loaders, but only if stacking is desired)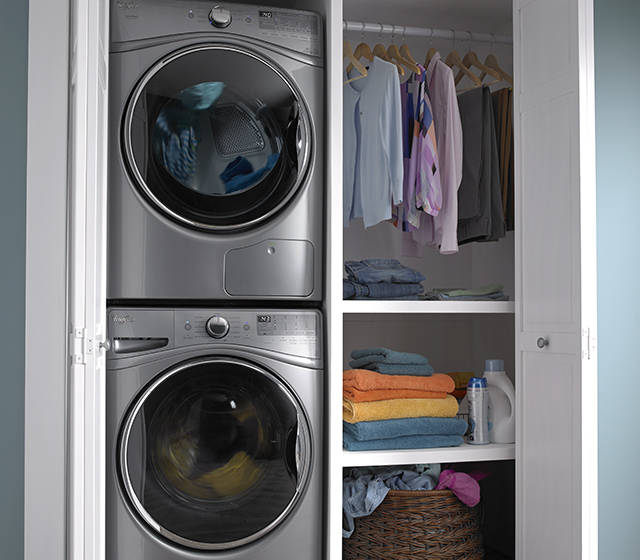 Ease of Use:
I don't know if this is really much of a factor, but some folks talk about it being easier to transfer the clothes from front loader washer to front loader dryer (compared to top loader washer to front loader dryer). I guess I see the point, but it doesn't seem like *that* big of a deal (or am I missing something?).
(Winner: Front Loader)
Water Build Up:
Some reviewers of front loaders complain about a build-up of water around the rim, and that it can get mouldy. I definitely don't like the thought of that.
(Winner: Top Loader)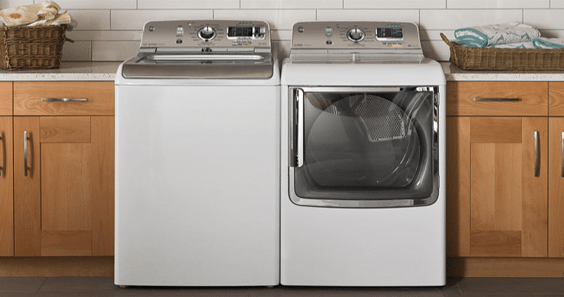 Clothes Wear and Tear:
Front loaders are supposed to be easier on your clothes overall because they don't use an agitator (although lots of the new top loaders say they are just as easy on clothes).
(Winner: Front Loader)
Price:
The price point of the two styles of machines seem to be somewhat comparable – front loaders are still slightly more expensive, but not by much (I'm comparing them to the NEW model of top loaders, not the most basic style which are definitely the most economical).
(Winner: Top Loader)
Decisions, decisions.
I'm still leaning toward front loaders, largely because of the countertop reason, best efficiency, and I like the symmetrical look. But I want your input! Take the poll below and weigh in with your vote.
Front loader versus top loader?
[polldaddy poll=9577788]
Deal Alert:
If you're looking for any new appliances for your home, now is the time to buy.
P.C. Richard & Sons have some AMAZING Black Friday deals coming up on their washers & dryers.
They are currently running their Appliance Employee Pricing Event which means that you get the employee price on all machines! Incredible, hey?
You can't go wrong because they also offer their "Black Friday Price Guarantee" which means that their price will not be any lower within the next 30 days, or they will refund 100% of the difference.
I have my eye on the GE appliances…. and the prices are pretty darn great. Take the poll and help me decide what to go for!
What kind of machines do you have? Do you love them or hate them?
Disclosure: This post was sponsored by PC Richard & Son, but all opinions (and laundry room conundrums!) are my own. Thanks for supporting the brands who support this blog.