A progress update on the status of the master bedroom makeover is on the books for today, guys. Well, I'm not sure I can really call it a "makeover" since the before is just total lack of anything other than 4 walls and the floor? Anyway, you know what I mean.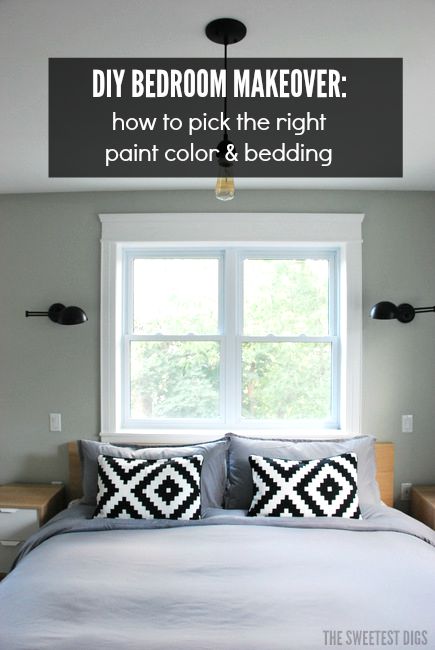 To remind you, this is the general direction of the design scheme for the bedroom (full scoop in this post)…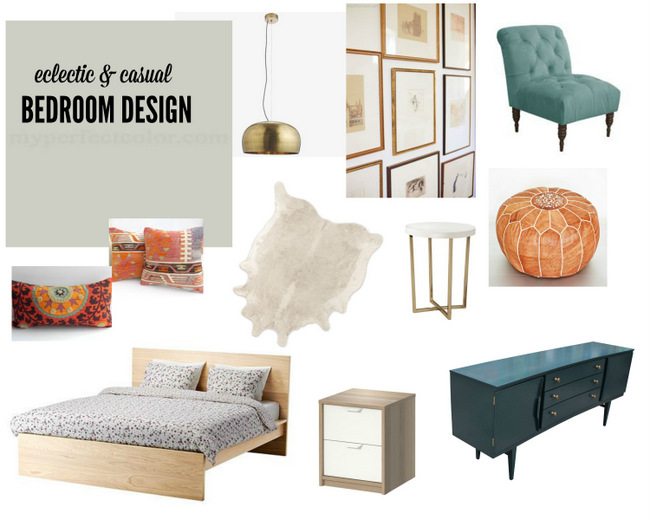 And this is what things were looking like at last glance…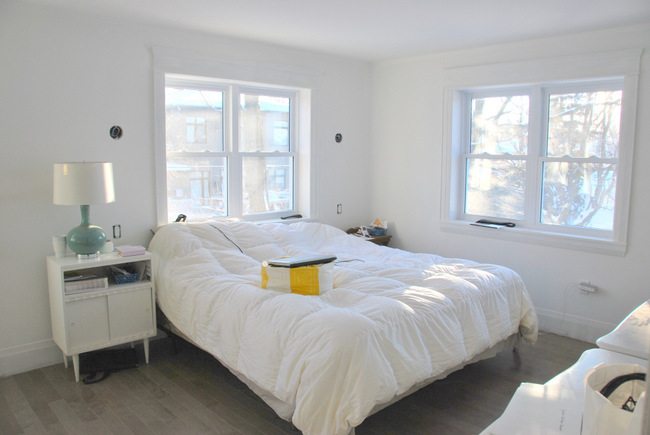 To start with, we got our butts into gear and painted all of the trim (baseboards, window trim, door trim) in PARA paint's "Jo Jo Whitewash" in their 'ultra trim & door' paint line. The colour is a nice bright white and the coverage was decent. Bare trim just sucks up the paint, so ultimately it took us 2 coats of primer and 2 coats of top coat. With some filling of holes and sanding in between. Bo-to-the-ring. You can see why I quickly lose motivation in doing the un-painted parts of the house (which is most of the second floor).
Warning: ultra attractive old PJ wearing coming up.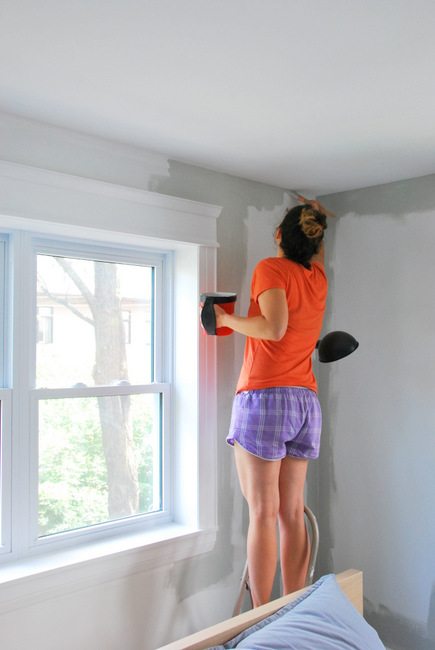 Once the trim was done, we could put the colour on the walls. I chose P5214-34D Blenheim Palace by PARA. It's this gorgeous green-gray that has the most relaxing feeling about it. It definitely adds some colour and interest to the walls, but you almost don't even notice it. It's one of those colours that I think could work in just about ANY space with any kind of decor. I love it.
My tips for choosing the right wall colour for your room?
// Take out all the paint swatches that you think you like, even a little.
// Hold them all up on the wall (tape if you need to) in a few different spots and eliminate the ones that aren't working. Narrow it down to your favourite 2-4 colours.
// Buy small test pots of those paint colours from the store. Paint squares of those colours onto different sections of wall around the room, or paint onto white foam board and hold/tape up in multiple areas of the room.
// Live with the test patches for a few days and ultimately determine which one is the best. Especially with grays that can be notoriously hard to pick, do the work in the beginning so you don't waste money and time needing to re-paint.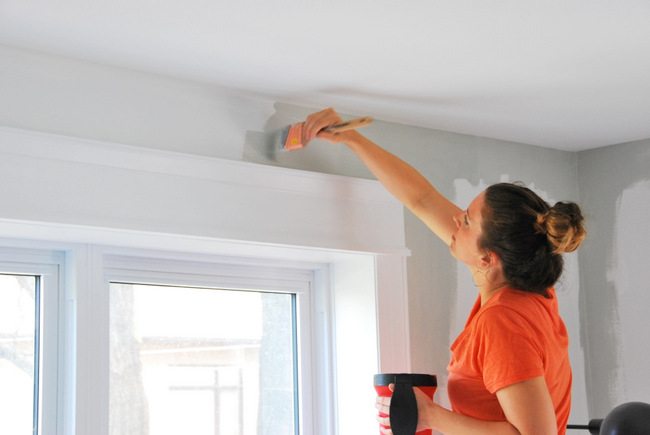 Ignore the sneak peaks of the lighting, bed, and nightstands, which I'm going to get to in another post soon, k? For now, let's talk bedding. We have had a white duvet cover for the last 6 years (it was a wedding gift) and although it has held up well we thought it might be time to switch things up. Although I ADORE a bright white bed (so classic, right?), I just wanted to try something new. So when Maple Harbour got in touch looking to work together, I was totally game.
Just a bit of background on Maple Harbour. They are a Canadian-based online company (out of Montreal) who carry bedding and linen. Their product line is attractive and high quality but at a reasonable price point, they have a money back guarantee, and offer free shipping across Canada and the continental US. What really got me, though, was that they collaborate with not-for-profit animal shelters and adoption centers. A portion of each purchase goes towards the Balto Shelter and the Animal Rescue Network. They have a whole campaign – #CreatingHomesTogether – that is focused on this work. I love companies that are socially minded, don't you?
Anyway, I decided to branch out of my comfort zone and try out a solid gray duvet cover (comes with matching shams), and a patterned sheet set. I know, hold the phone. Patterned sheets? I haven't had anything other than pure white in at least a decade.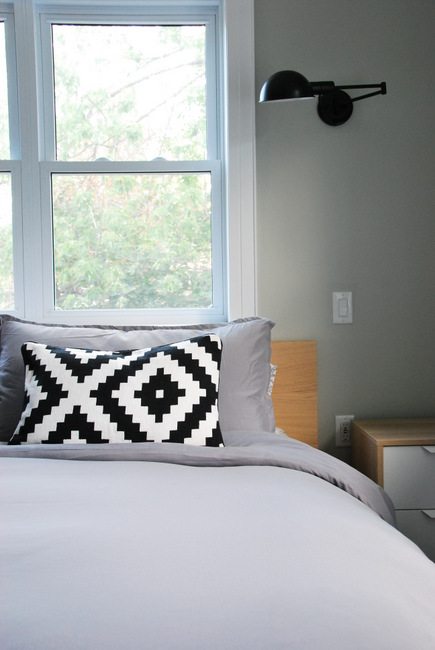 The duvet cover – the "Micro Matique" is pretty and simple. Clean lines, a nice medium gray, and super soft. We needed some king sized pillows for the shams, so I ordered these feather-filled ones (called "Sweet Dreams") and they are AMAZING. Super plush and they fill out the shams so nicely. I hate pillows that look too flat when you're trying to make the bed.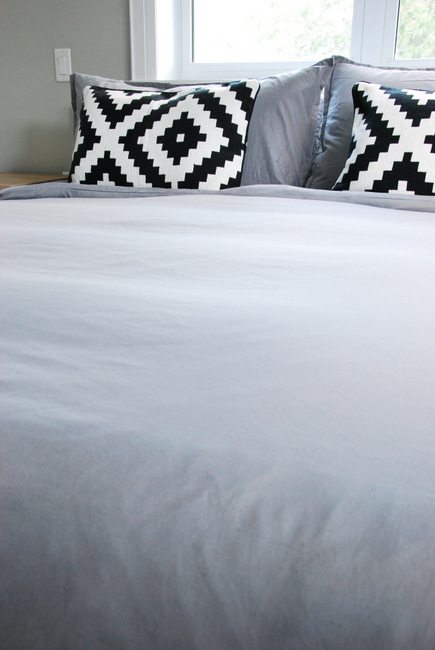 As for those patterned sheets? I went with the 'Sweet Disposition' set which have a grey and white oriental pattern. They are microfiber and super comfortable. Dan especially has been LOVING these compared to our el cheapo previous set. I'm still not 100% sold on the pattern (old habits die hard), but I do love how they feel.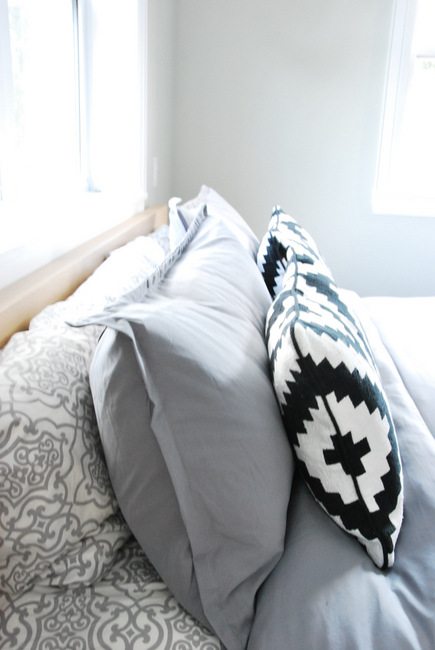 I had also ordered these shams, thinking that they would be nice as accent pillows, but they were the only product I was disappointed in. They were incredibly thin and had the brand name label attached right on the front of the sham. So instead, I pulled my black and white IKEA throw pillows out of storage and love the way they look. They add some graphic interest to the bed, but not in an overwhelming way.
[ignore the bare bulb light fixture…]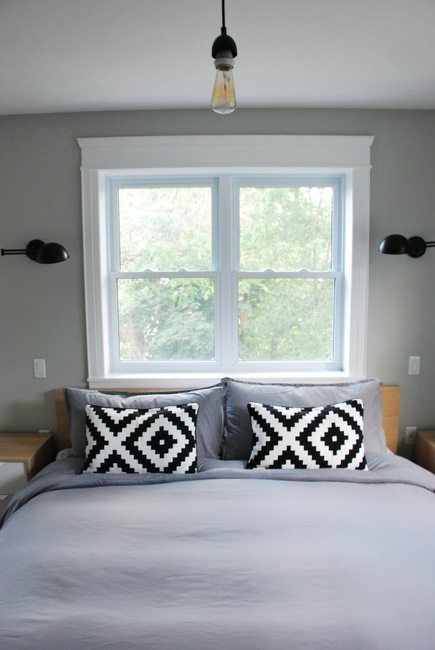 Next up is to tackle the opposite side of the room. I scored a dresser off Kijiji the other day that I'm about to re-finish and paint to replace those stand-in white dressers. We'll be moving the TV over to the family room and start on a gallery wall above the dresser. Oh and can you name the show that I had on in the background while I was shooting the bedroom? It rhymes with Smarty of Hive and is one of my absolute fave old-school shows that I'm re-watching on Netflix. #iwantedtomarrycharlie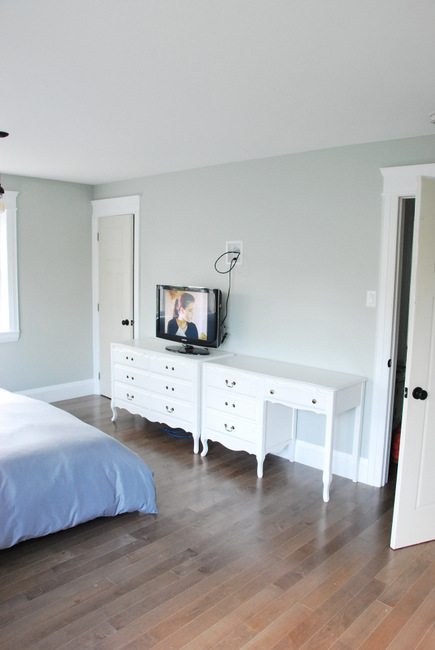 Then I'll tackle this corner, which includes finishing off the PAX (notice how there aren't any handles on it yet, and that hole cut out of it?), moving the laundry basket, adding a chair, rug, etc.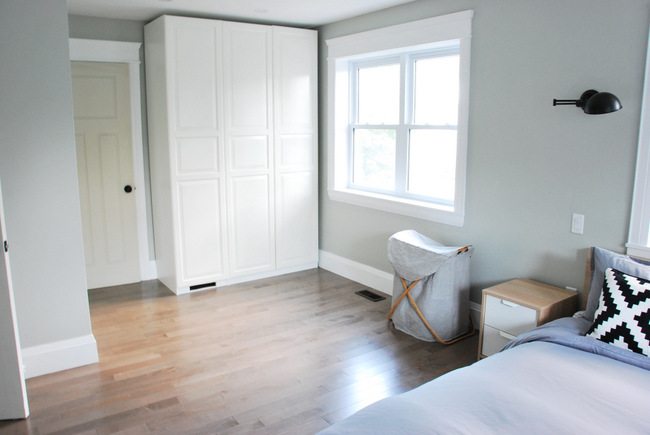 Oh and there is all kinds of accessorizing still to do, window treatments, etc. Lots left, but at least we can call the painting (except for the doors – ahhh the doors) done, right? Halle-frigging-lujah.
Are you guys doing any decorating right now? I feel a bit weird spending time decorating this room when there is so much to do on the outside of our house. My parents are going to come watch Maya for a day this weekend so we can make some progress out there. I hear a retaining wall and stone pathway calling our names! I don't want to think about it, but the cooler weather will be here before we know it, so we have to get our butts into gear out there.
A big thanks to Maple Harbour for partnering with me in this room! I received the products free of charge, but was not paid to write a review. All opinions are entirely my own.