Greenlid Review: Have you ever thought about how green your home is?
Over the last few years I have become more and more interested in making our home environmentally friendly. Firstly, I want to create the healthiest, as toxin-free environment as possible for us and the kids to live in. Those little babies of mine are my world and I want the best for them! Secondly, I like the planet. Just thinking about the waste and garbage that our one family produces, and then multiplying that by the population in our city, in our province, in our country, and beyond gets downright scary. Where are we putting all that garbage? What about all the things we are doing as a society that are bad for the Earth?
A healthier home. Being nice to the planet. And saving money. Those are some pretty great reasons to try to "go green".
So, what are 8 things we are doing right now?
Here goes.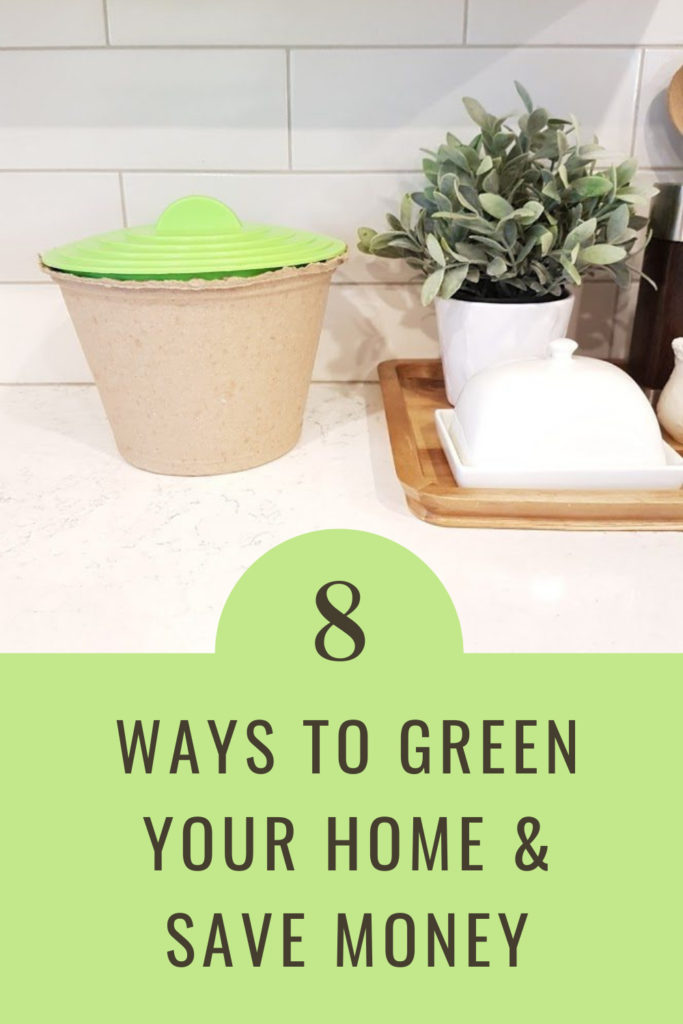 Greenlid review – 1 / Compost
Obviously one of the very first things you can start doing to create a more green home is to compost. Dan and I started composting about 6 or 7 years ago, when the City of Ottawa started a composting service. They pick up our compost once a week and moved to picking up garbage only once every two weeks.
I had never composted before, so I felt all grossed out by the thought of stinky food garbage sitting in our kitchen. I had visions of fruit flies everywhere and an unappetizing aroma. And the worst: garbage juice leaks. Ick.
Well, now years into composting, I happily realize how easy it really is. We use our city-provided composting bin under our kitchen with composting bags inside of it. Because we are a family of 4 who loves to eat, the bag fills up every day or two and gets brought out to our green bin in the garage.
I will admit though: Dan is the one who brings out the compost and he cleans out our greenbin if there is ever any leakage. Garbage/recycling/composting is my LEAST fave chore.
So when I heard about Greenlids on an episode of Dragon's Den (the Canadian version of Shark Tank), I was sold. They are a bit more expensive then going the bag route (just under $1 each), but the Greenlid is the first ever fully compostable compost bin, scientifically designed to be leak and smell resistant.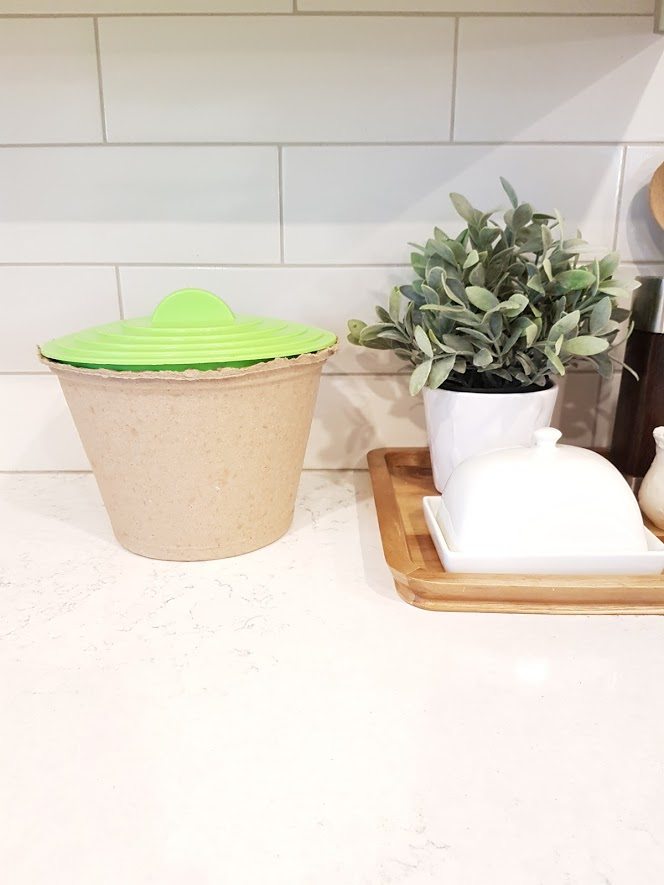 It is a simple, clean and convenient way to live an eco-friendly lifestyle.
When Dan is away travelling for work, these bad boys mean that I stay on top of our composting. I can throw all of our food waste in there and then literally take the WHOLE thing and pop it into the greenbin in the garage. No smells, no leaks, so easy. That green lid is the only thing that isn't compostable (it gets put onto the next bin).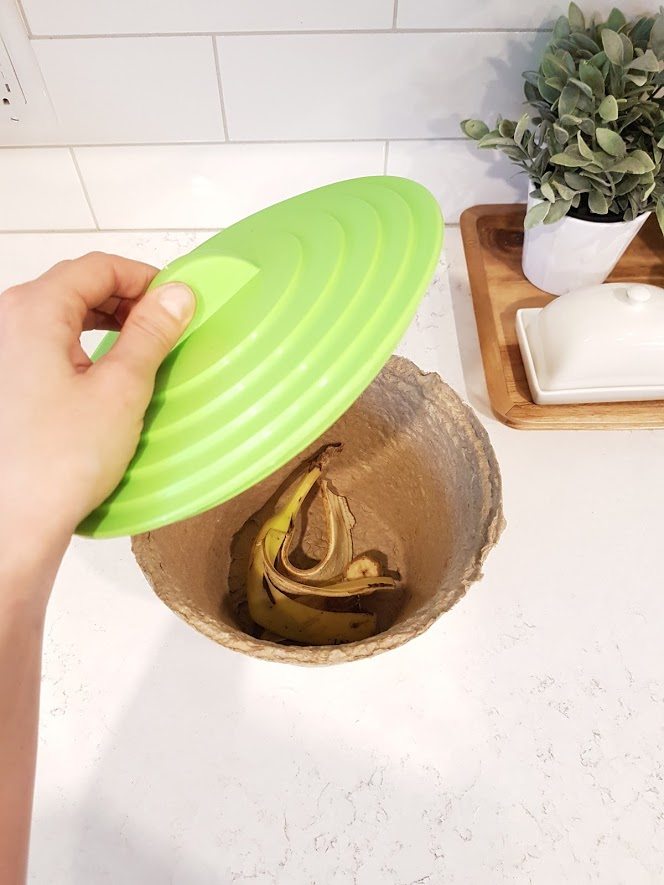 And I actually use the GreenLids in other parts of the house, too. Our bathroom has been a perfect spot to use a GreenLid. I hide it away in a basket on our shelves, and we can put things like cotton balls, dryer lint, paper, hair, etc. in there. Stuff you would normally just throw in the garbage, but if you have the GreenLid handy then it makes it easy to compost (because who is going to carry a handful of lint to the kitchen?).
When you have an easy system in place around your house, it becomes super easy to compost. And you can feel so good about the much smaller amount of garbage you produce.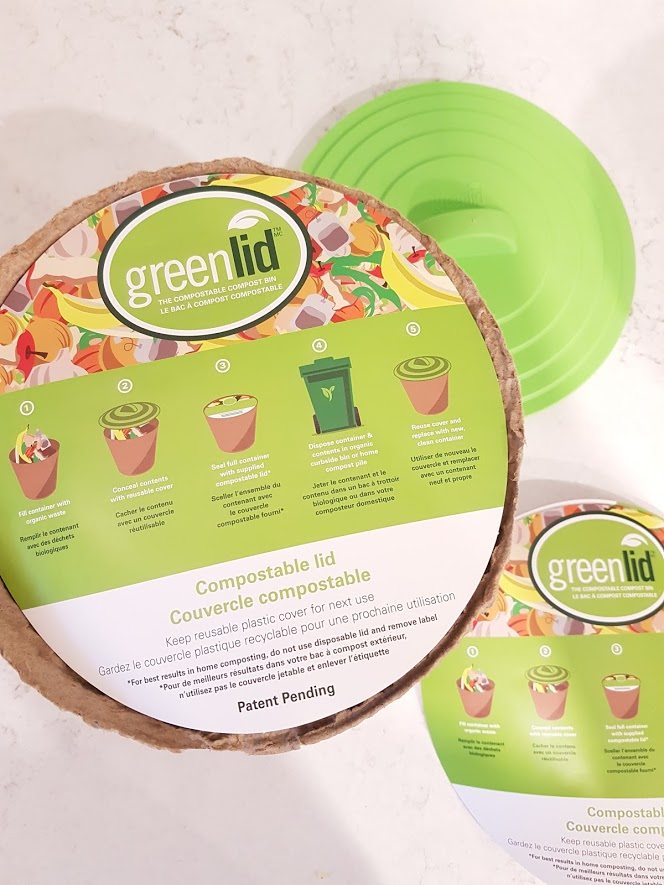 You can grab the Greenlid packs from retailers across Canada and online at www.mygreenlid.com
2 / Plastic Ditch
I have been trying to reduce the plastics in our home over the last year or so. When you start thinking about it, it's crazy how much plastic we have (it's EVERYWHERE)!
I think that our own health and the health of the planet would be better off if we drastically reduced our plastic. We know that there have been chemicals in plastic that have been shown to be dangerous – BPA and phalates, for example. Further, plastics take a really long time to break down, and thinking of the high levels of plastics in landfills, oceans, and the planet is downright depressing.
So ditch the plastic water bottles (pleeeease!!), and move to reusable containers of other kinds like glass, stainless steel, ceramic, etc. I certainly haven't gotten all the plastic out of our home, but I am slowly moving in that direction and doing what I can.
3 / Make Your Hand and Body Soap
Do you know how ridiculously easy it is to make your own hand and body soap? I had no idea, until I got into making all of our own hygiene and cleaning products last year.
I'll do a proper blog post about this soon, but basically all you need to make a basic hand soap is castile soap, a foaming soap pump, and water. That's it. You can get fancier with things like essential oils, glycerin, and more, but those 3 things are actually all you need at the most basic level.
No wasteful packaging, it's cheaper, and it's toxin-free.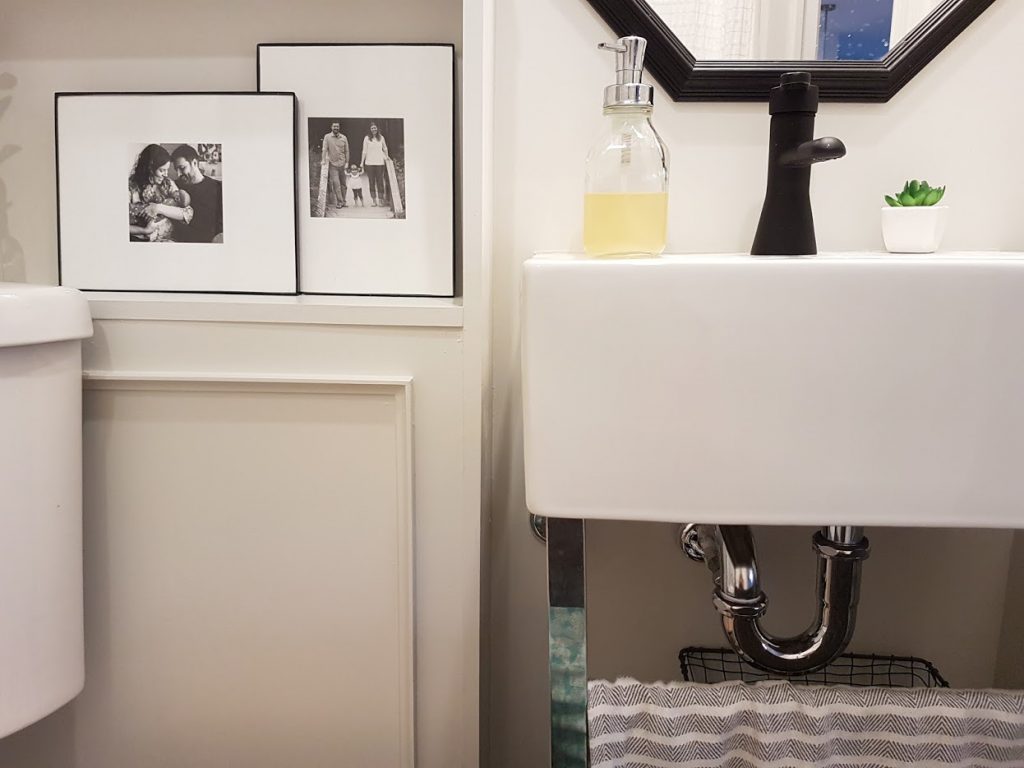 4 / Make your Own Cleaners
Similarly to hand and body soap, I have been making our own cleaning products to use around the home. This means we are toxin-free, I can feel really good about the environment my kids are in (they can even help me clean!), I'm using less packaging, and it's budget friendly.
I'll post some cleaner recipes soon (I personally now use Thieves cleaner by Young Living), but just a water-vinegar-lemon solution is a great place to start. I just bought this pack of glass spray bottles and they are SO pretty. Makes cleaning way more fun when you have these handmade cleaners that smell amazing!
5 / Buy in Bulk
It's gross to me to think about how much food packaging we put out in the recycling every week. SO MUCH.
In an effort to reduce this, I have started to buy in bulk where I can, to avoid additional packaging. Particularly things that might be individually wrapped within a box – I try to avoid those at all costs.
I shop at places like Bulk Barn where I buy the product in large quantities using their disposable bags, bring it home, and then switch the items into my own glass containers.
For things like kid snacks, I can then dole out a portion and put it into a smaller container for them to take with them. It's not perfect, but it helps!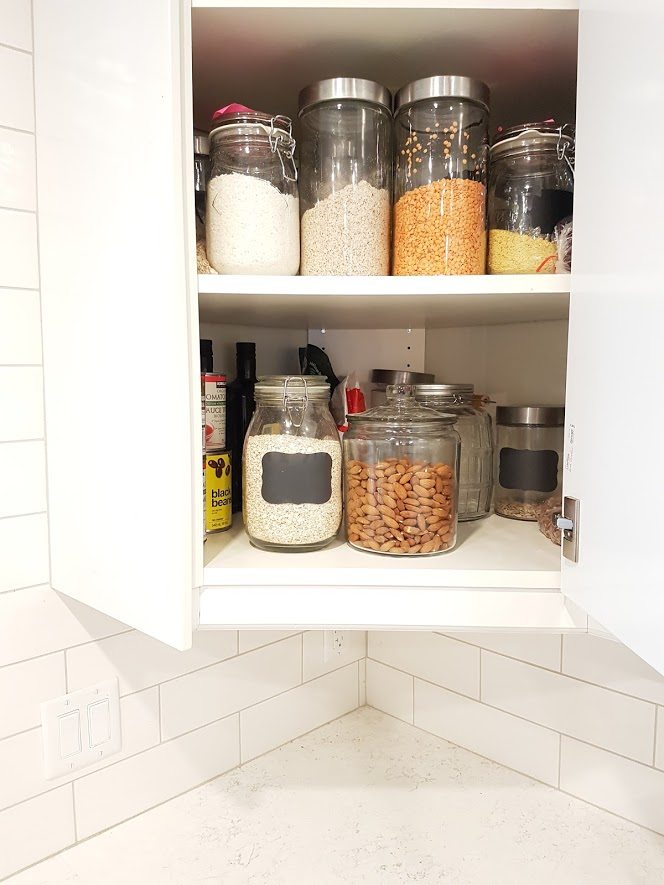 6 / Use Reusable Bags and Bins
Getting out of the habit of using plastic bags is another way we have tried to go green.
I have a bin in the trunk of our car where I keep reusable shopping bags and some tote bags. This mean I have bags with me whenever I am out so that I don't have to get plastic bags at the grocery store.
I also keep a super small foldaway bag in my purse, to use in a pinch.
7 / Bring Your Own Coffee Cup
99% of the time I have my coffee at home, so I am able to just use one of my regular mugs. Dan, however, buys his coffee every morning on the way to work and has gotten into the habit of bringing his own reusable mug.
Not only does he save putting a paper cup into the landfill everyday, but he saves like 10 cents on each coffee because they give a discount. Win!
8 / Ditch The Dirty Beauty Products
Have you ever stopped to think about the number of products you are putting on your body between the time you wake up and when you head off to work? The shampoo, body wash, lotion, hair products, deodorant, foundation, blush, mascara, lip balm, etc. etc.
A while ago I downloaded the app "Think Dirty", where you scan the products in your bathroom and it rates them based on toxicity. Oh my god, pretty much everything came up as a 9 or 10 out of 10 (even the "natural" stuff that I thought was good!).
In an effort to go as toxin-free as possible around here, I have ditched all the really bad beauty products I had been using and have moved toward handmade where I can, and toxin-free if I can't make it myself (I need to know what every single ingredient is on those long lists!).
A few examples?
I'm now using coconut oil for my body moisturizer instead of lotion.
I got rid of my face moisturizer and have been making an AMAZING face serum using jojoba oil, rosehip oil, vitamin E oil, and essential oils (frankincense, tea tree, and lavender young living oils).
I have switched to using this all-natural deodorant (and it actually works!!!).
I use this powder foundation, which is also an SPF and makes my skin look amazing.
It's a process to go through everything, but just one product at a time and you can get there. It's incredibly empowering actually to be able to make your own stuff or know each ingredient that is going onto your body.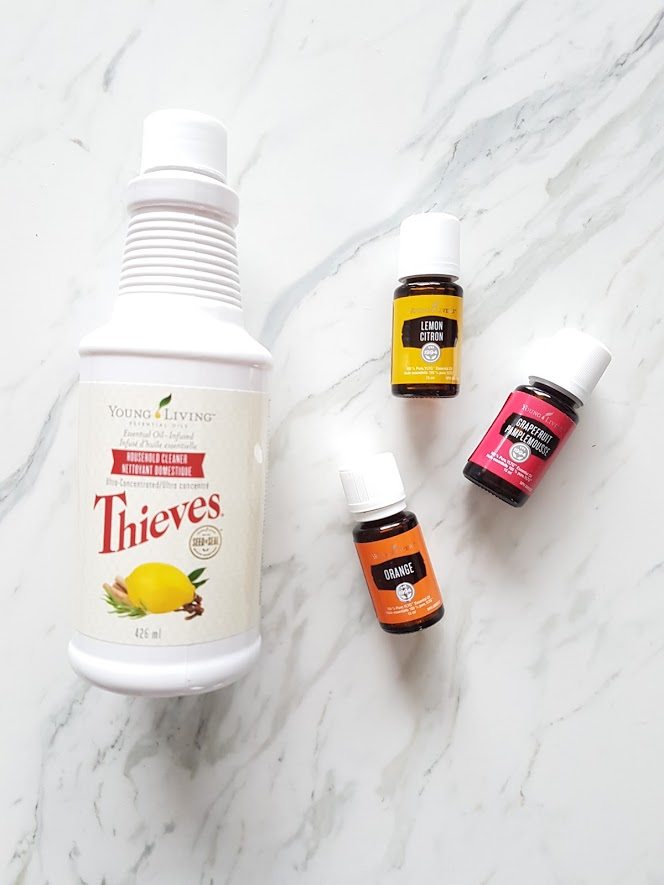 And now for a Giveaway!
The folks over at Greenlid have offered up some sweet prizes. You can win 1 of 5 Greenlid prize packs which include a $50 Visa gift card! Enter below.
Greenlid the Compostable Organic Waste Container
Are you doing some of these things in your homes? Are you making other changes to be more environmentally friendly? Give me the scoop!
Disclosure: This post was sponsored by Greenlid. All opinions are as always, my own. Thank you for supporting the brands who support this blog.