Do you love your instagram photos but never actually print them out? #Guilty. Well, I've got a super cute instagram gallery wall hanging for you to make with them.
I actually came across this DIY photo wall hanging from Amy over at Homey Oh My. I fell in love. Amy has beautiful style – simple, scandi inspired, and her DIYs always knock it out of the park. You NEED to add her to your blog reading list.
I used Amy's tutorial, and just switched a few things up to make mine a bit more white + bright.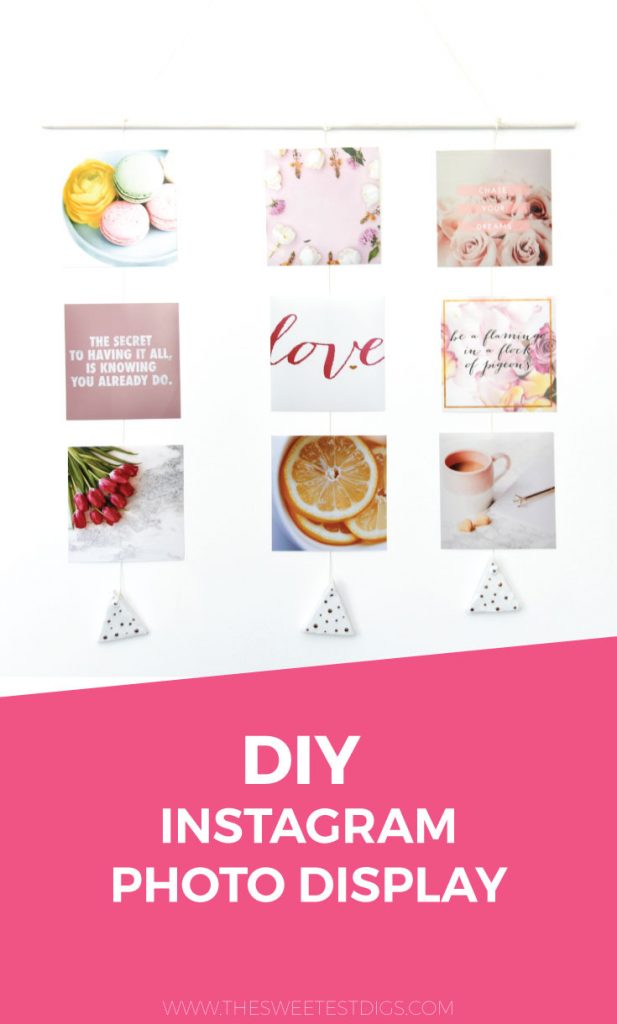 DIY Instagram Gallery Wall Hanging – Materials needed?
Square photos – I got mine printed through Shutterfly, who have rotating deals to keep your eyes peeled for!
Wooden Dowel Rod (usually these come in packs, so save the rest for other projects!)
Tape – regular scotch tape or washi tape is fine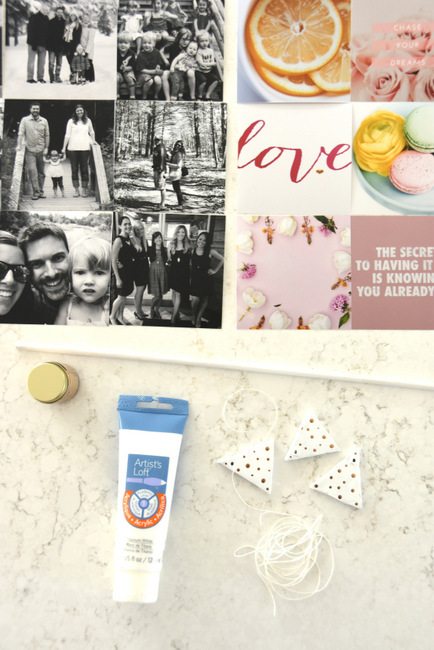 DIY Instagram Gallery Wall Hanging – Basic Steps
I'll let you click on over to Amy's blog for more of the full how-to, but the basic steps are:
1 // Paint your dowel – I went with white.
2 // Create your triangle shapes out of the air dry clay. What you want to do is roll out the clay and cut the 3 sides of the triangle using a ruler or some kind of straight edge. Poke a hole in each triangle using a pencil and let dry.
3 // Once dry, paint your triangles white, and then use some gold foil paint or a gold foil pen to apply polka dots. I used gold foil paint, and my trick for getting perfect polka dots is to use the back-side of the paintbrush (dip it in the paint and dap on, dot by dot).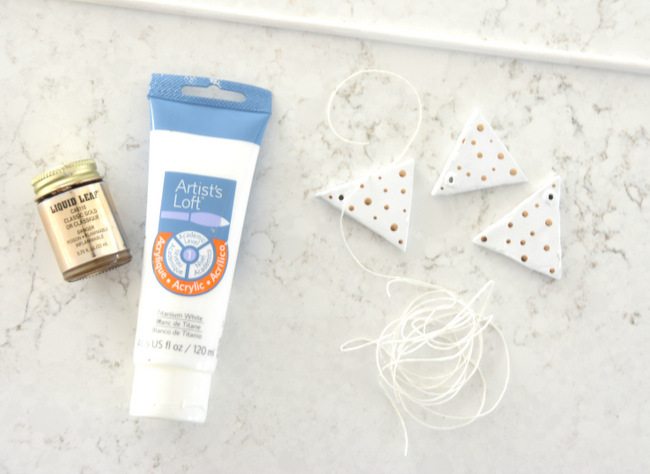 4 // Cut 3 pieces of string to length, tie them on the dowel and feed your triangle through the bottom of each. Tie a knot at the back of the triangle and cut any excess string.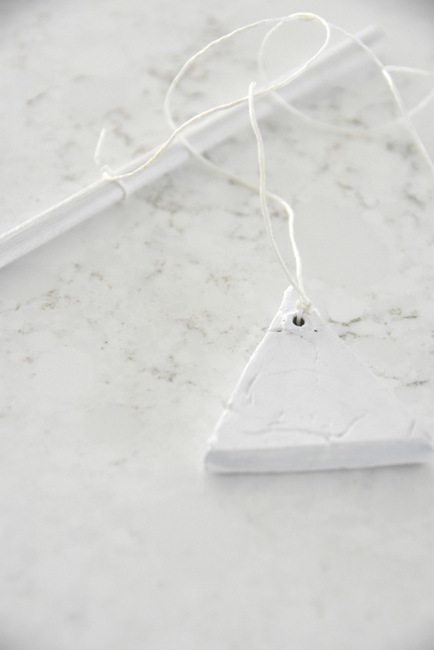 5 // Tape your photos to the string (put a piece of tape along the back of the photo, with the string underneath).
6 // Hang and admire how cute it is!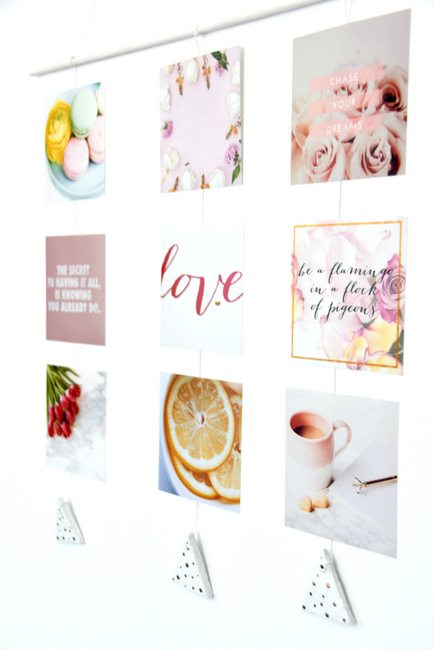 Note — Even though the weight of the clay triangles is pulling the string down, I found that my display kept going a little crooked. I ended up using some washi tape to stick the photos to the wall itself too. This just meant the whole thing was more sturdy.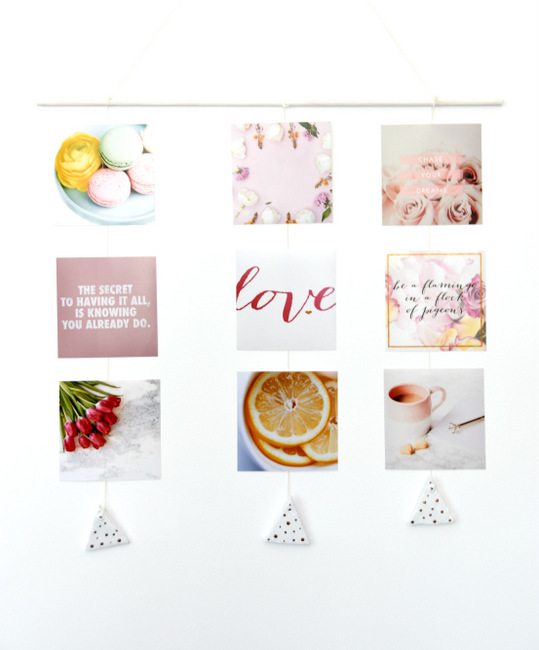 DIY Instagram Gallery Wall Hanging – black and whit turned out great!
I also had some of our family photos printed in black and white to make a little fam jam gallery. That one turned out really sweetly too!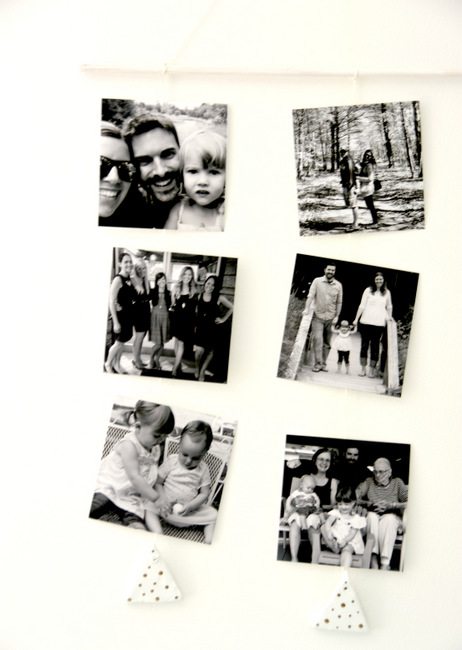 A low-cost but super cute little DIY! Definitely put this on your weekend to-do list.
Thanks to Amy for the inspiration! xo.