My family is all about the homemade gifts.
Since there are a lot of us (including 14 nieces and nephews – and we're not even talking about Dan's side of the family!!), going homemade just makes sense. Not only is it much more reasonable on the purse strings, but the presents are always fun and thoughtful.
This year, I made mason jar christmas cookies – "cookies for santa".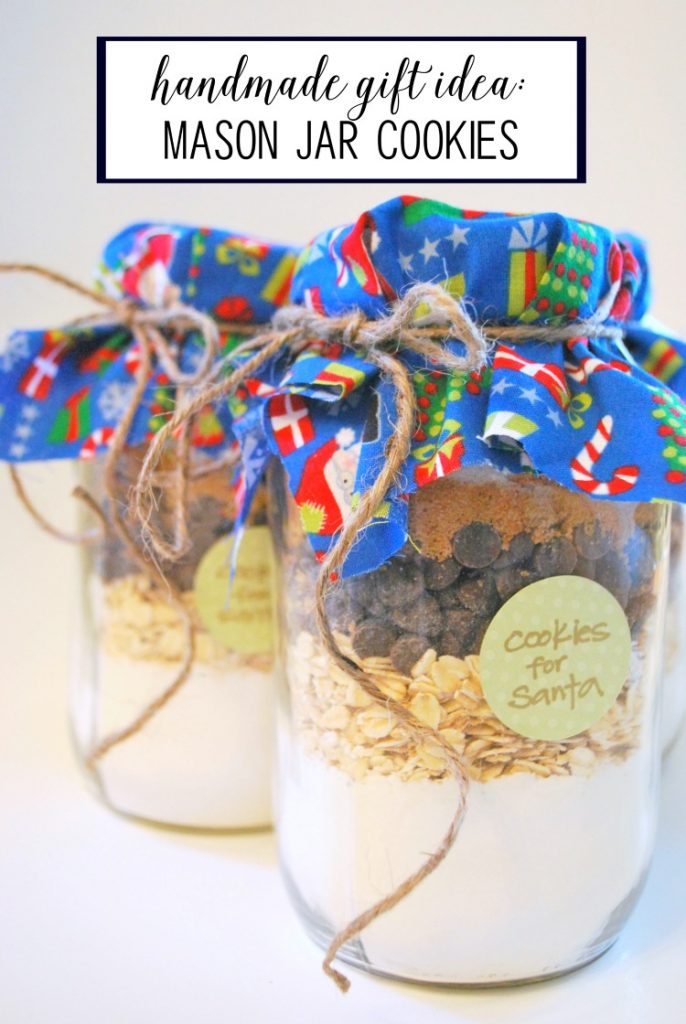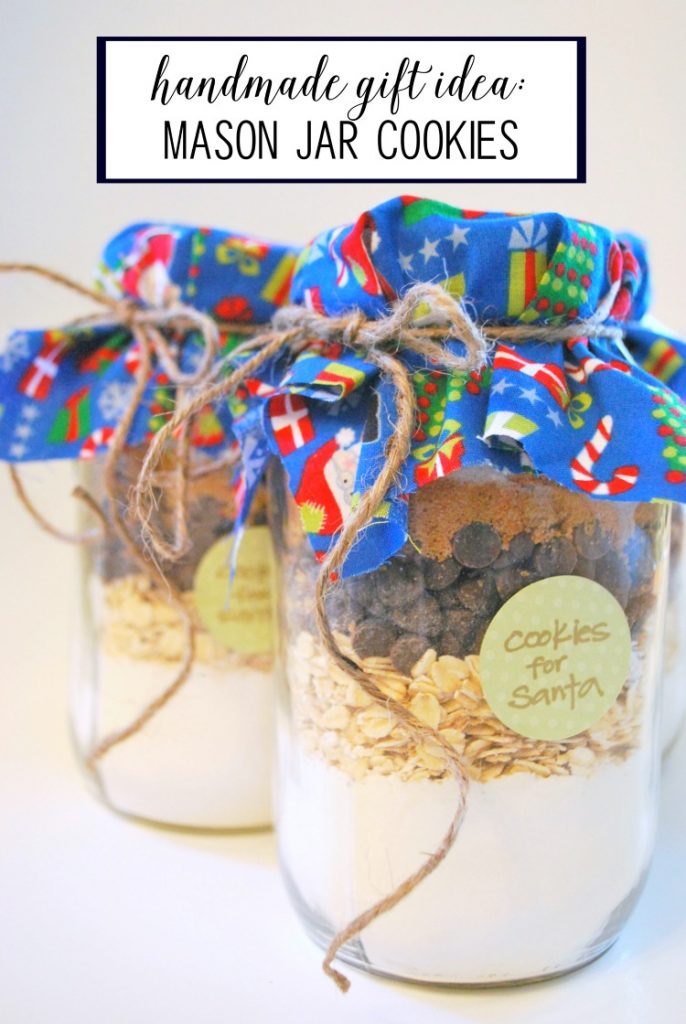 First up was to find a good recipe. I stumbled upon these ultra cute 'cowgirl cookies' on bakerella. They looked great and I love oatmeal chocolate chip cookies. Sold.
The scene in my kitchen when I was making these up?! Not pretty! All of my ingredients everywhere, a light dusting of flour over the countertops, and my laptop on the oven so I didn't miss a step.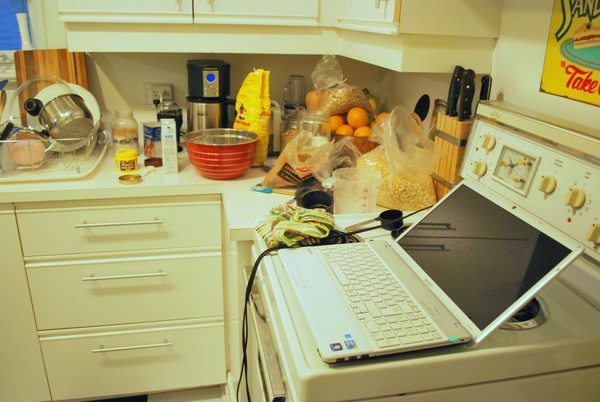 The Bakerella recipe was super simple. Flour, oats, white and brown sugar, chocolate chips (I skipped the M&M's and just did all semi sweet), baking powder and baking soda. I skipped the pecans too, just in case of nut allergies.
I bought 1L mason jars, and the key to success here was to press down the ingredients as much as possible. With my first jar I was fairly liberal with the measuring and didn't do any compacting, and wop-wop… I didn't end up with enough room for all of the ingredients. Don't feel too sorry for me though, that jar happily became a tester batch.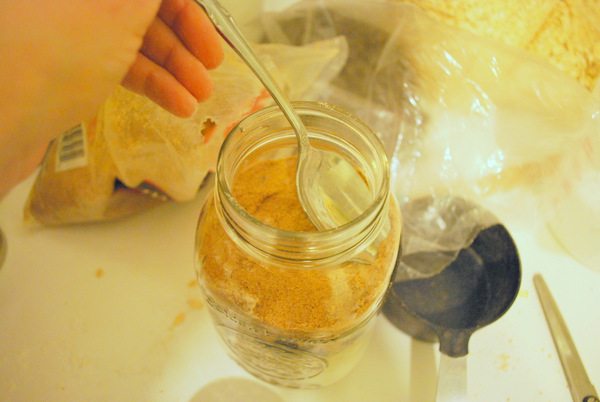 Once I had my jars filled, next up was to decorate them. We don't have a printer at home, and I couldn't be bothered to get tags printed, so I just did the labels by hand. I grabbed some scrapbook paper I had lying around and cut a bunch of circles with my circle punch. I labelled them 'cookies for santa' and stuck them onto the jars using double-sided tape.
Then I grabbed some fabric scraps I had lying around. This peace sign fabric matched perfectly with my green labels, and some blue santa fabric also made the cut.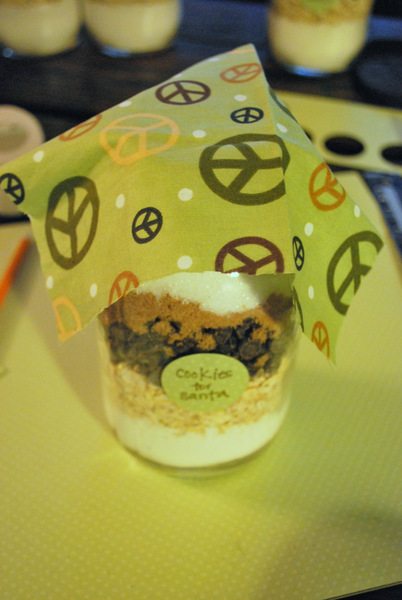 Then I grabbed some jute string, looped my instructions through (I had hole punched them in the corner), and tied the fabric lid in place. If you have trouble getting your string to hold the fabric properly, layer on an elastic first so that it holds the fabric in the right spot, and then you add the string on for decorative purposes.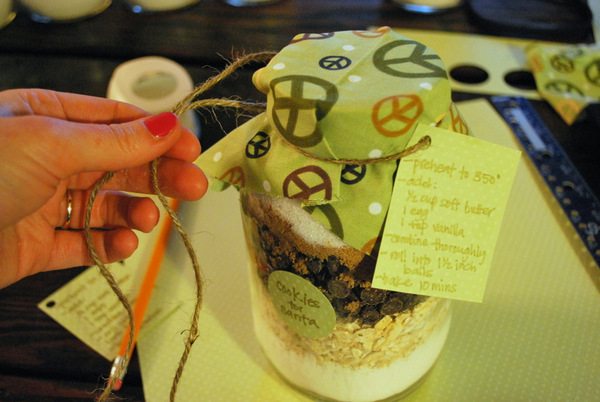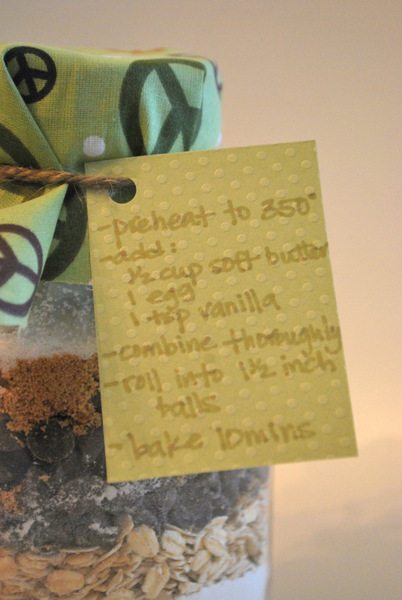 And here they are! Cute, right?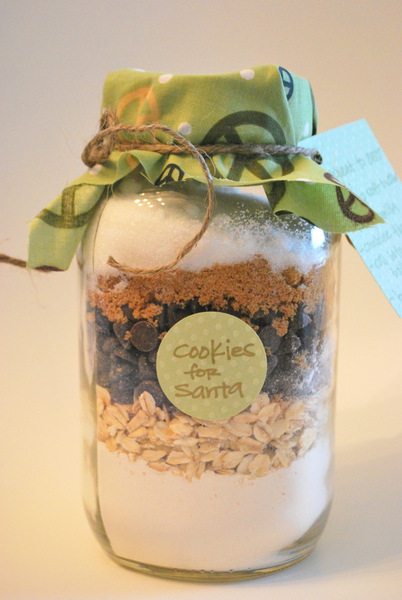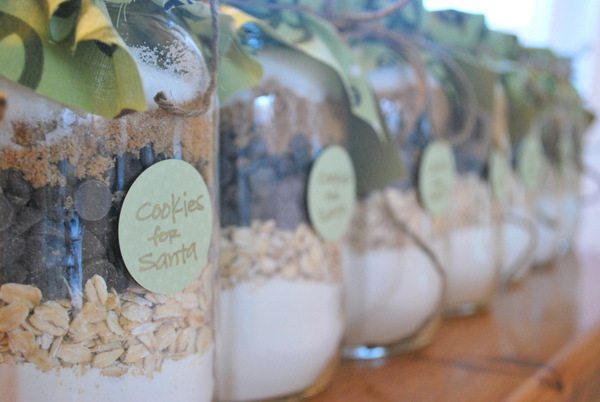 And the santa fabric variety – which I LOVED.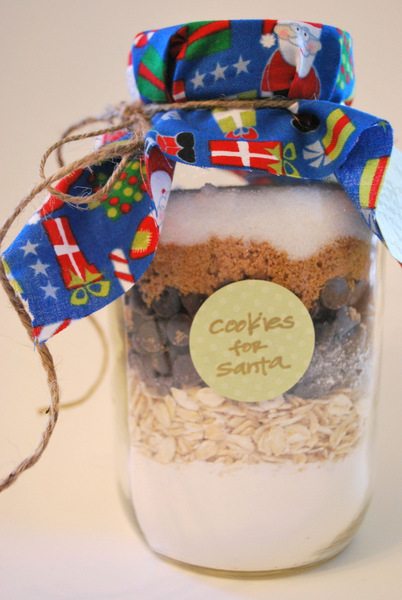 Presents like this make me totally happy. So simple and so sweet. And I can report that the folks who have received these so far have loved them! So get your supplies, put on some festive music or a Christmas movie, and spend the afternoon making these. I promise – it's fun!
Making any homemade gifts these year? Ever done any cookies (or other food) gifts in mason jars? Got a favourite recipe? Do tell.