Our home office on the main floor of our house had been majorly neglected for a LONG time. We focused on so many other areas of our house and kept leaving this eyesore, which was used as a dumping ground for anything and everything (believe me, I'm going to spill a pic in a sec of that 'before' shot!!). If you need to makeover your own home office, or just need some stylish home office decor ideas, then keep reading…
We just wrapped up a full makeover to our office space and are so happy with the modern and classic result.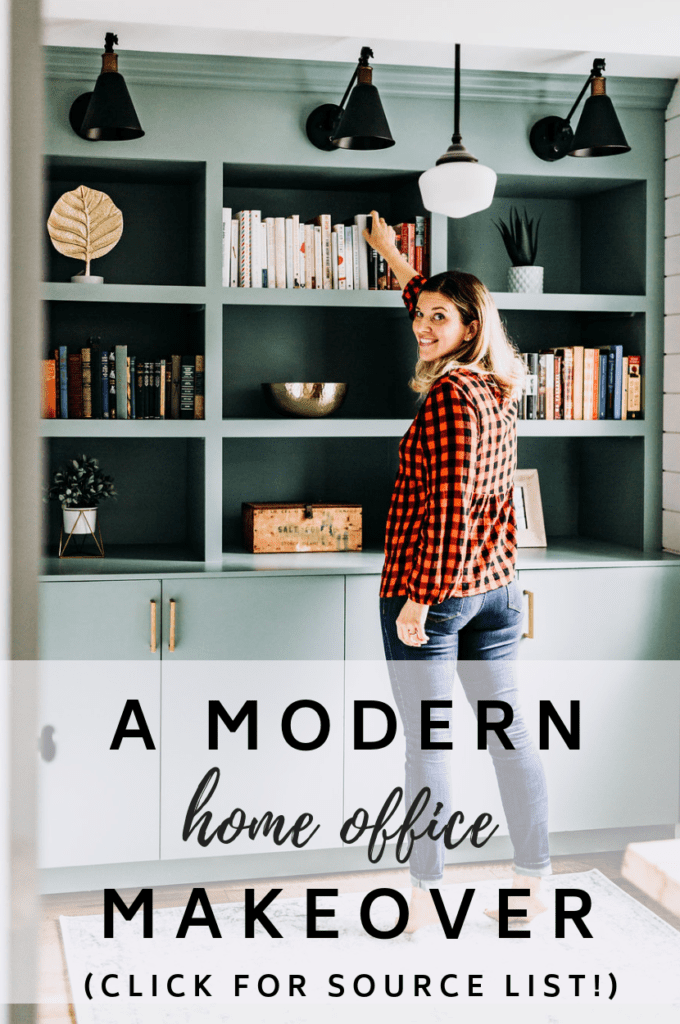 Get the Look:
Want to see the before? Let's rewind all the back to the beginning…
The Office Before:
Here was the office when we were renovating the house. This was an add-on space that we created off the side of our house, when we were building on our attached garage.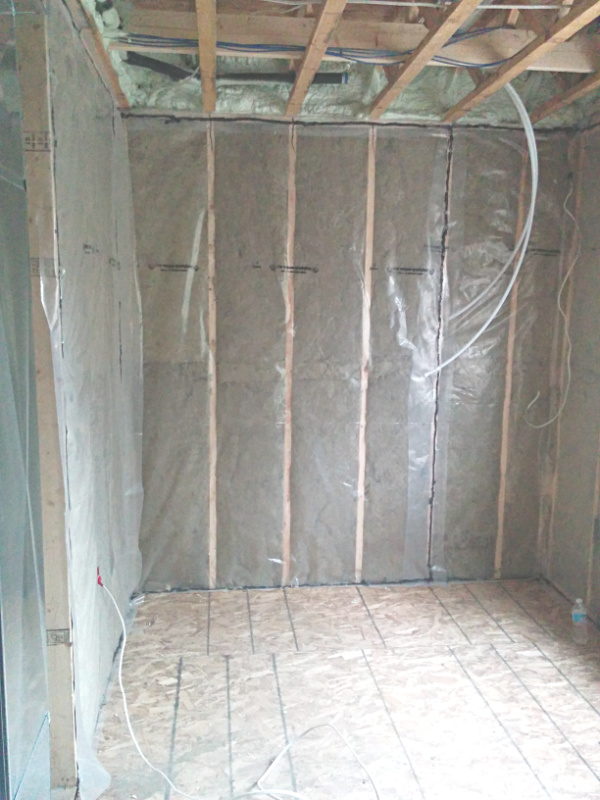 We had it drywalled and the floors installed, but then just left it like that to collect clutter for two years. Embarrassing!
Step 1: Clear Out the Room
The first step was to clear out the space. Phew. Now we could see what we were working with! It's not a big room, but we knew it had a lot of potential.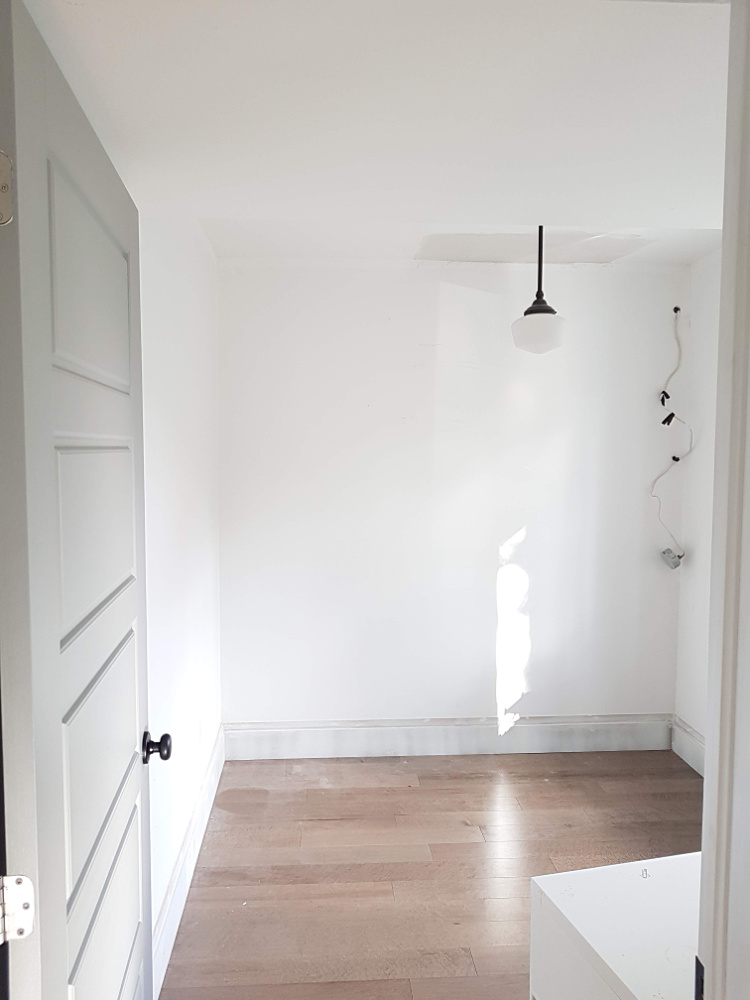 Step 2: Install Shiplap Walls
Our first project was to install shiplap on the walls. We used the Alexandria Shiplap moulding from the Home Depot Canada. Head here for that tutorial: How to install shiplap walls.
After the shiplap went up and the whole room got painted my fave white – "Jo Jo Whitewash" by Para Paints – it was time to create some storage.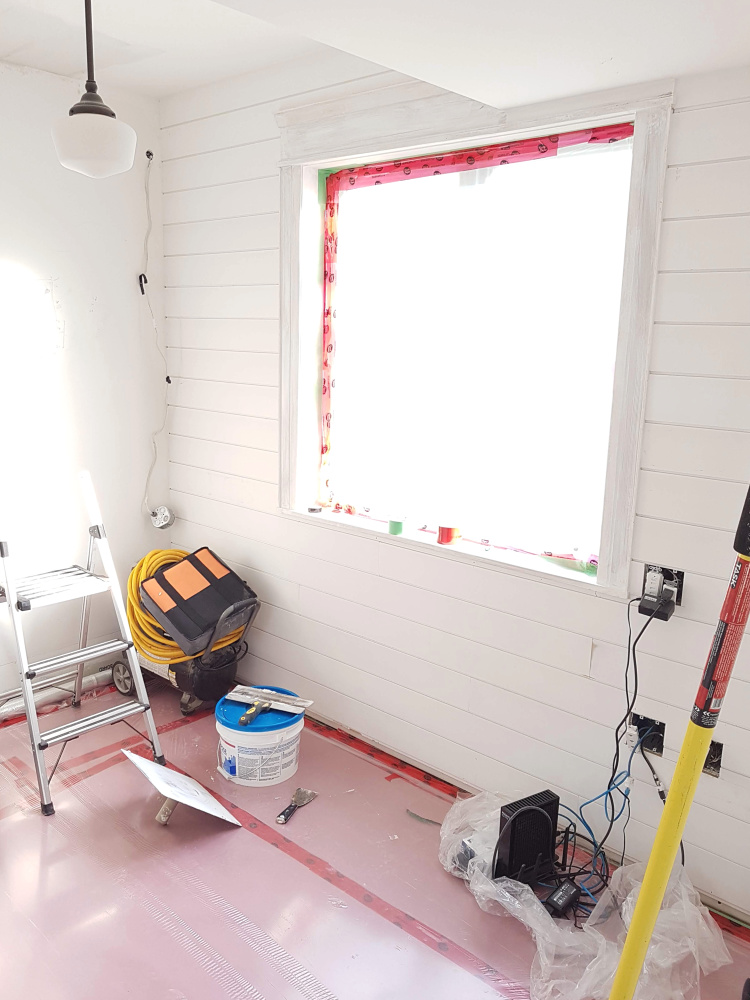 Step 3: Install Built-In's
We loved the fireplace built-in's we have in our living room, so we went with a custom built-in in this space too. I wanted everything to be symmetrical. For me, symmetry is what can make a room come together. So I sketched out a drawing for the built-in's with two main cupboards along the bottom for hidden storage, and then 9 symmetrical boxes for open shelving. I wanted three sconces up at the top, so we made sure there was a large enough bulkhead for those to happen.
The built-in's were built by our contractors in a matter of a few days. They used MDF, which was the most cost effective option.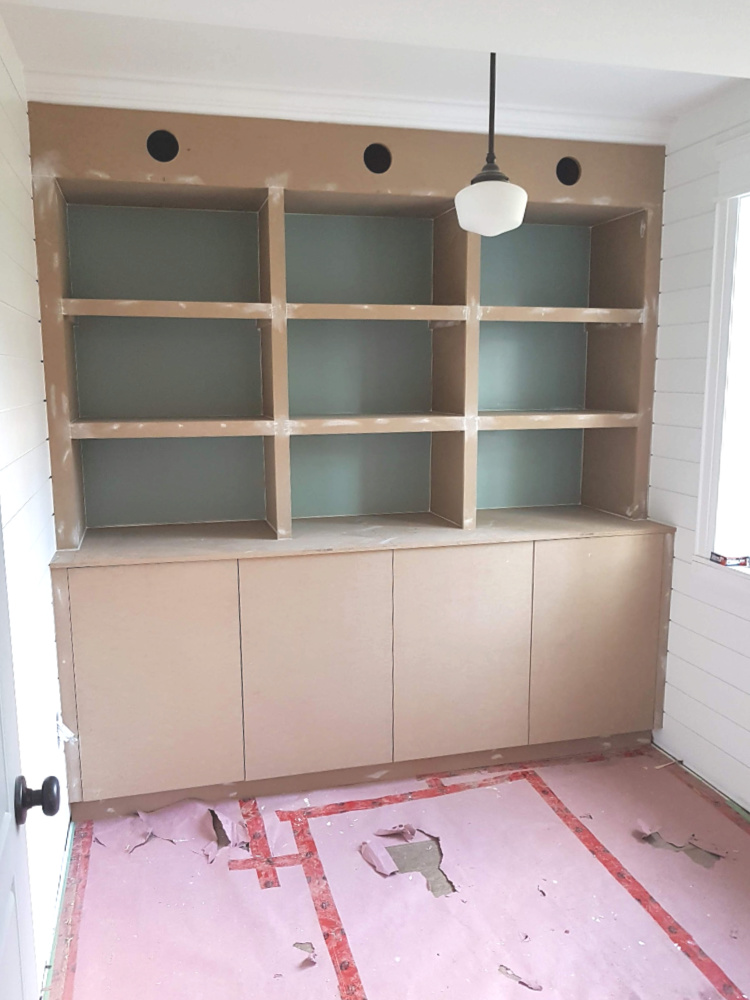 One of the best tips for building built-in's, is to make sure they are caulked and filled really well. That way they will look so flawless in your space.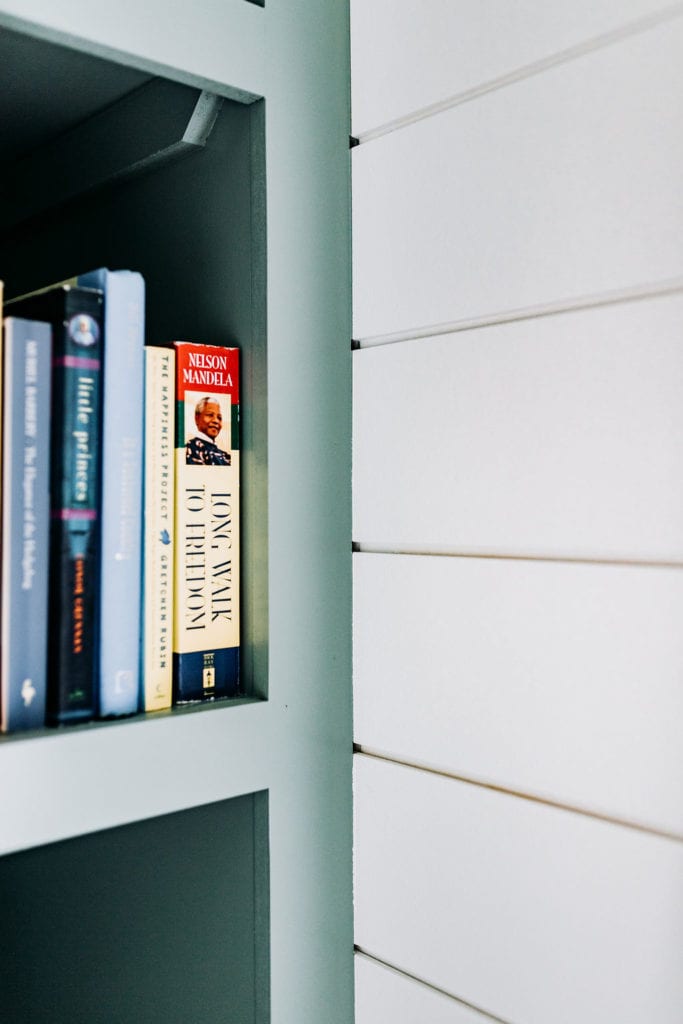 MDF is very, very dry so always start with primer and put on a few coats before getting to your colour. We went with "Nature's Gift" by Behr Paint for the colour of our built-in's. I love that earthy green and knew it would look amazing next to the fresh white shiplap. Keeping the colour consistent from the cabinets to the shelves to the walls behind and the crown moulding, gives the built-in a really modern appeal. I totally recommend the one-colour trick if you're doing some in your own home!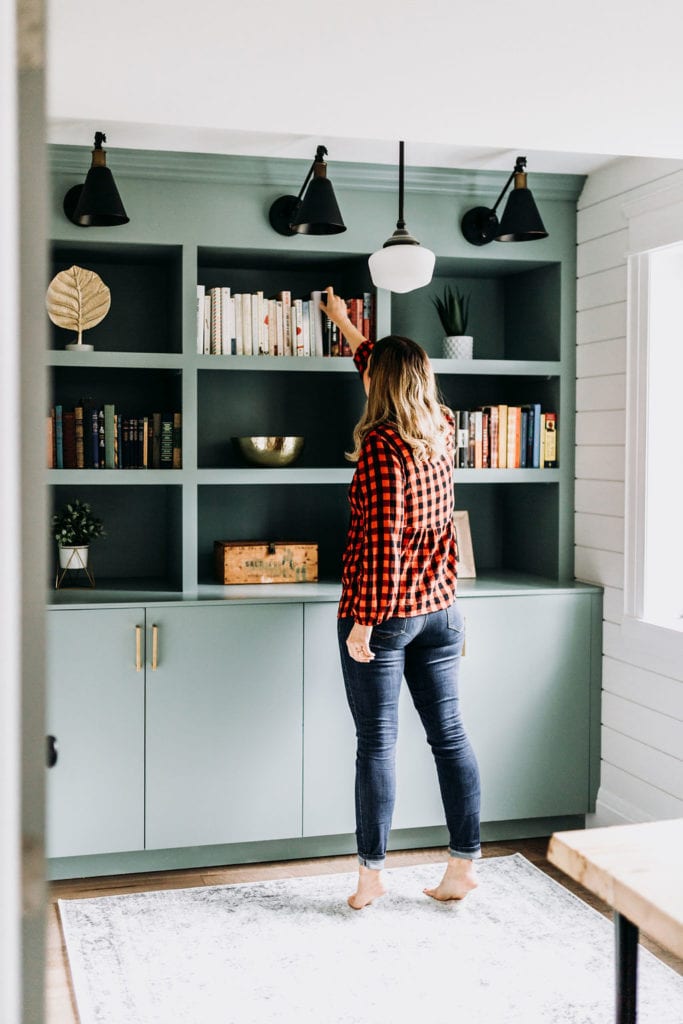 The three sconces were hard-wired into the built-in (we had planned for this during our renovation, so had the electrical there ready to go). These black and brushed gold sconces from Amazon were super budget friendly. I had been worried that they weren't going to be great quality, but we LOVE LOVE LOVE them. They look amazing.
Similarly, I got these gold cabinet pulls from Amazon for a steal, too (Canadian friends, they are on Amazon.ca here!). They are lightweight, but are totally fine for a piece like this!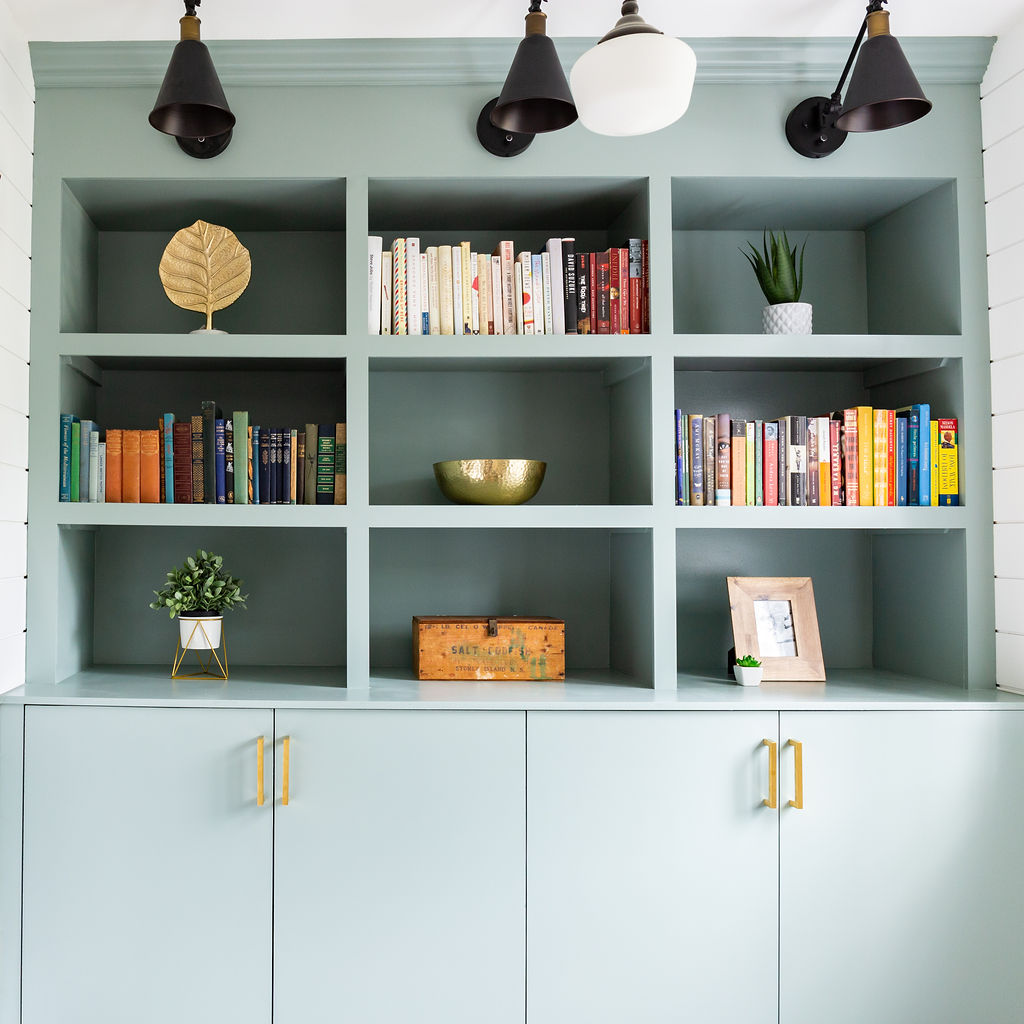 The accessories for the built-in: Geometric Modern Planter / Gold Leaf Sculpture / Marble Planter / Gold Bowl (similar)
Step 4: Style the Space
After the built-in's went in, it was time to style the space. This is obviously my FAVE part of any room makeover.
We brought in a DIY desk my husband put together (more details on that to come soon!), a chair, this beautiful rug from Wayfair, books and accessories for the shelves, and artwork.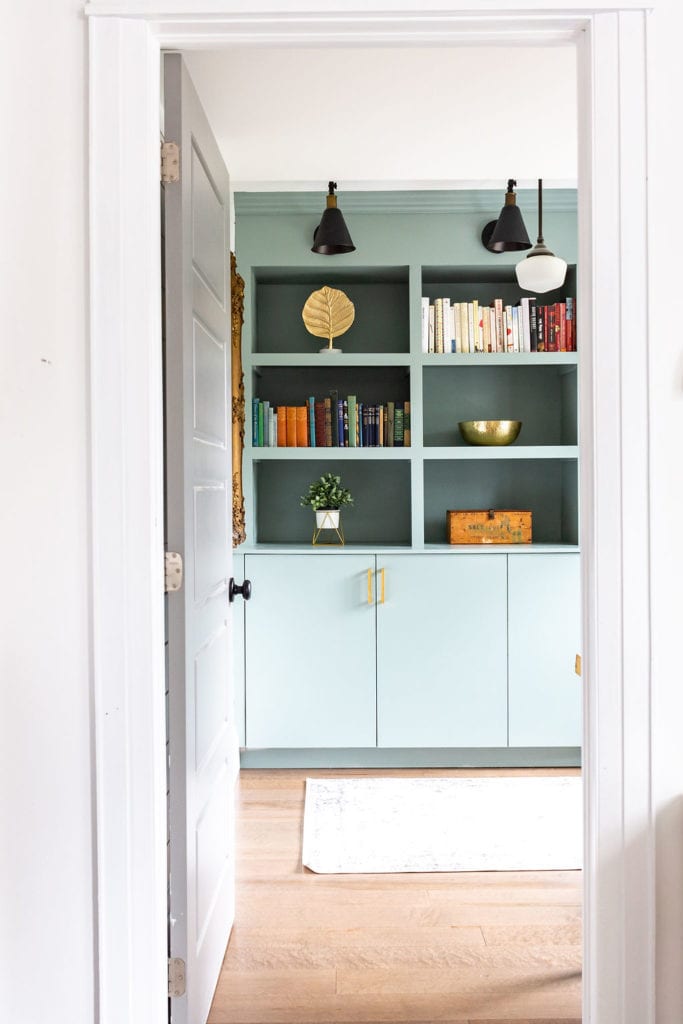 Quick story on the artwork. We have that giant oil painting in storage for years. It is a portrait of my husband's Great Great (Great?) Grandfather, who was a captain in the Navy and has the same full name as my hubby. The two other paintings over on the other side of the room were actually painted by the same Grandfather.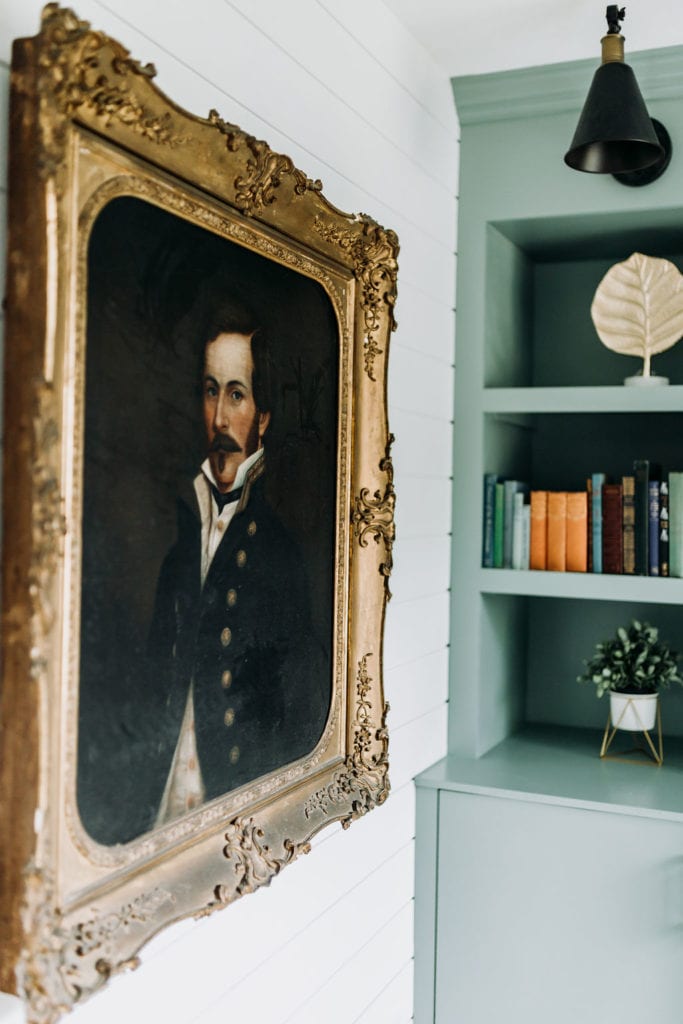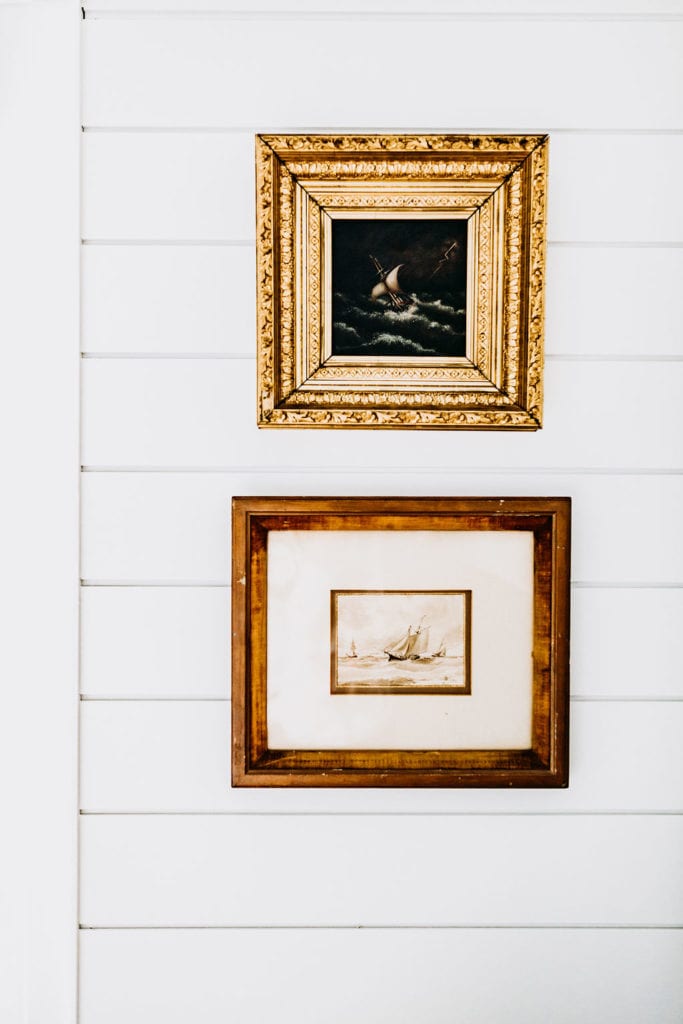 The Home Office Reveal!
So there is it. A full before and after makeover of our home office. Do you think I channeled my inner Joanna Gaines meets Shea McGee? That would be a designer match made in heaven, right? ;)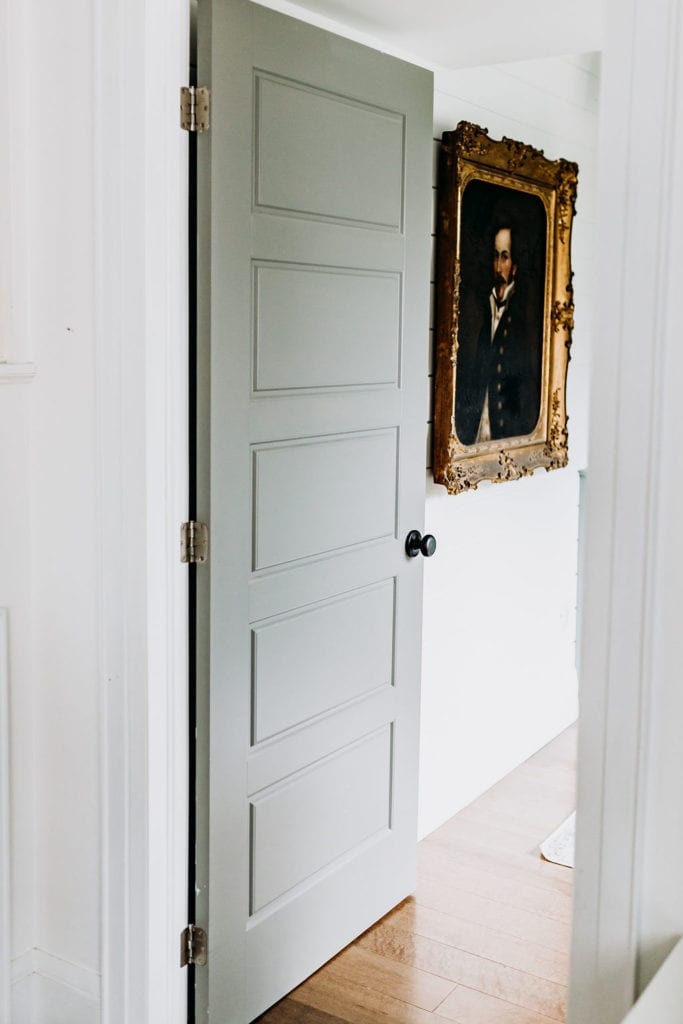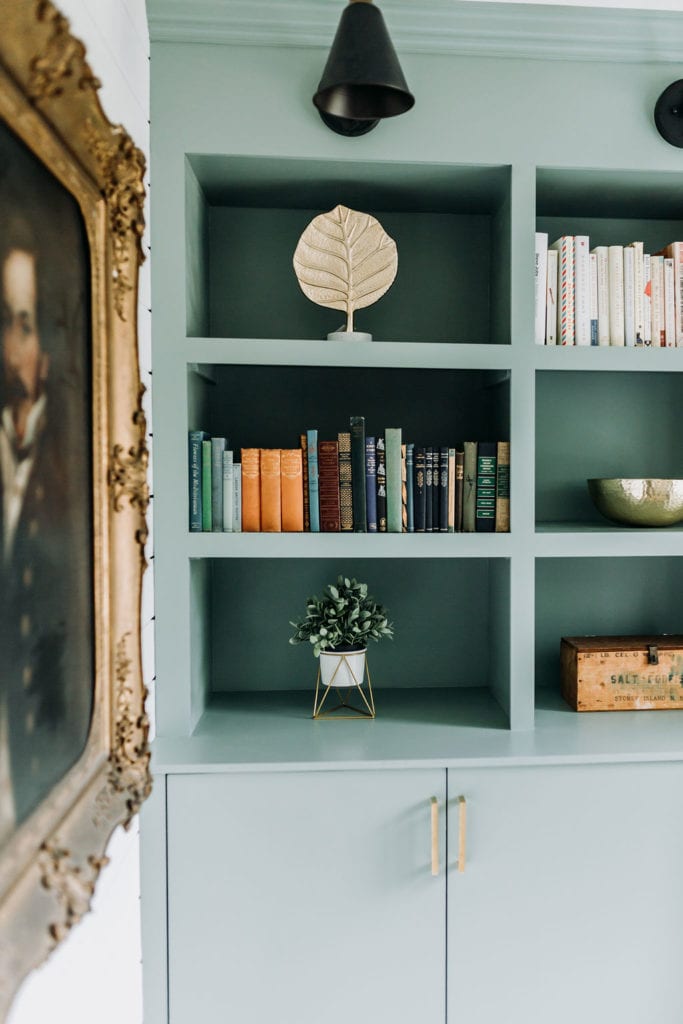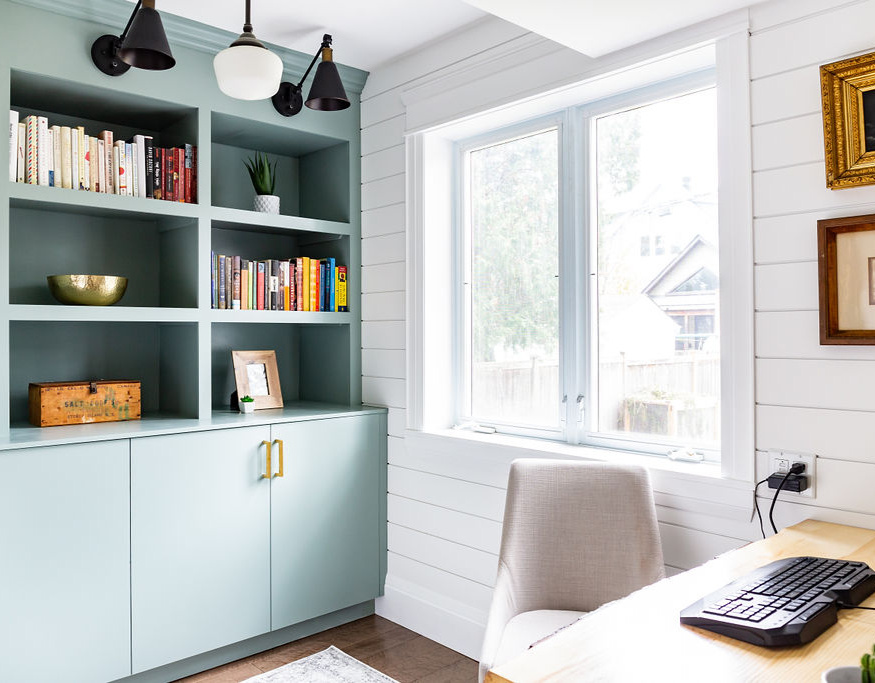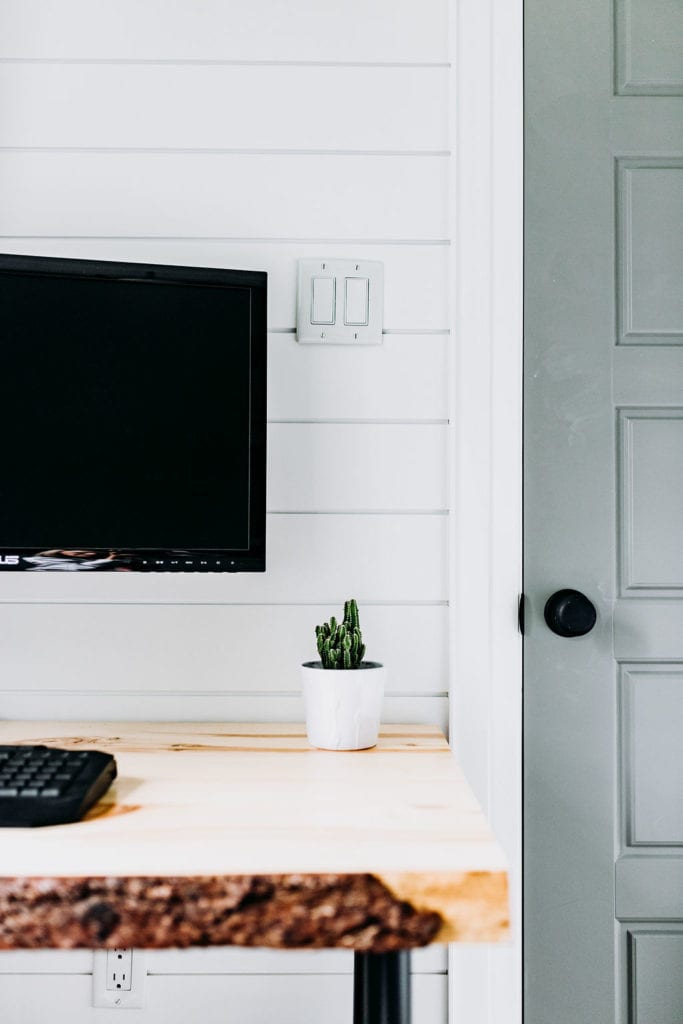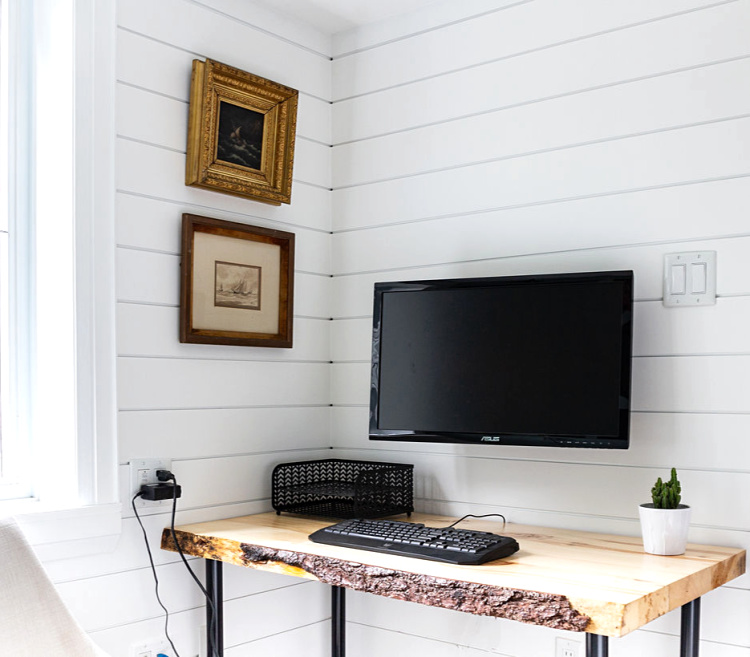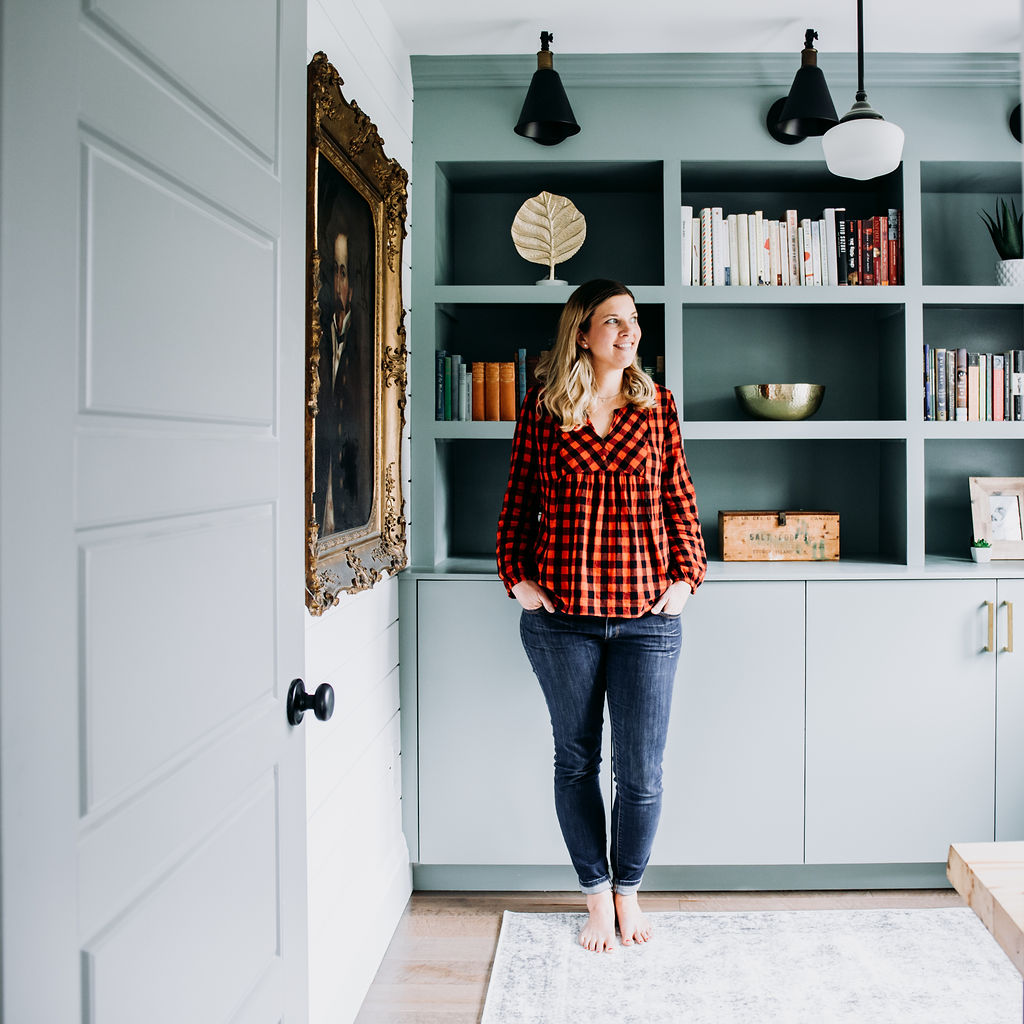 Get the Look:
Photography by super talented Ottawa Photographer, Of Wild Dawn Photography.
Disclosure: This makeover was brought to you by the Home Depot Canada.  We love partnering with brands like them, who we use and trust for high quality products, whether sponsored or not. The shiplap, MDF, DIY desk materials, paint, and other building supplies came from the Home Depot Canada for this project!