After painting and stenciling the office walls (check that out here), next up was to start to move some furniture back into the room. The original desk was not only less than beautiful to look at, but was way too deep for our double-duty office/guest bedroom. We needed something that would be nice and narrow, offering plenty of desk space for our computers but not overtaking the room. So we checked out a few options (the besta burs desk at IKEA was almost a winner), but in the end decided to DIY something. We wanted pretty specific dimensions and also figured we could save a bit of dough.
First thing was to figure out our design. We liked the look of desks with a wood top and white drawers (like this one by Aubrey + Lindsay), but knew we couldn't use regular filing cabinets or other deep drawers for the bottom since they wouldn't be as narrow as we needed. So when we stumbled upon the Helmer drawer units from IKEA ($50 a pop), which came in at around 17 inches deep, we were sold.
The top of the desk was surprisingly uncomplicated. We bought super basic wood from Home Depot – two pieces of the 9.5 inch deep pine – about $20 worth. Dan-the-man cut the pieces to size and then literally just glued them together with wood glue (and left them clamped over night to make sure they were bonded really well). And if you're wondering about sanding, since the wood was really pretty smooth already and we knew we were going to be just using the surface for computers, we didn't bother.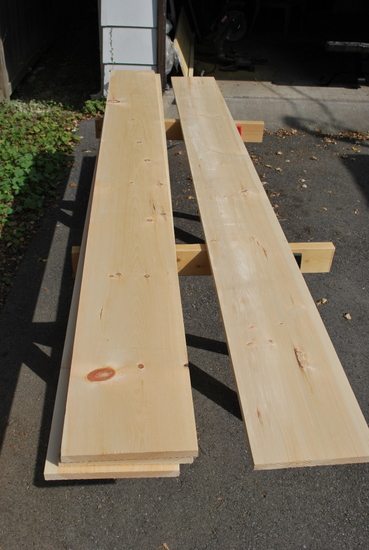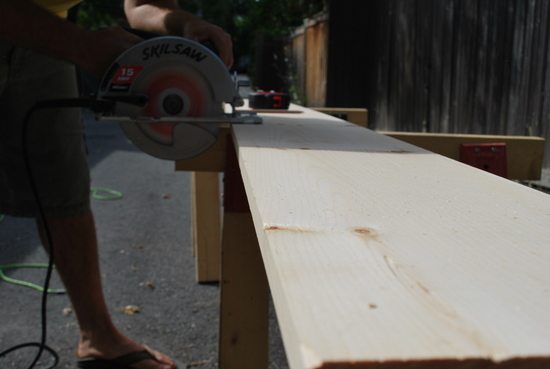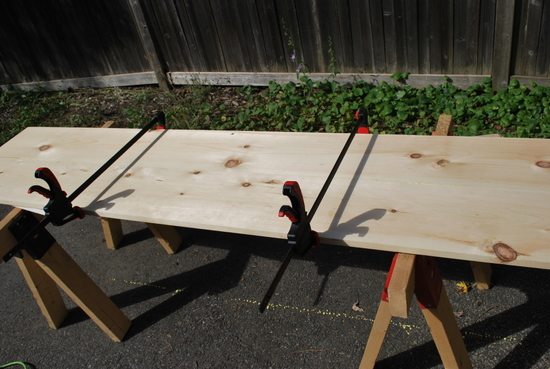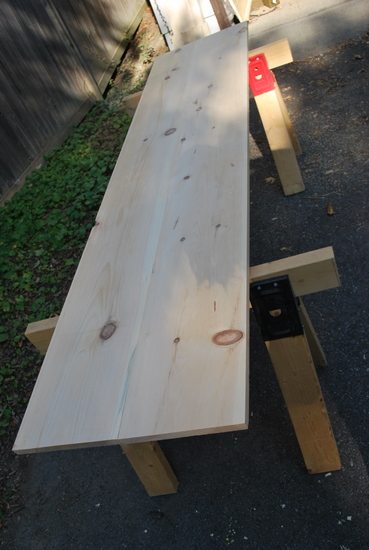 Next step was to crack open my favourite stain. Yep you guessed it, minwax in dark walnut. Come to mama. See our coffee table makeover and our wedding signs for other dark walnut adventures.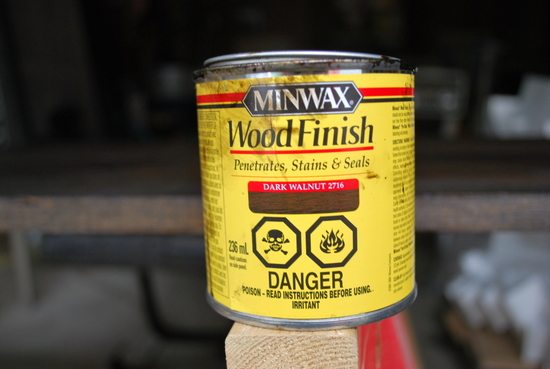 One coat of stain and three coats of varathane later, she was lookin' pretty fine. We put 3 coats of varathane on just to make sure the top was going to be extra durable. Plus, it adds a really pretty glossy finish. The varathane is still wet in the picture below — hence the blueish tone.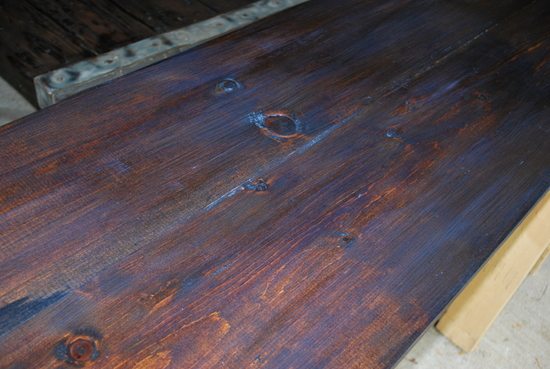 Once the table top had cured out in the garage for a few days, we brought it in and just plunked it on top of our two new drawer units. We thought we might want to secure it all together somehow, but realized that it was actually really sturdy just the way it was. No wobble = fine with us (and makes dan a happy man).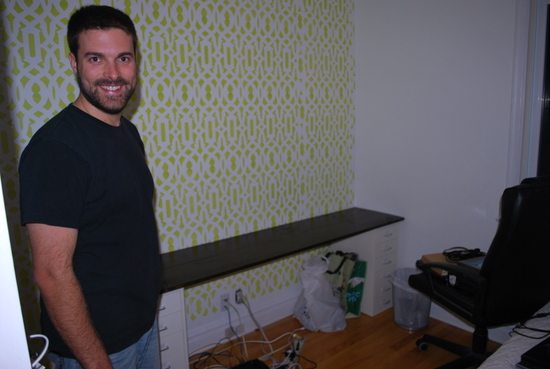 To make the best use of space and since we had some leftover wood, the hubs customized things up a little. He built a little platform for our desktop monitor (which not only elevates the monitor but also means you can tuck the keyboard in) and little compartments for all of the u-u-ugly computer components. It really makes the whole thing look so much cleaner and organized. And y'all know my heart pitter patters for good storage solutions.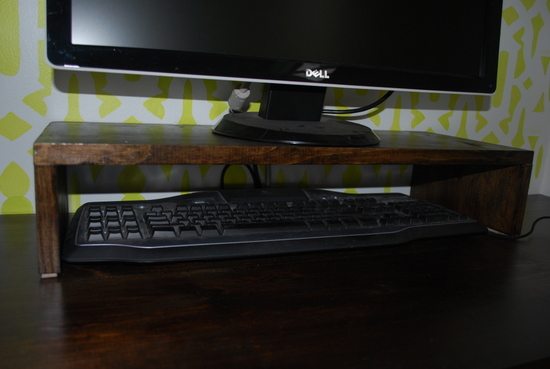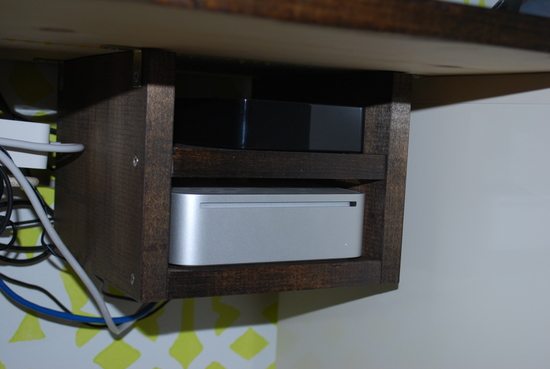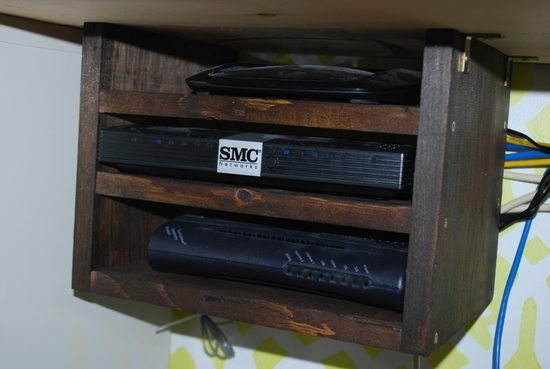 And here's how she's looking all put together…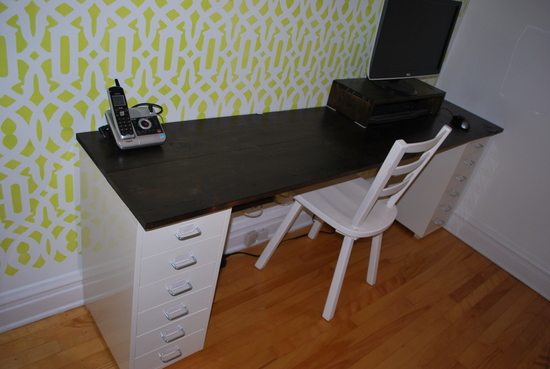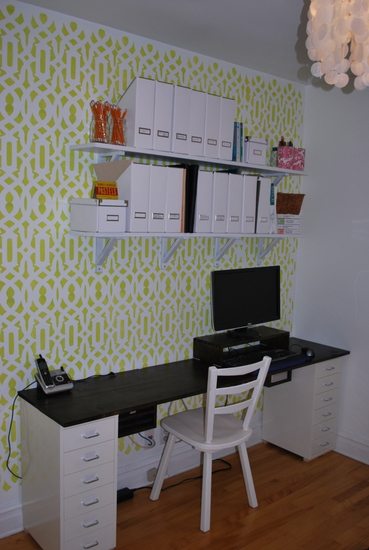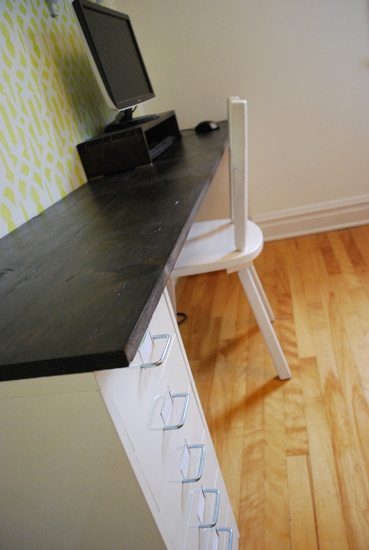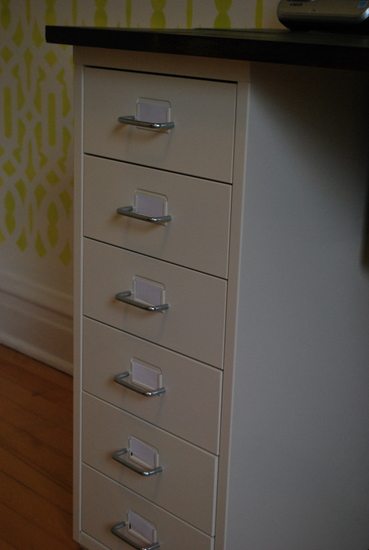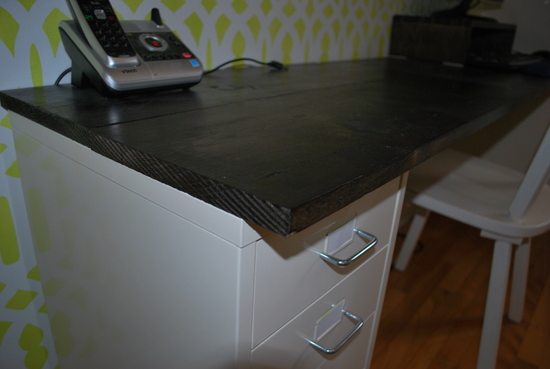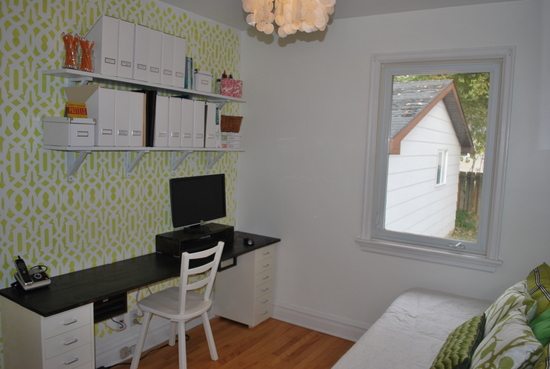 Not only was this a fun project to do, it definitely didn't hurt that we came in way under budget too. The total cost would have been about $160 (for the drawer units, wood, stain, and painting supplies), but luckily we had an IKEA gift card for the drawers and we already owned the stain and supplies. So totally cost for us? About twenty dolla dolla bills.
Desk? Check. Next up? Dress the shelves nicely, figure out our filing and storage system, artwork, and all sort of other things. This room is definitely becoming less and less like the ugly stepsister of our house and more like the belle of the ball.
What do you think? Have you DIYed a desk before? We were surprised at actually how easy it was and definitely so nice to be able to customize to fit the room perfectly.
Get Access to The Vault.
Get FREE organization printables, art printables, design guides, and more. There is SOOOO much good stuff.
You know you want in!