Before I get into telling you about caulking our bathroom, let me just say that I have been giggling for more than a few minutes about all of the not-very-appropriate titles I could have named this post. Apparently I'm still in junior high?
Back to the adult stuff… last we left off in the bathroom reno saga, we had just put up the trim and done a fresh coat of white paint on the walls. Next up was to get all of the caulking done. Not a very exciting project, but it's definitely one of those things that adds that finishing touch. Even if you're not renovating, it's good to re-caulk your showers/tubs every so often. You just need to cut away all the old stuff and start with a blank slate.
Here's how things were looking pre-caulking. See that gap between the back of the sink and the wall?
Project bathroom: caulking
And this big gap between the tile and the tub? This particular gap is pretty high in some spots as our wall wasn't level and we laid the tile so that the tile would be level all the way up (we didn't want to get to that border of aqua glass and have it look crooked).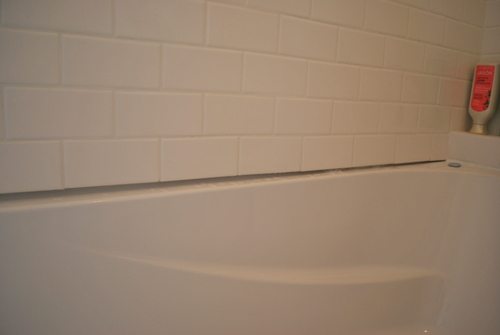 With pretty big gaps, they recommend that you use this backer rod before you put the caulk in. It's basically just a long tube of gray foam.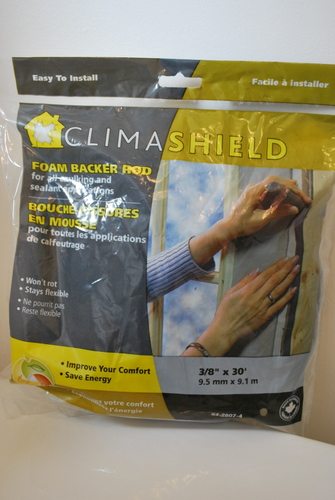 You cut a piece to size and then squeeze it into the gap. It provides some insulation and also acts as a baking for the bead of caulk you're about to put on.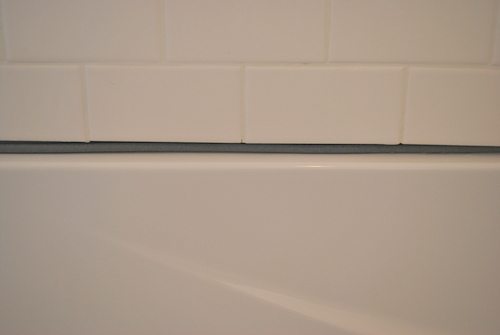 Once I got the backer rod in, I prepped the caulking gun with a tube of white 100% silicone caulk. This stuff isn't paintable, so it's really meant for bathrooms and spots that will get wet (as opposed to around trim).
I couldn't get a lot of action photos as I was doing this project solo, but here is a shot of the caulk once I had applied it. I stuck the tip of the caulking gun right into the crack and then dragged it all the way along. After this step, I would put the caulking gun down and use my index finger or thumb to smooth out the bead. You need to have some paper towel on hand, as you're constantly needing to wipe off your fingers. Oh, and make sure you don't wait long between applying and smoothing – the caulk dries really quickly and get tacky.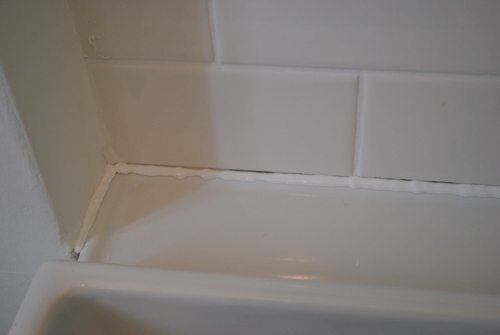 And here is the after! Much better, right? Clean and crisp.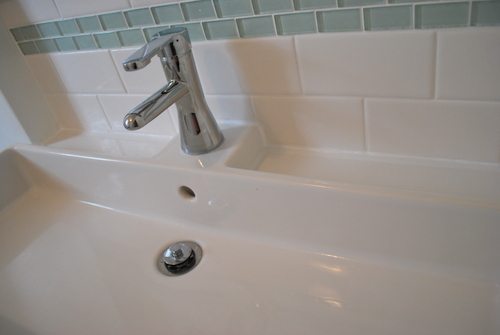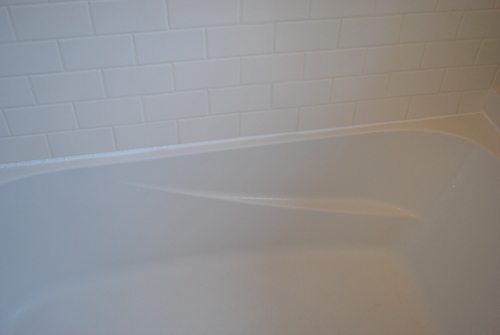 I even put some caulk down at the bottom of the tub – there was some grout there but it hadn't filled in everywhere, so this finished it off.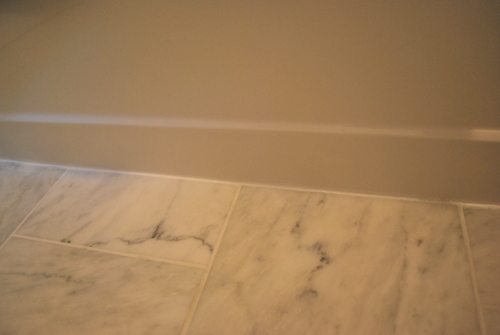 Caulking is one of those things you get better at with practice, so I think it's good to start with a more inconspicuous spot and then work up to the really noticeable areas. Caulking around fixtures, like a shower head or faucet for example, can be a bit tricky. I waited until I got the hang of it before I tackled these area in our bathroom.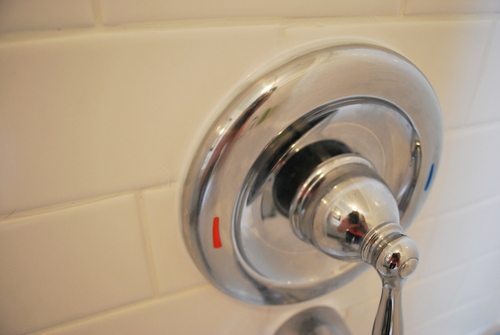 So that's it! A really easy peasy DIY project. Now that we have that checked off the list, next up to finish 'er off is to paint the ceiling and then add in the accessories (the best part!).
Any of you done any caulking recently? And really…did anybody else giggle just a little bit when they read caulk and caulking about twenty five times in that post? Please say I'm not the only one…