Okay, so after all that talk about caulking yesterday let's get to something a little more pretty, shall we? Accessories. Whether they are for your outfits or a room in your home, who doesn't love accessories? They totally make a room (or outfit) and add that little bit of sparkle and fun.
After doing a long list of labour-intensive projects (like demo, tiling, or laying a floor), adding the accessories felt like such a treat. First up were the bars – towel bar, TP holder, etc. We had a gift card to Bed, Bath & Beyond leftover from our wedding, so we headed there to see what they had. They carry a pretty good range of products in various finishes (brushed nickel, oil-rubbed bronze, etc.), but since we had already chosen our chrome faucet and shower head (purchased at IKEA and Home Depot), we wanted to keep it all consistent. MOEN had a nice line in chrome with simple and clean lines, so we went for them. The series weren't particularly cheap (all between $15-$50), but they are good quality and a middle of the road price, which we were okay with.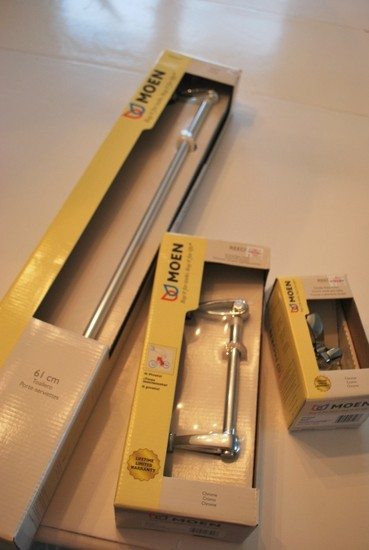 Here was our sad, old towel bar. A plastic white thing that had definitely seen better days. Since our bathroom is so small, the back of the door is the only spot for a towel holder. We contemplated just putting up hooks instead, but tested out hanging our towels on the hooks in our bedroom and found that they never quite dried properly. So, bar it was.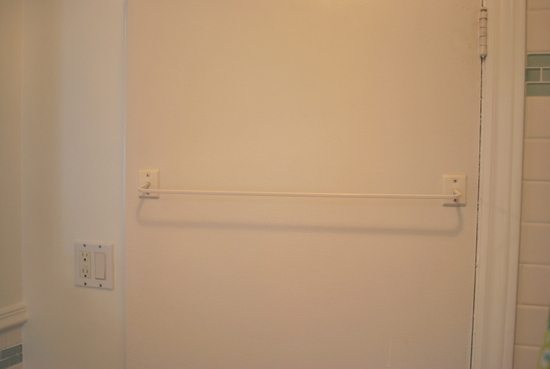 The BB&B bars came with these handy-dandy paper instructions that show exactly where to drill in. We marked the spots with the screws themselves, and then just drilled 'er in.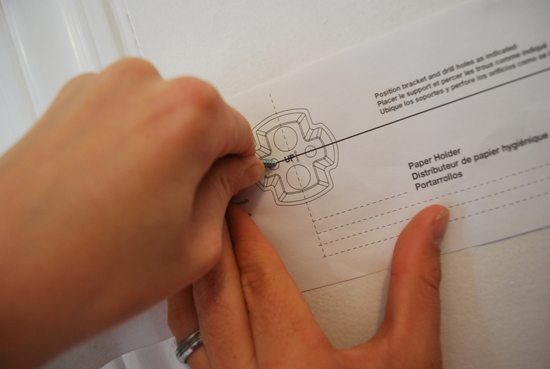 Muuuch better.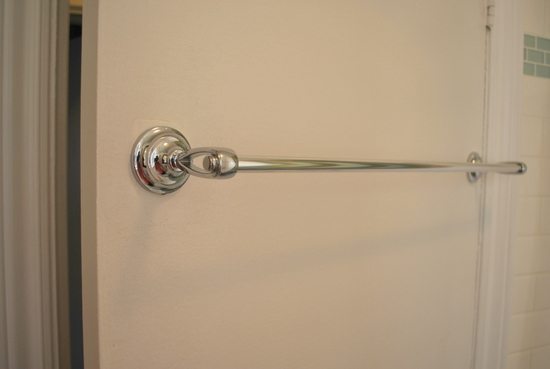 And the toilet paper holder? Not much rhyme or reason in picking the perfect spot for this bad boy, we just put it on where it would be comfortable to grab… don't need to get all descriptive here. You know what I'm talking about.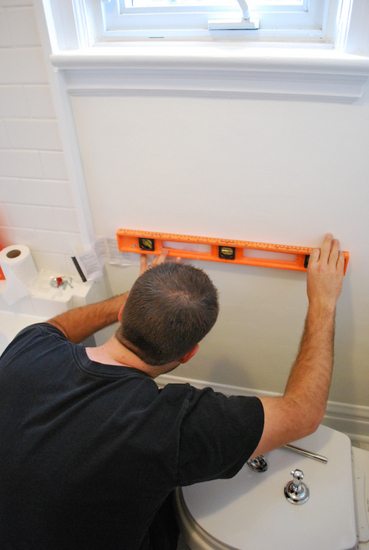 And voila.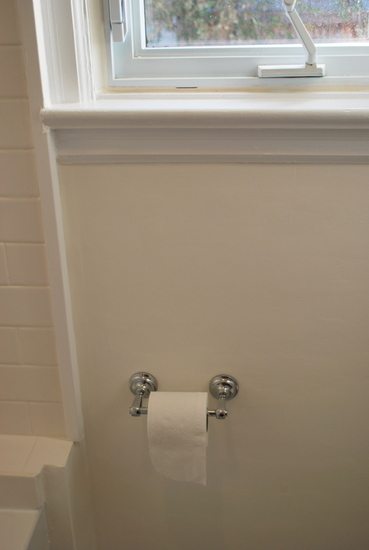 Now for the mirror. I had two main criteria for this decision: 1) it needed to be high to fill the space as much as possible to make the room feel bigger, and 2) I wanted it to be wooden to bring some warmth and texture into the room. I went to my favourite mirror source (HomeSense) and came home with two possibilities. For those of you Canadians out there, HomeSense is really fabulous for mirrors – there is usually tons of selection and they are super reasonably priced.
Anyway, I came home with two different options. The first was this rustic and industrial beauty. I thought it might add a nice juxtoposition to the slick textures in the bathrooms (marble, subway tile, etc). Although I liked it, its chunkiness just felt a bit too heavy in the space. (*Note: you'll notice that this decision making happened a while ago, before the backsplash tile had even gone up).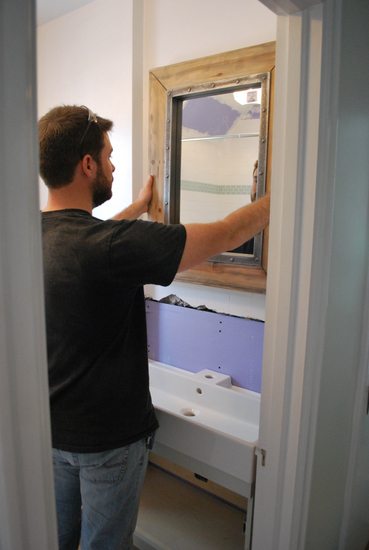 The second choice was this more sleek ebony wooden frame. It's definitely the more slick version of the two and it's slim, tall lines seemed to fit in the space better. Winna winna, chicken dinna.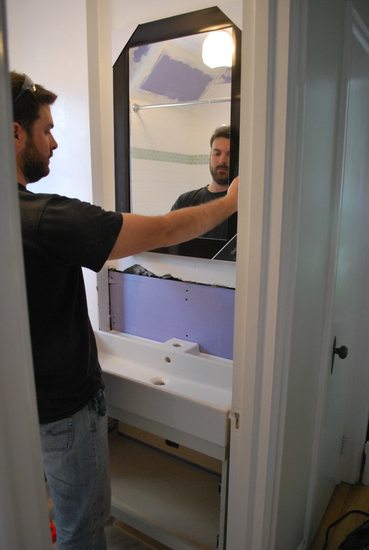 And here she is installed and looking all pretty. I like having the pop of wood as a bit of contrast in the room. It looks more like shiny black in these photos, but up close you can see the wood grain and the deep chocolate colour.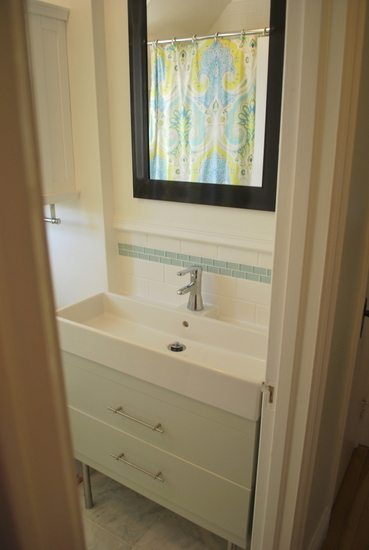 Oh, and did you notice that pop of pattern and colour reflecting in the mirror? Yep, that's the new shower curtain! This paisley beauty popped out at me on our BB&B shopping trip and I couldn't help but pick it up (it was $50 – but I still had that gift card). It's called the Sardinia. At first I thought it might be too much in the small space, so I carefully took it out of the packaging and draped it over the shower curtain rod.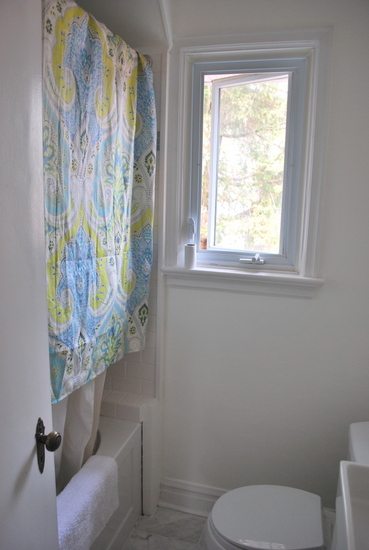 But after a few hours of peeking my head in every so often and slowly walking by the room, I was smitten. It pulls a lot of the colours from around our little house (aqua, lime green, light gray), and the paisley is such a fun pattern. If I ever want the room to feel more "calm", I can always get a white or gray waffle shower curtain (what I was originally going to buy) and just switch them out based on my mood.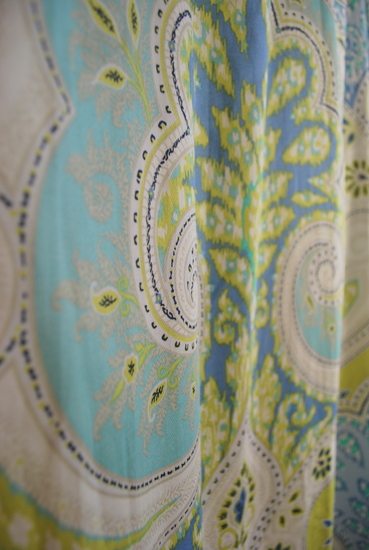 But for now, I can't get enough of these fun colours.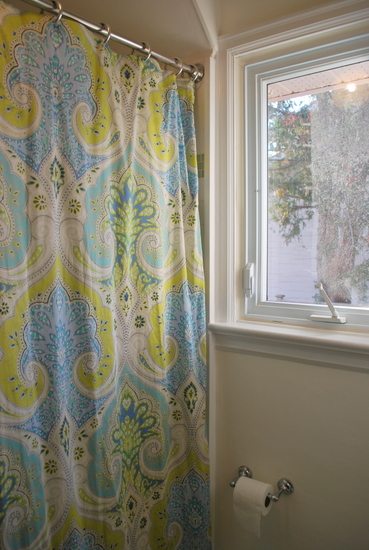 So that wraps up the accessories fun. The last few things on the to-do list are to paint the ceiling and install the new light, install the vent, seal the tile, and put in a floor transition. The final reveal will be next week. Stay tuned!
Happy weekend, everyone. Got any fun plans? Any travelling, spring cleaning, or DIY'ing? Whatever it is, I hope it's fabulous!