As I mentioned earlier in the week, this past weekend was my baby shower. We got incredibly lucky with the weather – blue skies, sunshine, and a breeze. It was held at my parents' place, which is about 45 minutes outside of Ottawa. Luckily they have a nice big lawn, so my parents' rented some tables and chairs, and a tent from a local friend.
We had about 35 ladies (and some sweet kiddos) join us, and it was so, so lovely. Really, I felt incredibly loved and supported. I can't speak for everyone else, but I think we all had a pretty great afternoon! We didn't do too much in the way of games – mostly just eating, chatting, and hanging out with each other. With events like these where you are bringing together people from the different corners of your life, you always wonder a bit how the dynamic will be. Luckily, it seemed like everyone mingled about and got to know each other!
A few of my fave shots from the day…
That's me, my sister, and my gorgeous niece.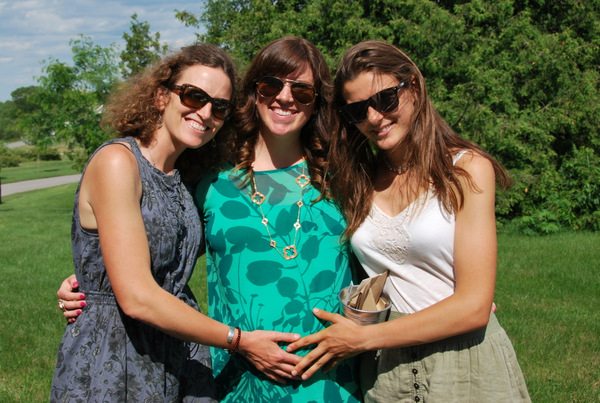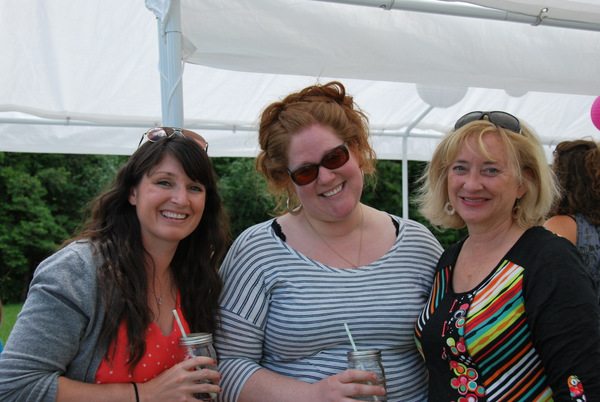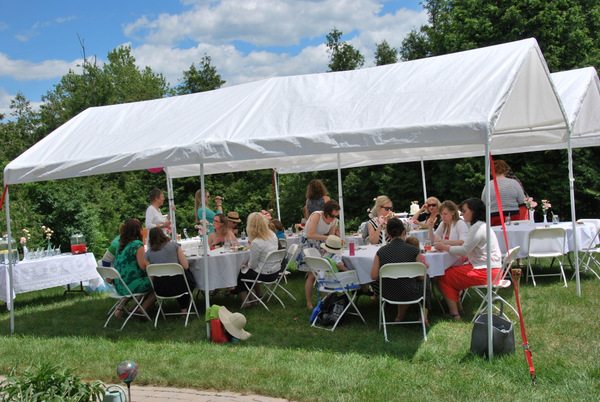 My girlfriend Shannon had made a bunch of cutout hearts for the table (like heart confetti), but since the wind was pretty breezy that day, quite a few of them ended up in the grass. It looked pretty sweet actually, and this little guy had a ton of fun picking them up and stashing them in his pockets. So funny!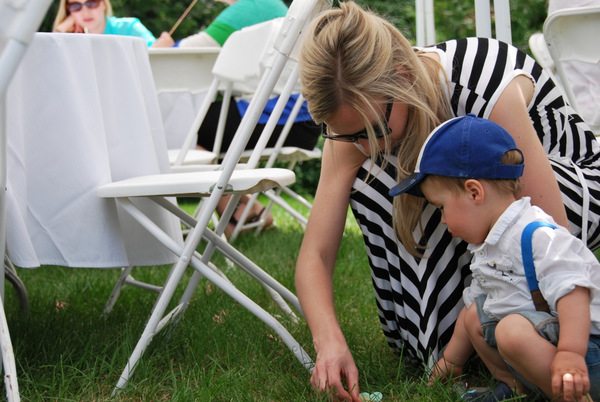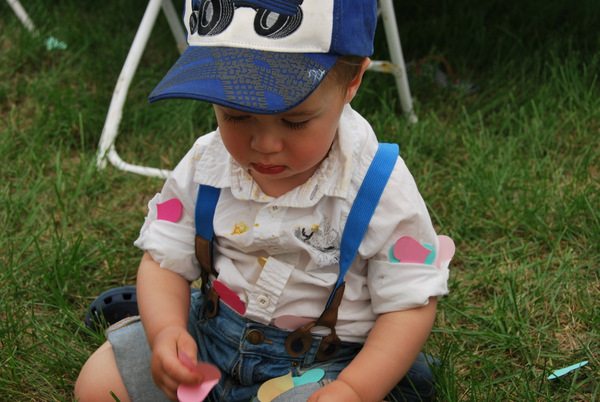 A couple of my lovely BFFs. I was missing some of my other favourite ladies from Vancouver, but they had sent some nice wishes to my Mum to share with the group so it felt like they were part of the day (of course my Mother started to tear up at that point in her little speech!).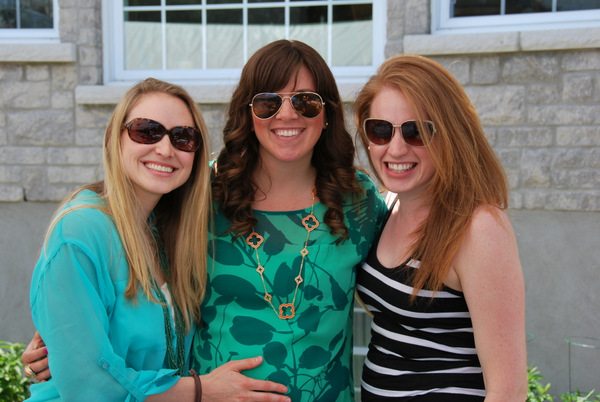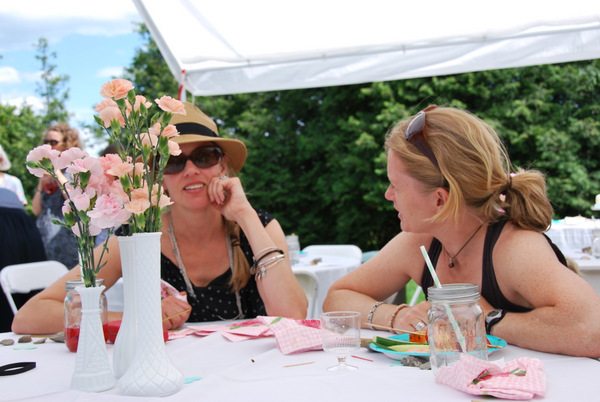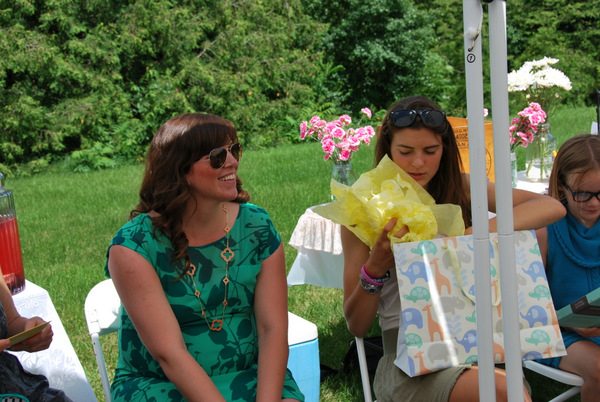 A couple of group shots. This one is with all of my fam who were able to make it.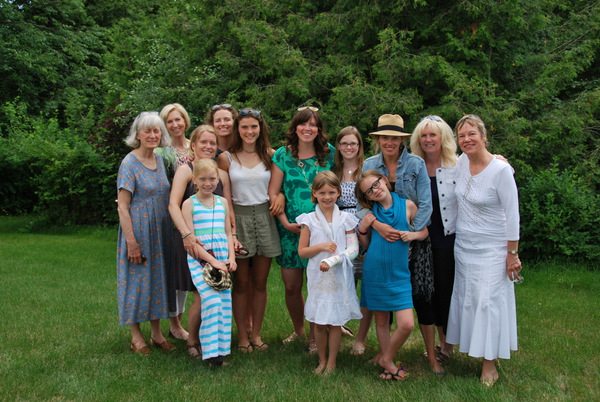 And one with my gal pals and a few members of Dan's family. Featuring a runaway fella who was making us all giggle!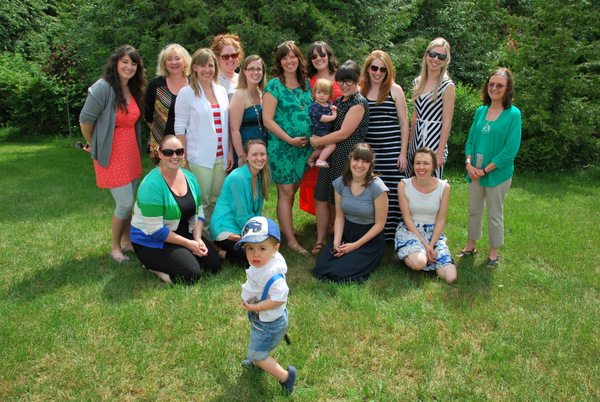 As for the decorating, you guys know I got right into it and had a ton of fun planning everything with my Mum. I know, I know… I'm probably not supposed to be involved in planning my own baby shower… but I just couldn't help myself. Cut an event-loving girl some slack, will you?!
Here was our command central the evening before. We bought $50 worth of flowers from Loblaws (grocery store)- mostly carnations in variations of pink, coral, and white. Such a great deal (and long lasting – they are still adding lovely colour to both mine and my parents' pads!). We prepped most things the night before – all the flowers, food, and laid out the other 'stuff' on the island. That made it pretty painless the next morning to get everything setup.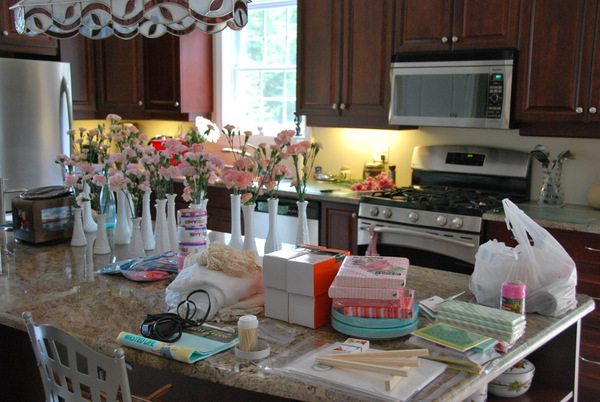 The folks also came the day before to setup the tent, and my Daddio picked up the tables and chairs with his truck. 
Of course I brought out a bunch of stuff from my Pieces of Love collection. Milk glass vases for the tables, drinking mason jars, some other vintage knick knacks, and a few small pieces of furniture (a small green buffet and a farm chair).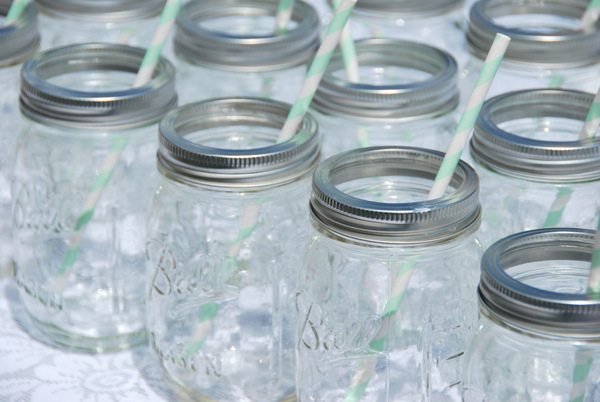 The next morning we threw the linens on the table, and put everything into place. We had a bit of a wind issue, so everything kept blowing about (imagine all of the plates/napkins/cutlery blowing off the tables and the vases crashing down). Slightly annoying, but we put some rocks on each plate to keep things in place – not the most lovely solution, but it worked. I had grabbed a few pink and white lanterns at a garage sale a few weekends ago for 25 cents a piece, so they got strung up for a bit of fun.
These were the tables pre-heart confetti. Imagine the little hearts scattered around the table adding some colour (pink, turquoise, and gold!).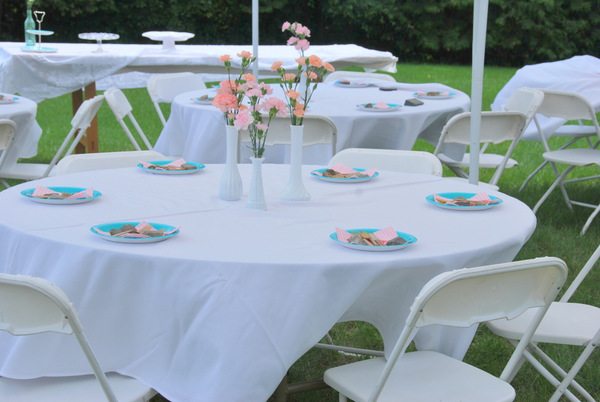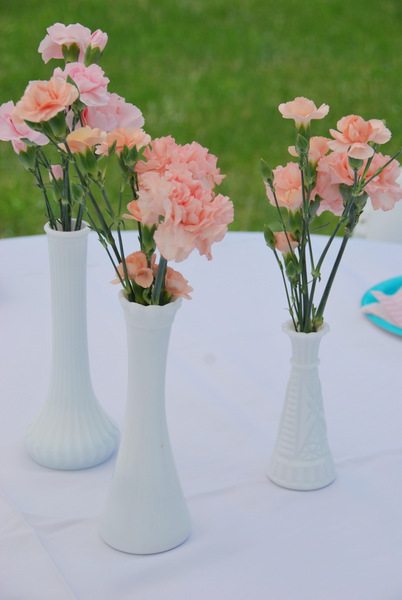 Along the perimeter of the tent, we had some rectangular tables setup for a few games/activities, the food, and drinks. Instead of the plain white linens, I used some of my own lace linens (again from my Pieces of Love collection).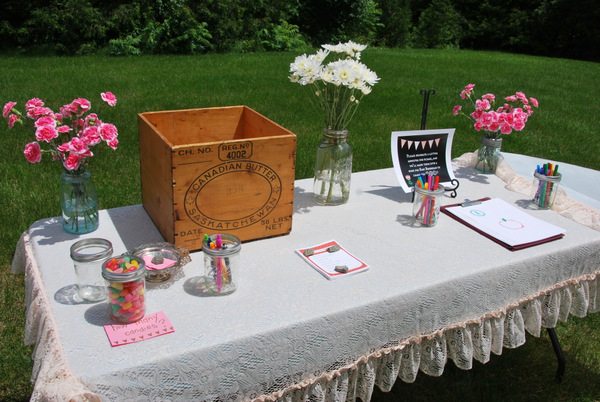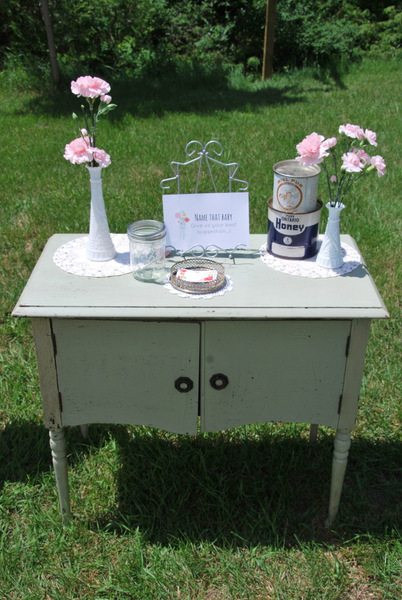 And the food? We kept it fairly simple. A few salads (pasta salad, green salad, and a potato salad – some of which were brought by family), some grapes + gouda skewers, caprese salad skewers, and veggies and dip.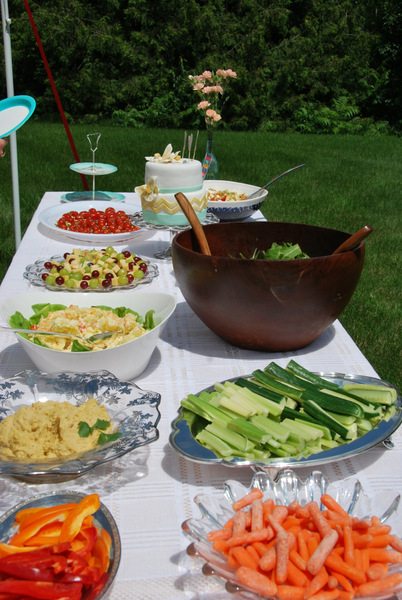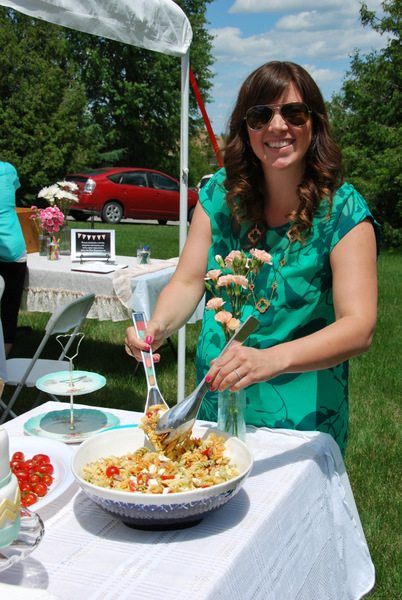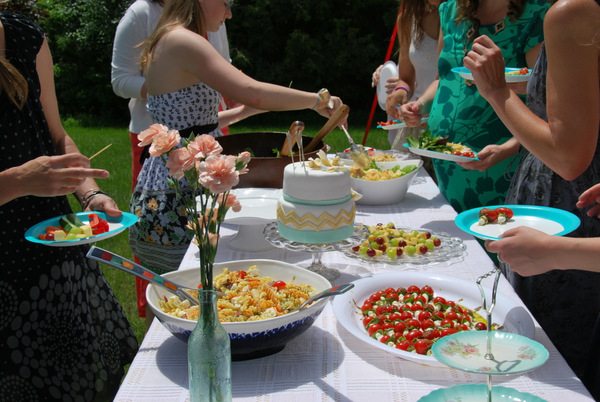 The dessert was where it got pretty spectacular. My girlfriend Andrea is a cake-decorator extroadinaire, and made this gorgeous cake for the day. The bottom tier was lemon, the top was vanilla bean, and come on… how absolutely pretty is it? Like a piece of artwork. You can check out more of her gorgeous work (and hire her for your own event!) here.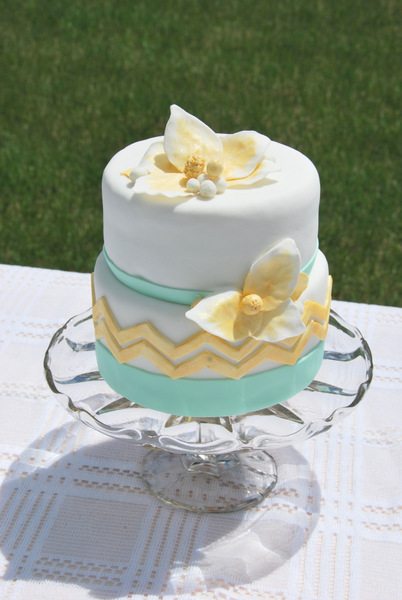 I made a few gold glitter cake toppers and stuck them in to add an extra little bit of love.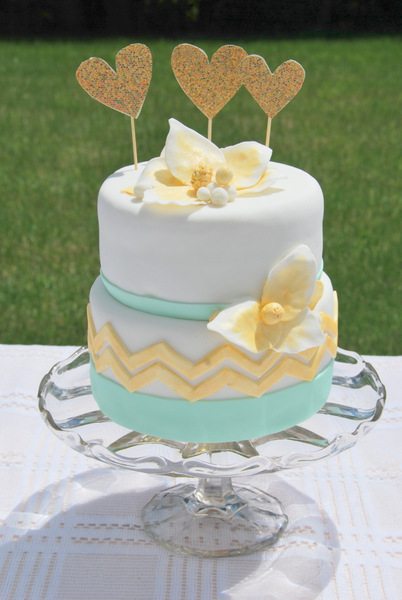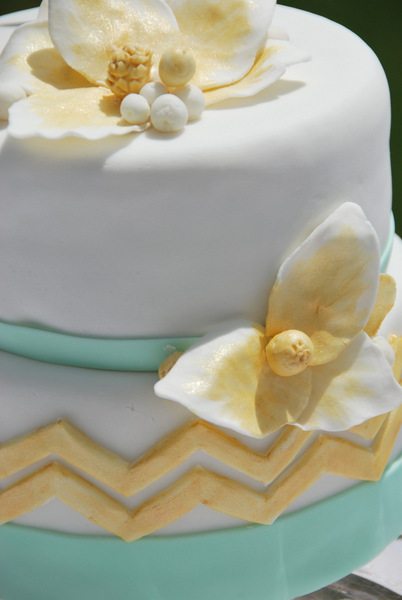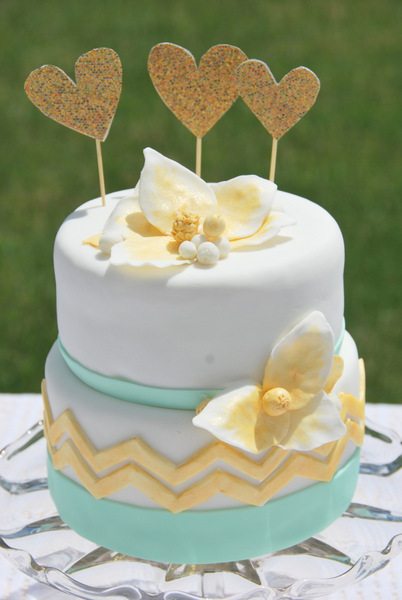 My gal Shannon also made some sweet pink cupcakes…
… and we did some chocolate-drizzled fruit skewers. You know, add some fruit to balance out all that yummy sugar.
Basically, it was the best! I have the sweetest family and friends. Thanks to everyone who was there (and those who sent their best wishes) – I felt so overwhelmed and spent the better part of the next evening breaking out into tears randomly as I put all of the lovely baby things away.
There are lots of special thank you's – to my parents (especially my mama!) for planning and hosting the day, my girl Jenn for helping with all the setup and taking these gorgeous photos throughout the event, Andrea for the cake, Shannon for the cupcakes, heart confetti and day-of support, MaryJo, Mary, and Margot for the food contributions, and everyone else for all the love!
I'll do two more posts on the shower – one on the games and activities that we did do, and one on the favours, so stay tuned for those!
What about you guys? Ever planned a baby or bridal shower? Got any favourite tips? Recipes? Do tell.