One of my latest design projects is a nursery room. Two of our BFFs are expecting a little guy this fall so I'm helping them get the room all ready for the new little dude in their life. I love doing kids rooms – you can have so much more fun with colour and pattern, and people are usually way more up for out-of-the-box stuff!
Anyway, I'm chipping away at the room and so won't have any big before + after's for you for a while, but I thought I'd share this little mobile project I whipped up recently. I have a weird addiction of collecting paint chips, so I'm always looking for fun projects to use them on (case in point: my wedding seating chart, and art project). I saw a couple of paint chip mobiles on Pinterest and fell in love with the idea.
First up I gathered up all of my blues/turquiose chips (the colours for the room are lime green and turquoise). Then I pulled out my hole punch and punched out a ton of circles. You can get shaped punches like this at any craft store.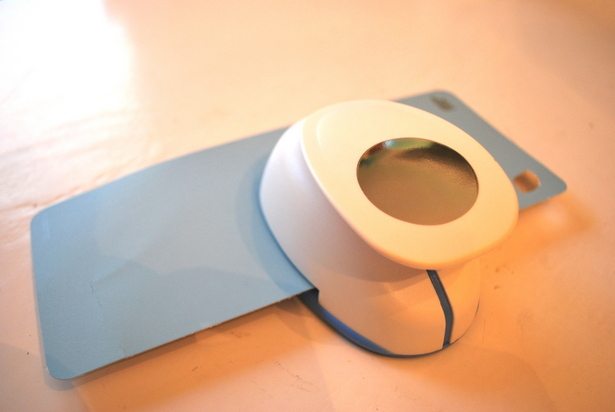 Then I used the same technique that I had used in my faux capiz shell chandelier: I pre-cut pieces of string, put little dots of hot glue on each of the paint chips, and then stuck the string down in place. I then put on some more glue and pressed a second paint chip on to cover up the string and the back of the other chip. Make sense? I ended up with a dozen or so strings of circles.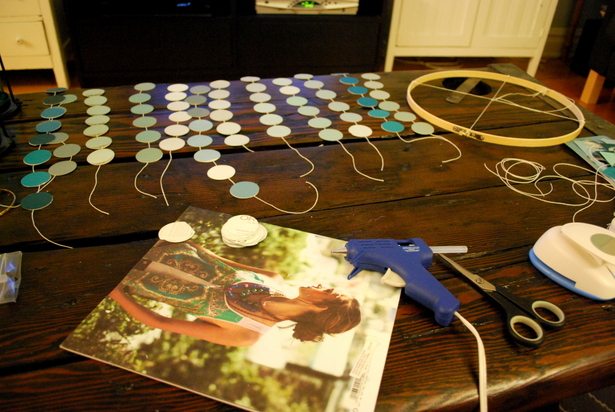 Once I had all my strings done I needed to figure out how I was actually going to hang them. I needed something rounded, so when I spotted this embroidery hoop, I knew it was just the thing. I had one in my craft closet already, but these things will run you no more than a buck or two.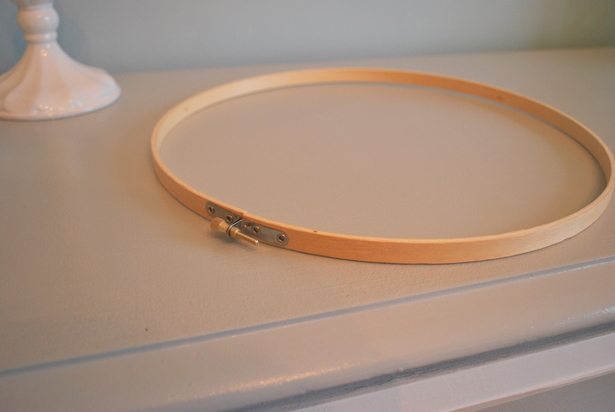 I wanted to gussy it up a little so grabbed an old pot of a turquoise test paint and slapped it on.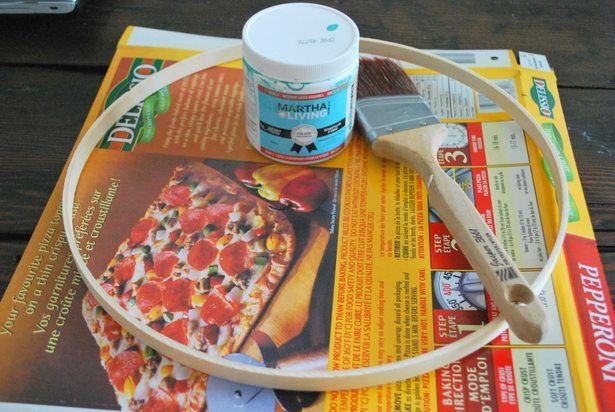 Then it was just a matter of tying each string to the hoop. I triple-knotted it so that everything would be super secure.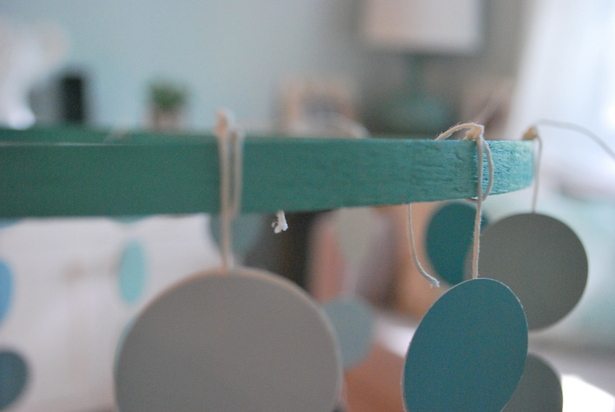 I also tied four strings that come to a point at the top to make it easy to hang. The hubby was a smarty pants and grabbed a washer which we tied the four strings to – now it's just a matter of slipping the washer onto a hook in the ceiling.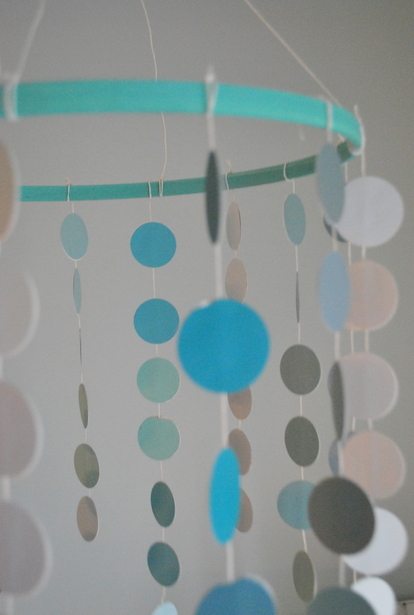 And here it is! I love how the blues are all a bit different. It's like a pretty ocean wave.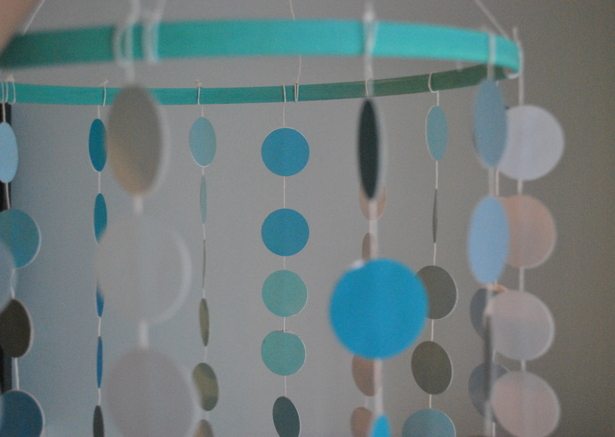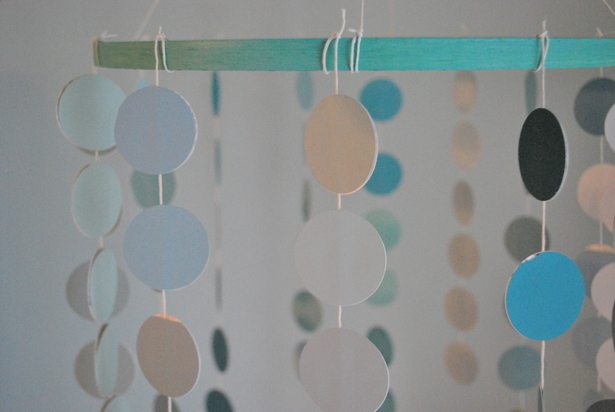 I think it's really fun to look up to. We're going to hang it in the corner above the crib, so the little guy will be able to stare up at the twinkling circles.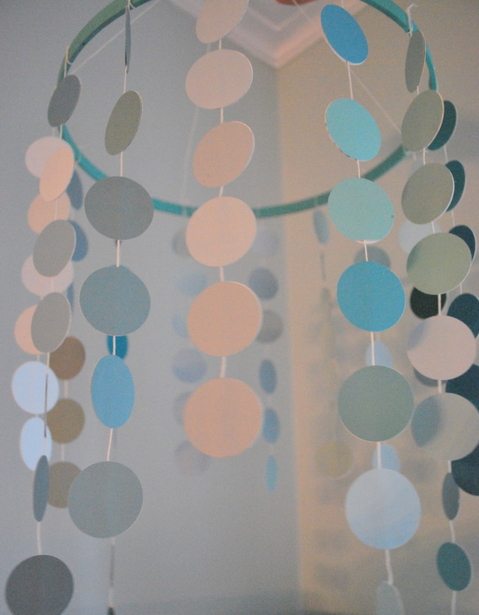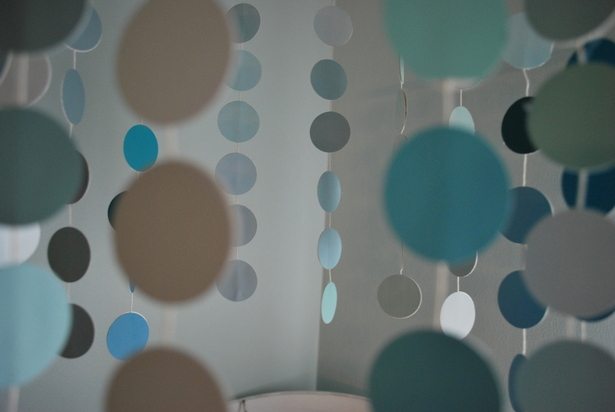 The budget breakdown was a nice big zero, but if you didn't have any of the supplies it might run you $10-$20 or so for the supplies (hot glue, string, embroidery hoop, circle punch, and some stealthy paint chip hoarding like yours truly).
Fun, right? Any of you guys been up to any paint chip projects lately? Or any other DIY mobiles out there that have been easy and inexpensive to make? I'd love to hear about them!