Do you have any of these closet doors in your house? You know, the sort of flimsy sliding kind? Well I do. And they happen to be in our master bedroom. I couldn't handle looking at these ugly things anymore, so I decided to paint the sliding closet doors with a faux trim effect.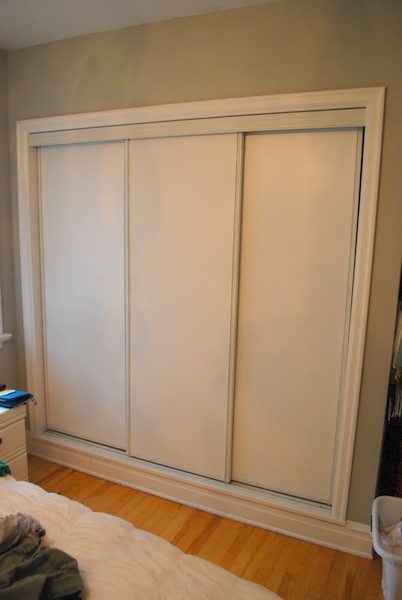 Faux trim effect
First step was to wash down the doors to remove any residue or dust. I didn't need to sand since these doors aren't wood, but if you have wooden closet doors you would want to use a medium and then fine grit sandpaper to prep the surface for paint (like these 3M Advanced Abrasives). To wash down the doors I just used some basic soap and water. If they had been glossy or had some other finish, a deglosser might have been necessary.
Then I needed to measure out where I wanted the rectangular boxes to go. I started by measuring out the box and putting X's where the corners would meet. I marked 3 inches in from the outer edges for each door. See that faint pencil mark in the photo below?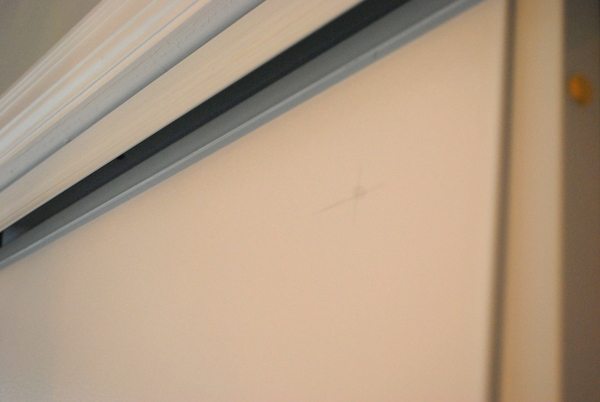 Next up I grabbed my ScotchBlue Painter's Tape (the kind with the edge-lock paint line protector) and taped out the boxes. I cut the edges of the tape at the corners to make sure they were nice and crisp. Since I wanted to paint the inside and outside of where the tape is (and then take off the tape to reveal a white box), I needed to make sure the corners were perfect.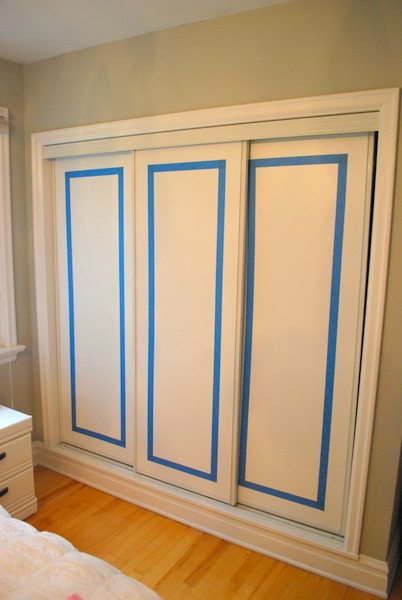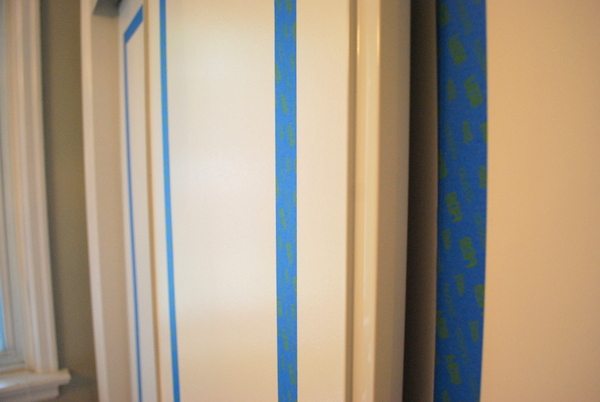 And then it was paint time. I used my leftover pot of paint from the walls (Coventry Gray by Benjamin Moore), my mini-roller, a paint mask, and got to work. This was an older can of paint (before the low-VOC paints were so easily available), so I made sure to fully open the windows and wear a mask to ensure I didn't inhale the paint fumes. You can find various kinds of masks to use when painting, sanding, or even cleaning from the 3M TEKK Protection series.
Two coats of paint later and this is how things were looking (sorry for the yellow photo – it was late!). You couldn't even really see the tape anymore.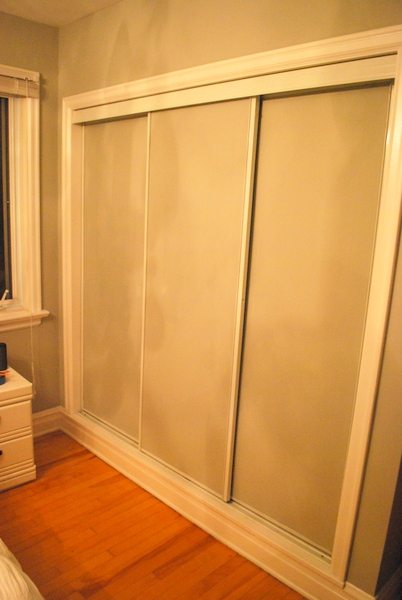 But after some easy-peasy pealing of the ScotchBlue Painter's Tape (the stuff came off like butter… soooo smooth), I was left with nice crisp white lines. The pattern totally looks like molding and makes the doors look way much more upscale.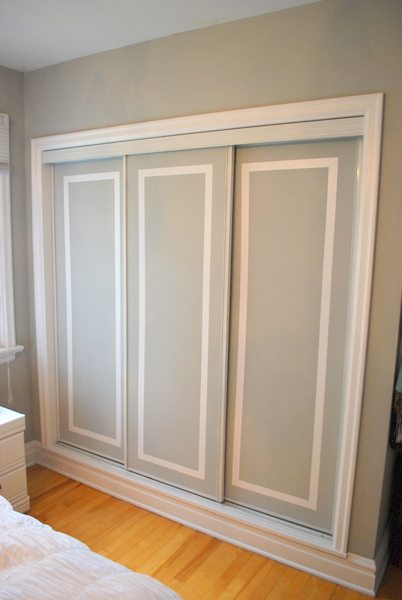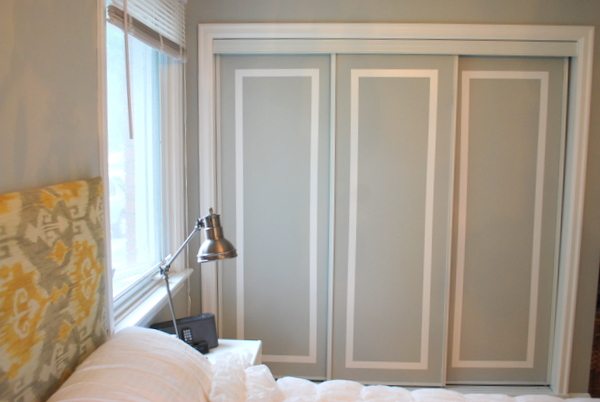 Doesn't it add a nice bit of pattern without being over the top? It's simple, but feels classic and adds another layer of interest to the room. The bedroom is slowly getting closer to what I'd like it to look like. I still don't quite know what that final version is, but it's fun to add different elements over time and see how it comes together.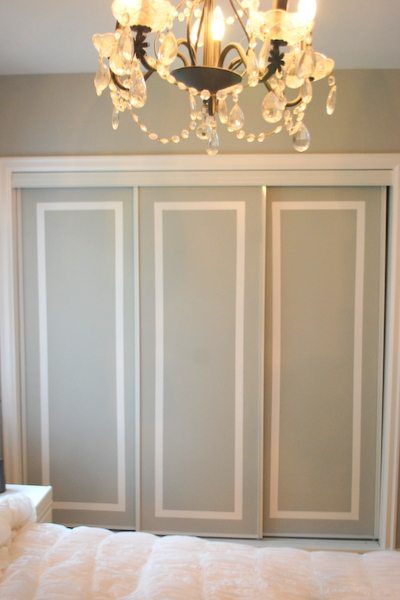 They just sort of blend in with the room now and actually make the space feel a bit bigger. Such an easy and quick (half-day) project, with great results. Even if you don't happen to have sliding closet doors like these, you could use the same technique and pattern on any other kind of door or even a piece of furniture to give it that two-toned/molding look.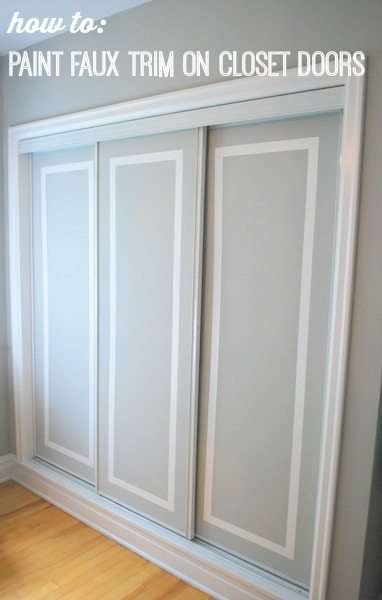 And just for kicks, I tried out my very first video tutorial. I feel a little bit mortified about being on camera (who knew I said "uhh/umm" and "so" that often?!), but here you go! It's got the full play-by-play of the project with some extra tips and tricks. Promise you'll still like me after watching, k?! Ha.
This post is a collaboration with 3M DIY, but all opinions and projects are my own! To enter to win free samples for your next DIY project, visit 3MDIY.com. Also be sure to check out 3M DIY on Facebook and 3M DIY on Twitter and 3M DIY on YouTube.
Product provided by our partner, 3M DIY.