For any of you to-be mama's out there, this one is for you.
I am in no way a fashionista – today I am running around in a bad pair of jeans and sweatshirt (pretty common these days with bebe!) – but I do often like to put some effort in, and feel good about how I look. When I was pregnant, I found myself especially wanting to make sure I had some cute outfits on the ready, to help me feel less whale-ish and more glowy. I had my fair share of days where I felt very un-cute during those 10 months, so having a few pieces of clothing that helped make me feel good was key.
I was lucky enough to get some great hand-me-downs from friends, and then bought some pieces to fill in the gaps. After wearing the same clothes for 7 or 8 months (I was into maternity stuff pretty early on with my quick-to-pop belly!), I had a pretty solid idea of what worked and what didn't, for me at least. Here is my top-10.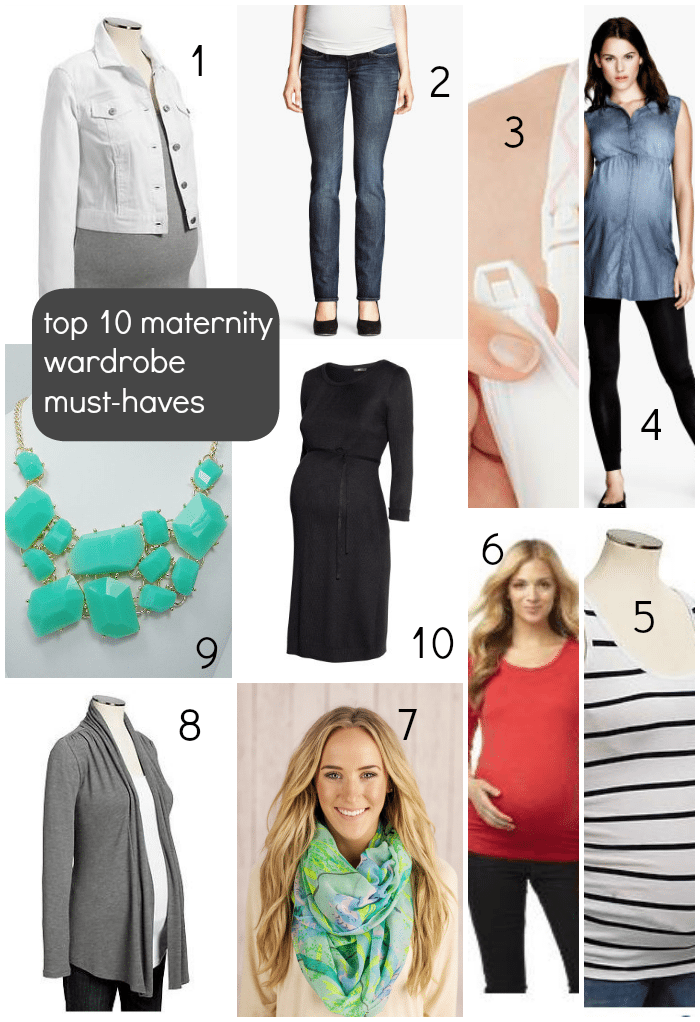 1. A jacket. I used a faded denim jacket that wasn't maternity – just a size bigger than I would usually wear. I found that a light, cropped jacket made any outfit look way more put together, and it was a great piece to layer on top of just a tank top, a sweater, or a dress. Multi-purpose and cute.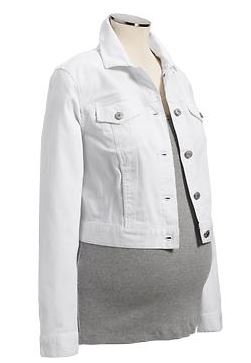 2. Jeans. I found that the most flattering and versatile pair of maternity jeans that I bought were a straight leg, medium wash from H&M. They weren't skin tight, so I could pair them with flats/flip flops and not feel frumpy, but they were straight leg enough that I could also easily tuck them into boots. I wore the same pair of maternity jeans probably 80% of the time I was pregnant (despite having a bunch of other pairs that were handed down to me), and even wore them up until recently when I could fit back into my pre-pregnancy jeans again.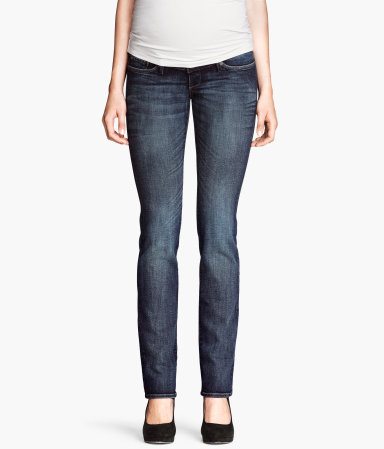 3. A good bra. Before a belly even started to appear, I couldn't fit into my regular bras. The lady-parts were a-growing… quickly! I wore sports bras a lot of the time (and still do now), but I bought a ridiculously comfortable nursing bra that was amazing. Even despite not being able to make breastfeeding work and being a "pumper", I still wear it all the time. It's super soft, doesn't have any wires, and has thick straps. I would recommend going somewhere where they can fit you for one – you'll get the perfect size and model for you, and I found the sales folks really helpful (if you're in Ottawa, I went to MilkFace).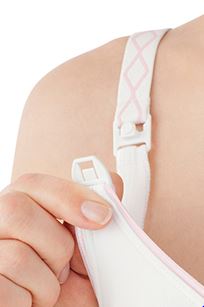 4. Leggings. Ahhh black leggings, you are my bestie. These were a total lifesaver when I was pregnant. With tunics, flowy dresses (many of which were non-maternity that I could wear up until the end), with flats or with boots, black leggings were my go-to. I still wear my high-waisted black maternity leggings now… they are just waaaaay too comfortable to pack away.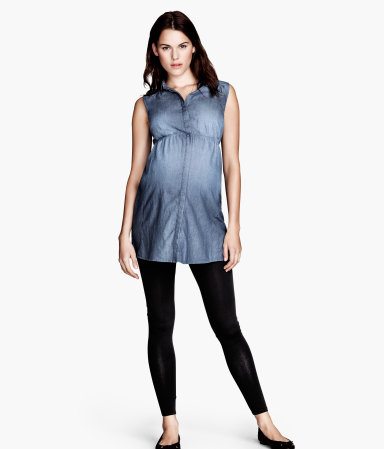 5. Tank tops. I grabbed a few long maternity tank tops from Old Navy and H&M that I wore constantly throughout the 9 months – both under cardigans and on their own when it got hot out (oh and for exercising!). They were a total staple. I always thought I would wear more flowy, empire-waisted stuff while I was pregnant… but actually, fitted things were more flattering. Time to show off that bump!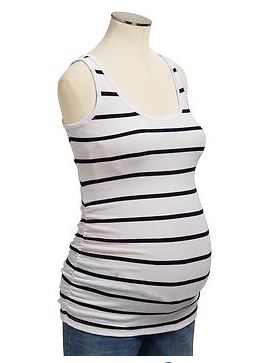 6. A long, long-sleeved top. The one item I actually spent a bit of moula on, was an uber-comfortable long sleeve top from Rosie Pope Maternity. The fit was amazing, the jersey was so soft, and it has some cute detailing in the shoulders. With work pants or with jeans, with scarves and necklaces or not, it was an easy item that I wore all the time.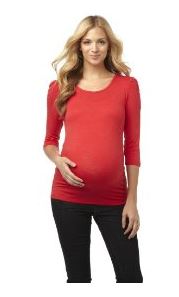 7. Scarves. I'm a bit of a scarf-addict (I posted here about some of my new faves), but throwing one of these on top of any of my plain tops was such an easy way to dress things up. Plus, these obviously aren't maternity-only so you can keep busting these out for a long time to come.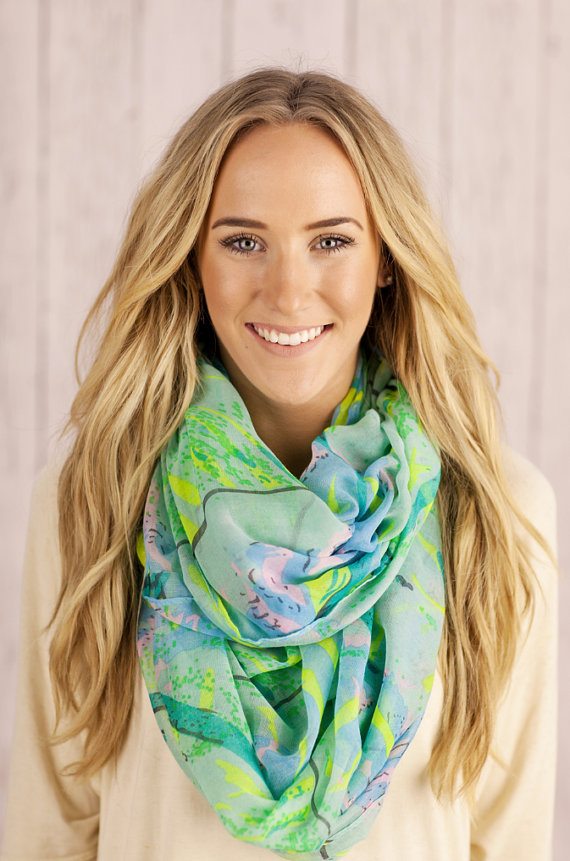 8. Cardigans. I threw on a cardigan over my maternity tanks and tees on the daily. Easy-peasy. And like the scarves, these don't have to be "maternity", so you can use the ones you have, or buy ones that will continue to fit post pregnancy. I typically wear longer cardigans that fall at or just below my bum, and are a bit on the loose side.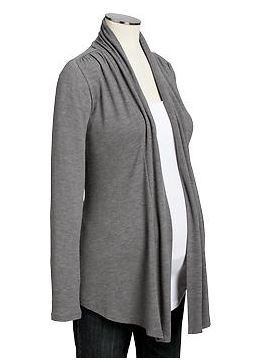 9. Necklaces. Like the scarves, to jazz up those basic maternity tanks and tees, it's fun to throw on a bold necklace. You can get some super cheaply off etsy that are tons of fun – I have this turquoise one in pink and it's gorge (and only $11!).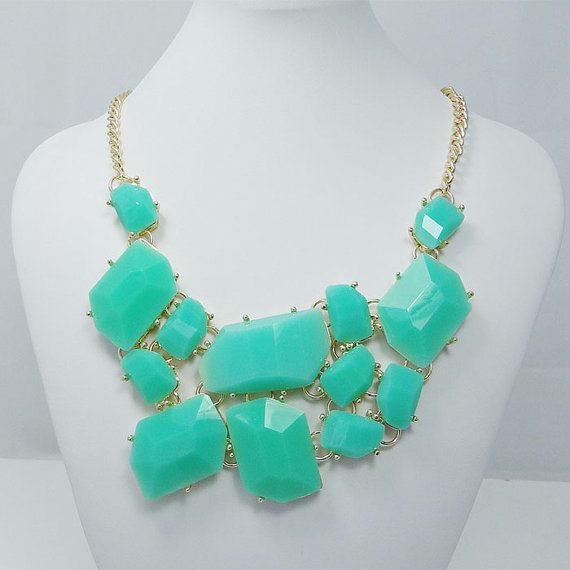 10. A black dress. I had a short sleeved black dress similar to this one that was my go-to. I could wear it to work, casually, with flip flops or with boots, and it always looked good. Layer with a cardigan or jacket when it's chilly, plus a bold necklace, and you've got a great outfit. So, so versatile.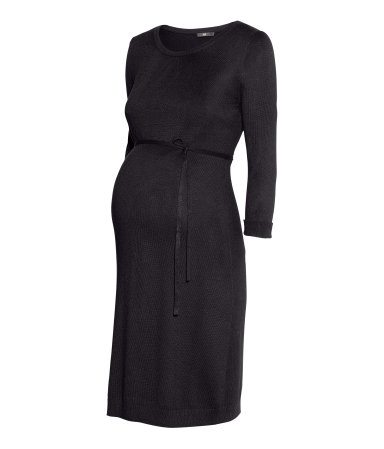 There you have it – my top 10 items! I had so many more items that were handed down to me, but really, it was these 10 things that I wore 99% of the time. I guess the only thing I left out here are yoga pants, which I continued to wear mostly to exercise in.
Any of you gals who are or have been pregnant have any other favourite items? Things you wore constantly? This list pretty accurately reflects my non-pregnancy wardrobe too, so I think it's definitely a personal thing.