I stumbled across a cake stand during one of my thrifting adventures AGES ago (like 6+ months), which had been sitting in our garage waiting for some crafty action. Well, I got my butt into gear the other day and finally pulled this puppy out. Here's what we were starting with. Floral, a little wonky, and just pretty uuuugly. I think I paid around $2 for it. I have been wanting to try a triangle stamped cake stand, which I've been seeing all over Pinterest lately, so I thought this guy would be perfect.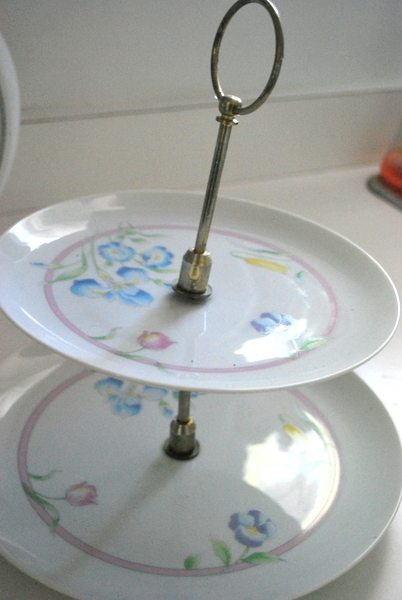 triangle stamped cake stand
I got out some navy blue spray paint that I had lying around (I have a paint-hoarding problem…!!). Oh, and for the safety folks out there, I'm not planning on putting food products directly on this plate (which you don't want to do with spray painted surfaces). This is going to be for cupcakes and desserts that have little wrappers on them.
Okay, on to the fun stuff. First I gave these puppies a couple thin and even coats of paint.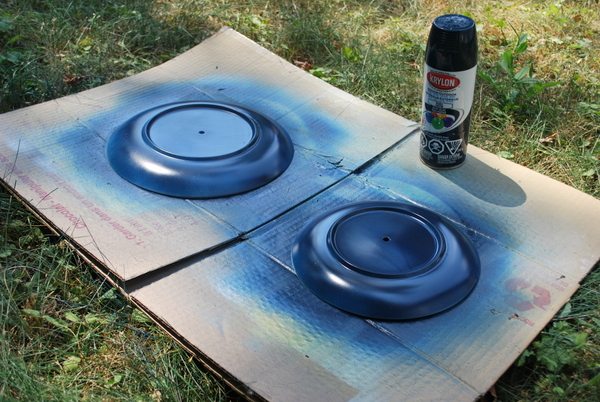 After they had enough time to dry outside, I brought them in for the stamping. First step was to cut a triangle out of cardboard that was the right shape and size for the plate.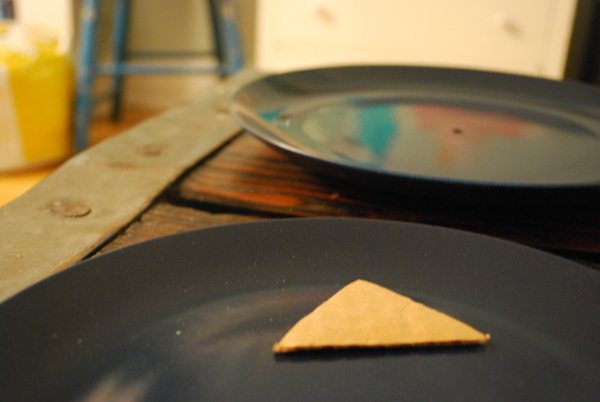 triangle stamped cake stand – rag tip
Then I snipped a piece of rag and covered the cardboard with it. I figured this would soak up more paint for a better stamp, instead of just using the cardboard directly.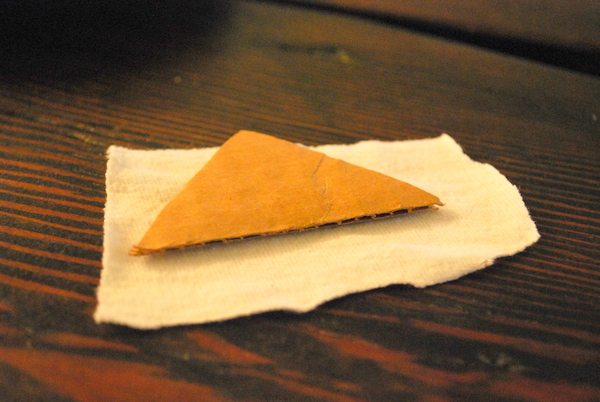 I put some blue tape on the back of the stamp so that I could easily grip it, and got to stamping. My process: Dunk in the paint on the plate (try saying that 10 tens fast!), stamp, press down to ensure enough paint transferred, dunk and repeat, repeat, repeat.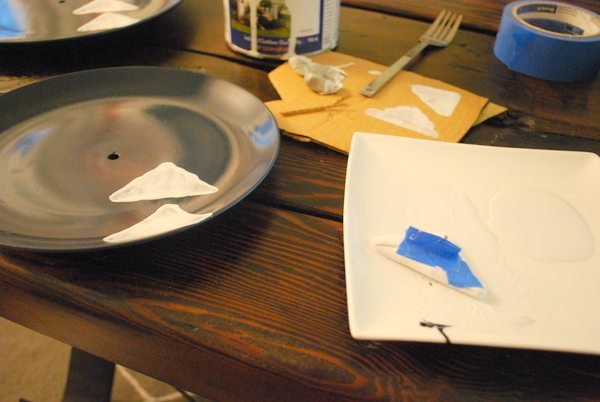 triangle stamped cake stand – simple is good
At first I thought I was going to do triangles all over the plates, but once I did a few lines I just stopped. I liked the simplicity of it.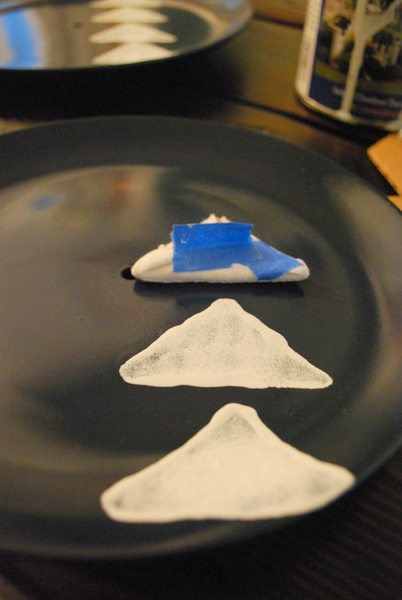 triangle stamped cake stand – sealer coat and finished
I gave the plates a coat of a sealer to protect it, and then put it all back together.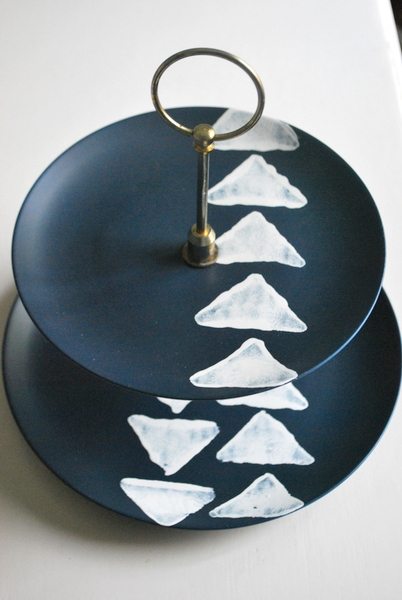 The pattern is simple, but the navy and white is such a nice crisp combination. I also really love how the brass looks next to the two colours. It feels a little bit Navy inspired, somehow.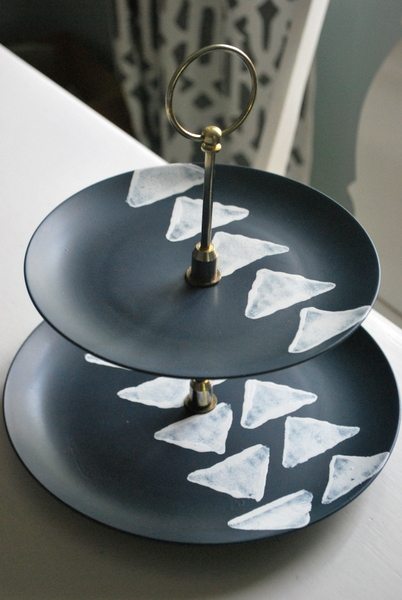 I wasn't too concerned about the triangles being absolutely perfect, and I sort of like how they came out a bit wobbly. It looks hand-stamped, and I'm digging it.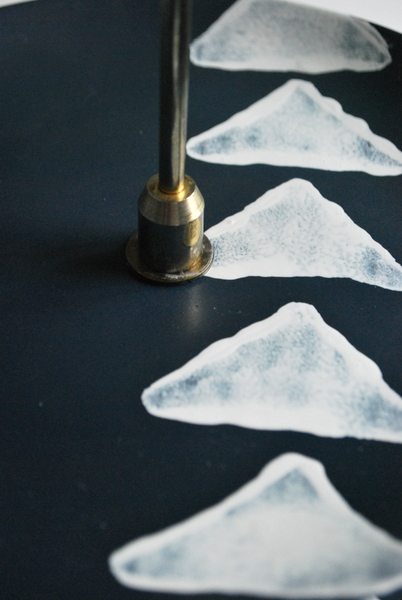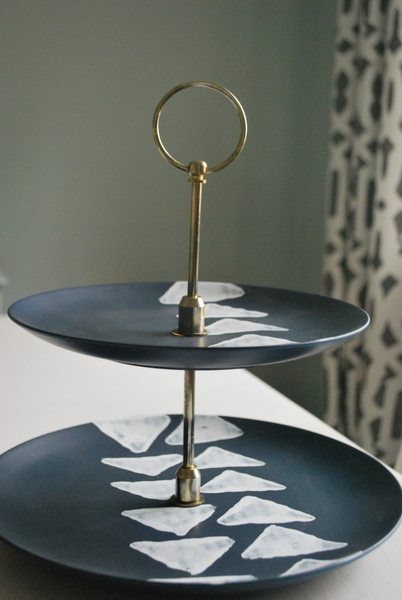 What do you think? Kinda fun, right? Just another thrift-store makeover! Don't you love a good cheap project like that? $2 and an afternoon of crafting. Just my cuppa tea! I'm even feeling inspired to go and bake something just to put on the cake stand…!
Any thrift-store makeovers you've been doing recently? Or any triangle stamp (or other stamp) projects? I'm really digging the triangle pattern and totally want to use it elsewhere in our pad. Maybe our laundry room? We'll see!