You guys know I have a bit of a problem with collecting – hence why I started renting things out for weddings + photoshoots (see that here). Makes the whole collecting thing somewhat legit. Right? Ha. I love the thrill of the hunt. Finding something old that is perfect on it's own, or something that I can make over into something I love. This is the story of a vintage window turned picture frame.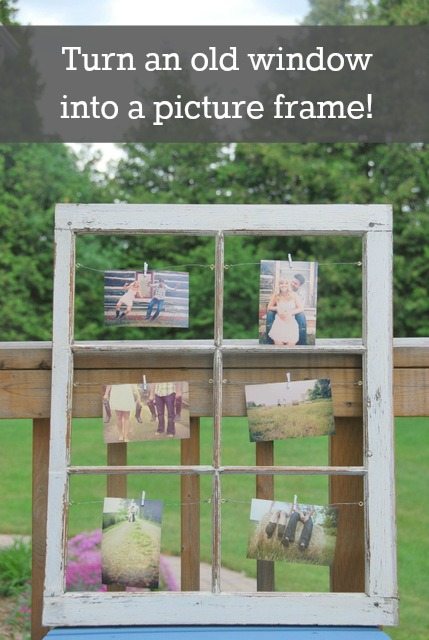 Over the last year or two, I have amassed a number of old window frames. Mostly from people who have pulled them out of their houses, and some as curbside finds. It's like vintage shopping gold for me. If you don't have the time or desire to hunt them down though, you can always find some on Etsy. I searched only for a few minutes and came up with a bunch of gorgeous ones – a minty one, a whole mixed collection here, and a huge 20 pane one here. Oh the options!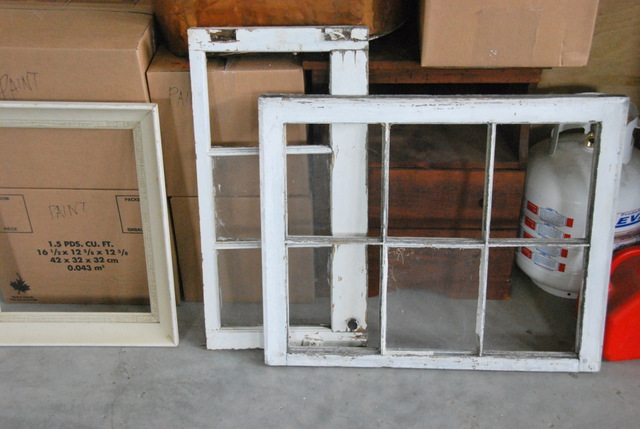 The frame started out with mostly missing glass panes and lots of chipping white paint. First step was to break out the glass. I don't have a perfect method for this – just tapping it with a hammer and cleaning up carefully afterwards.
I decided it would be nice to have space to hang photographs or other paper products (cards? notes? menus for a party? whatever!). I took some eye hooks and screwed them into the sides of the frame, and then just attached some strands of wire to each.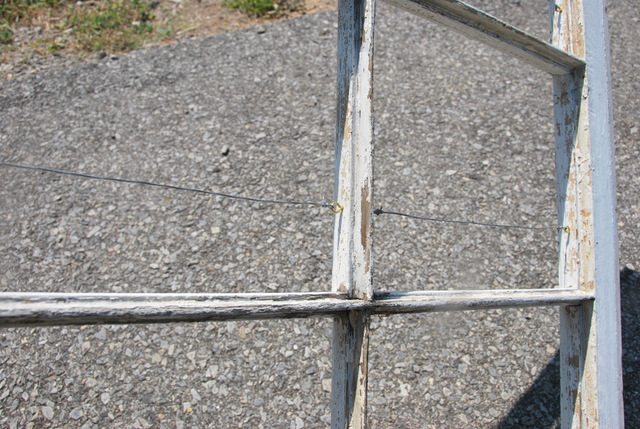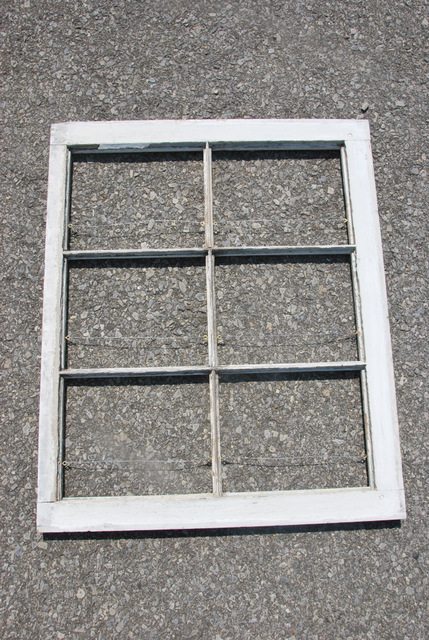 Once I did that though, I realized that the paint was really chipping pretty badly and that I should actually fix up the frame a little. Whoops. Should have done this pre-wiring to make it easier. Live and learn.
Warning – when you're dealing with any old piece like this, it is always wise to check to see if the paint is lead based (if it is, you need to be very cautious when dealing with it). You can get test strips from the hardware store and it's easy to do. Luckily this mirror was not lead based!
I sanded down the frame using a medium grit sandpaper – really trying to get into the nooks and crannies to get it smooth. A bunch of paint chipped off in the process, but I wasn't bothered, I like the chippy look. Once I had it sanded and wiped down with a damp cloth, I decided to put a few coats of polyeurothane on top. This would help to seal everything in and ensure that I wouldn't have flaking bits of paint coming off of the frame. It's super simple – just apply the poly with a foam or natural bristle brush, and sand between coats. I put two coats on the frame, and let it dry for a few days outside.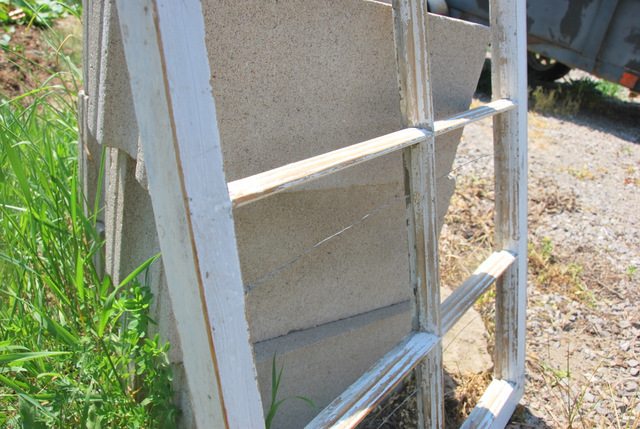 Post-polyeurathane, it really doesn't flake and chip. The end product has a really nice vintage vibe and can be used a number of ways.
We had our engagement photos that I loved – I have such nice memories of feeling all giddy that afternoon shooting those at Dan's family farm – and I hadn't ever done anything with them. I thought this was the perfect opportunity to get some printed, and display them in my new window-turned-frame. I put a vintage filter on the photos to make them look more aged. I think the result is pretty sweet!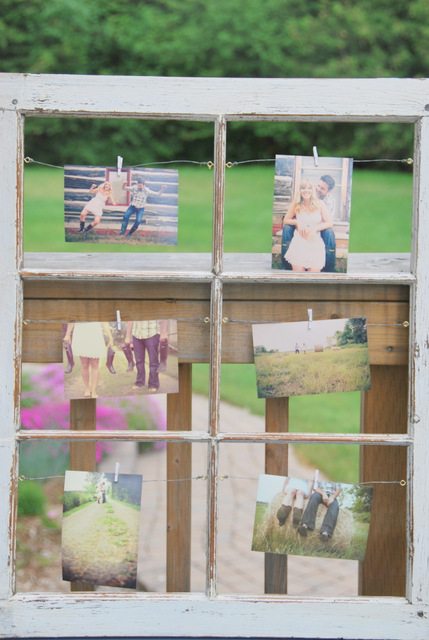 I used mini clothespins that I had picked up at Michael's. A bit nicer than traditional clothespins that might have been a bit big for this frame.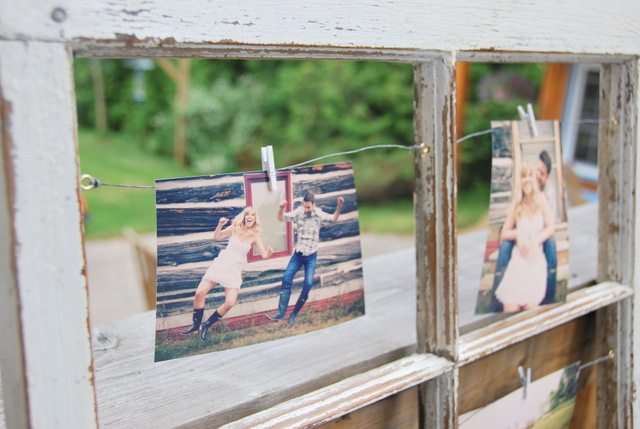 My plan is to put some wire along the back to be able to hang it from the wall, but for now I just have it resting on a bookshelf (the lighting was bad inside – so I brought it out to my parents' back deck to take these pics).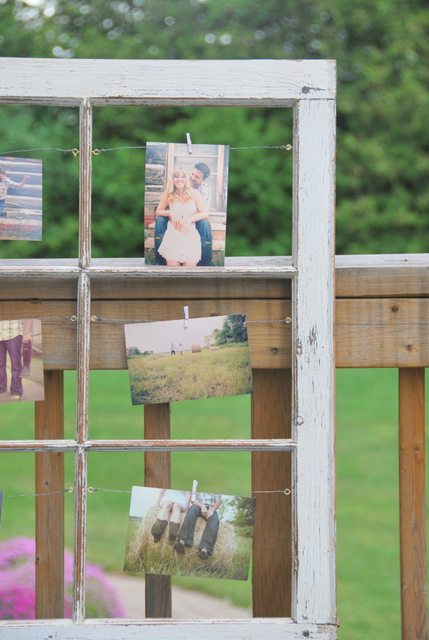 Instead of photos, you could hang up postcards, small pieces of artwork, little notes, recipes (would be cute in a kitchen!), or use it at weddings and events for things like the seating chart or wedding photos of parents and grandparents. Lots of options!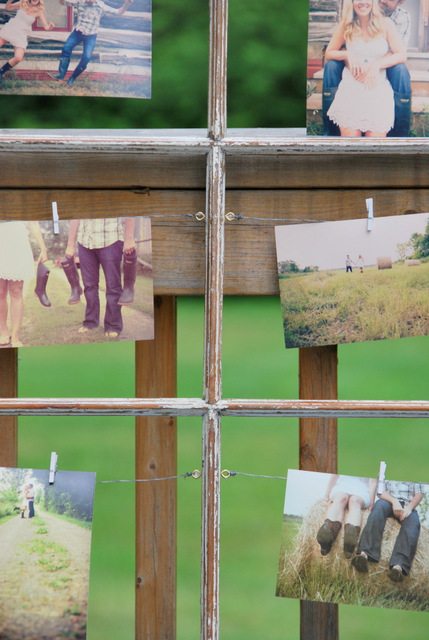 Have you guys done any old window rehab projects? Tell me about them! I still have like 8 windows sitting in the garage and need some good ideas…!!