When thinking about what I wanted on our tables for our wedding reception I considered a few factors:
They needed to be budget and DIY-friendly
They needed to fit in with our wedding in the woods: simple, elegant, and fun (I don't think huge arrangements of feathers and flowers were going to work here)
And surprise, surprise, I wanted to incorporate my favourite colours: aqua, white, metallics, and some hits of pink
I did some searching around on wedding blogs and pinterest and fell in love the look of multiple little vases down each table, all with one flower in them. Simple and pretty and perfect.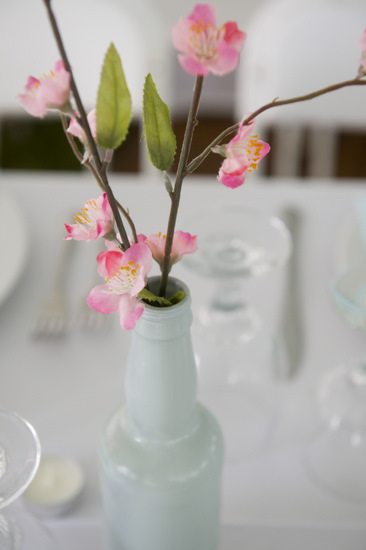 Budget Friendly Wedding Centerpieces:
I started to scour thrift shops for sweet little vases and asked friends and family to set aside any clear glass beer bottles and tin cans they had.
I ended up with about 65 vases of all different varieties. Some of the ones I found at the thrift shops were milk glass (I looooove the look of milk glass), so I kept those as-is, but the rest were up for some spray painting. I setup a little spray painting site in the garage and bought three different spray paints: a flat white, a gold metallic, and a light aqua.
Then all it took was a few coats on each vase to get even coverage. You need to turn them around and upside down between coats to ensure you don't miss any spots. Here is a little sample of the aqua vases in progress: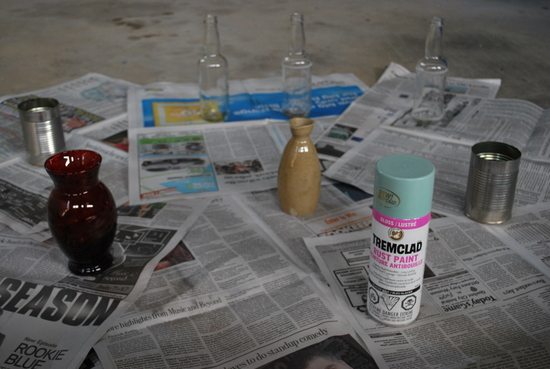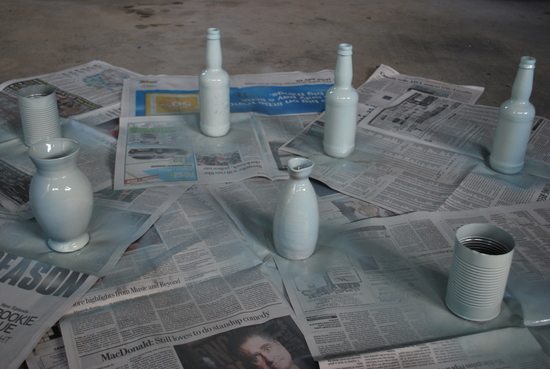 I did roughly an even number of each colour and also had some extra mason jars lying around, so I threw them into the mix too (keeping them clear). I had a mixture of tall and short flowers (all in the white/pink family) and threw one into each vase. I have to admit, the final product was pretty lovely.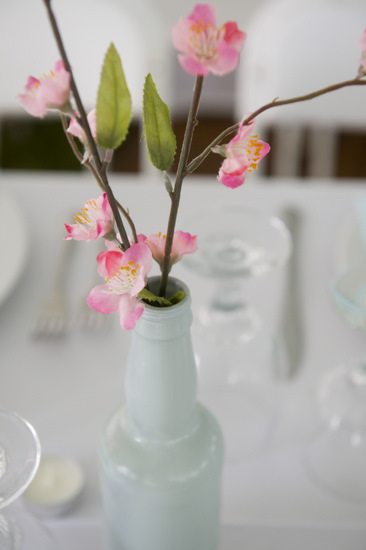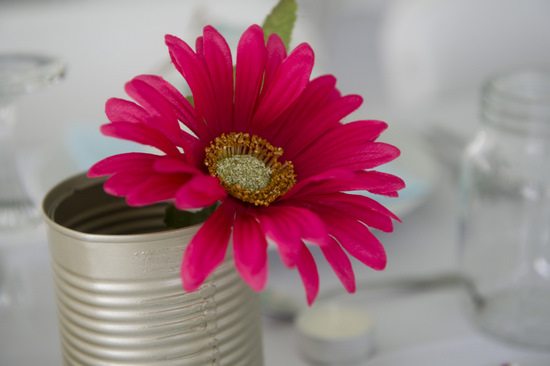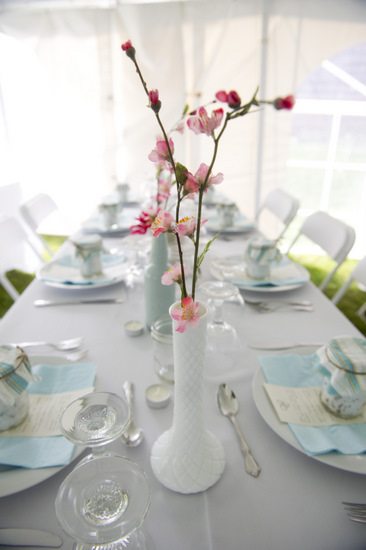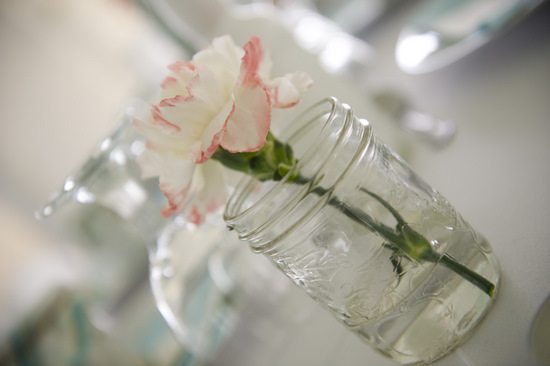 Budget breakdown:
Vases: $12 (most were free from the recycling bin, but some were purchased at the thrift store)
Spray paint: $15 (three cans)
Flowers: about $75 (we got a variety of flowers from the local florist but all loose stems, which is way cheaper than getting pre-made arrangements)
Total? $102. Not too shabby for 11 tables. That works out to just under $10 a table.
We also threw in about 10 tea light candles per table, which looked lovely once it got a bit darker out (we bought a huge pack of those from IKEA for less than $10). And to amp up the look on the head table, we threw the bouquets (both mine and the bridesmaids) into vases instead of the one-flower rule like the rest.
So there you have it, some seriously budget-friendly table decor!